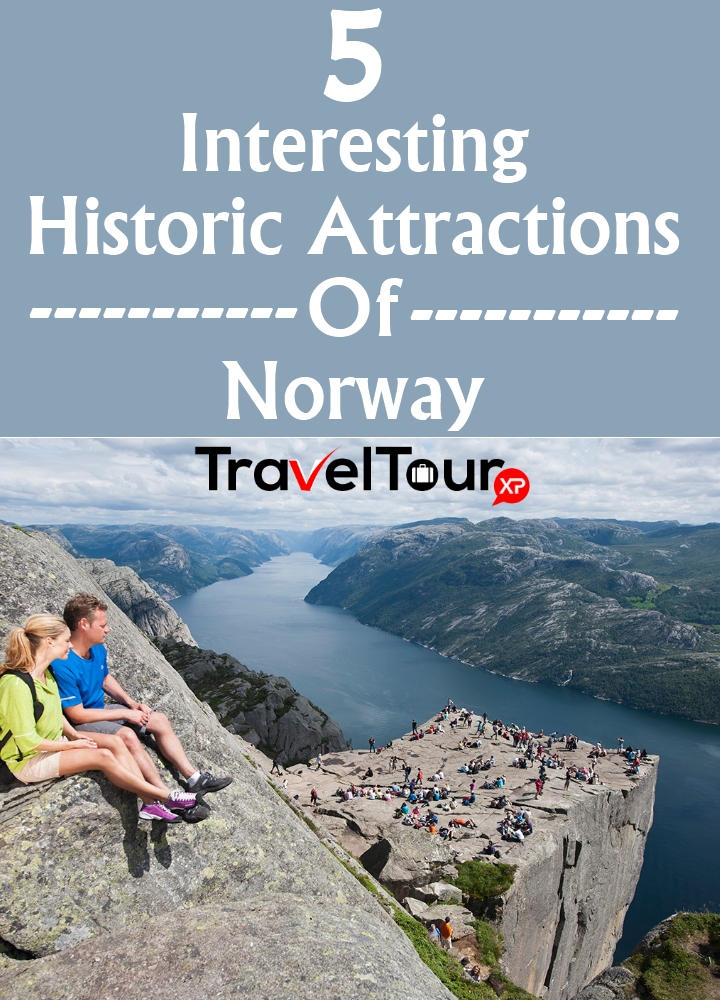 In recent times Norway has become a favorite place to tourists. Like other countries of Europe this country also has a rich historic past. To people of the world Norway is known as the country of Vikings who are called Norsemen. Stories of fearless Viking warriors daring hazards of sea landing on other countries engaging in fights and taking hold of riches are known to all. So it is obvious that a history loving traveler who likes to visit historic places will seek historic sites connected with Viking culture in Norway. There are several such attractions along with other historic relics waiting for  tourists in Norway.
Here Are 5 Very Interesting Historic Attractions Of Norway For Tourists:
1. The Historical Museum Of Oslo
It is always a best thing to visit the museum first to know the history of place you are visiting. In Oslo there is the great and spectacular historical museum which has enough information and objects connected with the history of Norway.
The museum has several floors. In the first floor you will visit all the objects from different ages starting from prehistoric to medieval of Norway.

This of course includes articles from Viking age too. Besides this other floors of the museum exhibits articles from different cultures around the world. The museum is notable for its coin collection also.

2.  Prehistoric Rock Paintings Of Alta

Sometimes historic attractions of a country include rock carvings or rock paintings by ancient or prehistoric inhabitants of the region. These relics give an impression about how people used to lead life in ancient time.

Such rock art attraction can be seen in northeast Norway near Alta too.

There are thousands of interesting rock carvings and paintings found in that region which can be dated from 4200BC to 500BC. These interesting rock art show prehistoric people of Norway engaged in hunting reindeer, constructing boats, worshiping deities that resemble bear etc. A UNESCO world heritage site of Norway.

3. Sword Monument of Hafrsfjord

The battle of Hafrsfjord in late 9th century is a memorable chapter in the history of Norway. At the end of this battle the Viking king Harald Fair Hair became able to unify different Viking kingdoms into one.

To commemorate this battle three big Viking swords are seen as monument in modern Hafrsfjord or Stavagner of Norway.

These are erected in 1983. The sight is quite spectacular. It is one of the major Viking attractions or sites of the country.

4. Christian Monastery Of Selje

There are some great churches in Norway that have immense historic value. Among these travelers flock to see Urnes wooden or stave church and Nidaros cathedral. But this monastery in Selje abbey is another important religious site that also has historic value.

This monastery was built in 11th century and was dedicated to saint Alban and specially to saint Sunniva.

Saint Sunniva was a lady and patron saint of western Norway. For this reason this place was a revered pilgrimage site once. Now there is  ruin of the monastery that is very well maintained. A must visit place for a history lover.

5. Big Guns Of Austratt Fort, Trondheim

In WW2 Norway was captured by Germans. They set up a military base near Trondheim which housed three very big cannon like guns that used to fire more than 300pounds shell as far as 38 kilometers.

The base was established in order to resist Allied force from sea.

Now this military base is a tourist attraction. A history loving tourist can see the three guns even today. Besides this other features include the living places of almost 200 Nazi soldiers, hall where military personnel used to meet. It is one of the greatest historic attractions of Norway that belong to Second World War.