With great landscapes, beautiful natural features the countries of western Asia or Eurasia are attracting large number of visitors regularly now a days. Georgia is one of such countries of Eurasia. Georgia has astonishing natural beauties along with great historic and cultural heritage. The country was ruled by different kingdoms in ancient or early middle ages. Later it was  unified. Georgia accepted Christianity in 4th century AD. But this country later was captured by Russian empire. Georgia's political relation with Russia continued for long and through several ups and downs. The country at last was freed in late 20th century. A history loving tourist can enrich him or herself touring several grand historic sites in Georgia. here is a list.
5 Outstanding Historic Places Of Georgia:
1. Uplistsikhe
A very few countries in the world have grand and outstanding historic place like Uplistsikhe of eastern Georgia. This spot has remains of rock cut or cave based city or kind of civilization. Historians state that the relics which are seen here can be dated from Iron age to late medieval period. They also state that Uplistsikhe has a mixture of Pagan as well as Christian heritage. Tourists can see remains of chambers or vaults, places for sacrifice, big hall like area with massive ceiling, remains of Christian basilica etc. A historic spot not to be missed.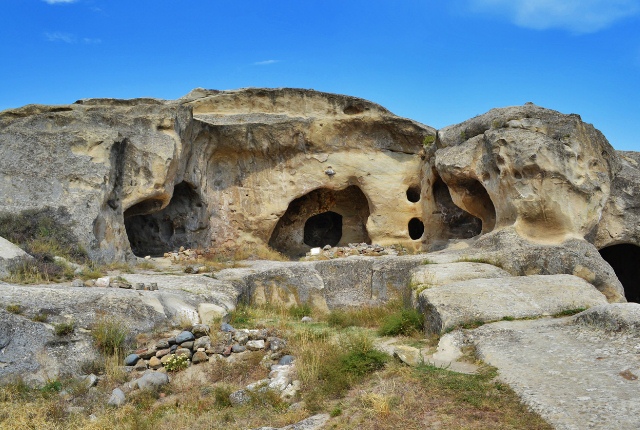 2. Vardzia

Like Uplistsikhe Vardzia is another outstanding historic place. Located on the left bank of Kura river and curved out of Erusheli mountain this is a monastery of late 12th century. It was very developed in its tiw until occupation of Georgia by Byzantine power. Now if you can endure a little bit climb on mountain path you can see astonishing historic relics that include great living space, wall art etc. This site is on tentative list of UNESCO world heritage sites of Georgia.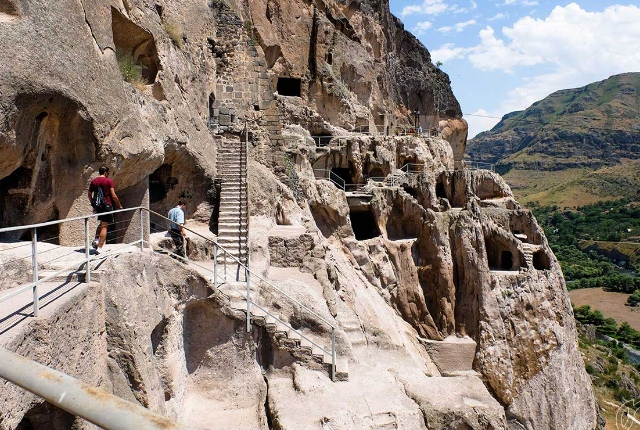 3. Gelati Monastery
The reign of king David 4 is called Golden Age of Georgia by the historians. This monastery was work of king David 4 in early 12th century that is considered as one of the greatest historic landmarks of Georgia. It looks quite impressive from outside. This monasstert is a prime example of Georgian architecture of that period. In this place great scholars, philosophers and even scientists used to gather together in search of knowledge and truth. A UNESCO site that is a must visit. Located in western Georgia.
4. Narikala Fortress
If you are seekingt a great fort or fortress in Georgia like other European countries or cities then Narikala in Tblisi is a spot for you. The history of Narikala was very old. it was built in 4th century AD. Later it had undergone through several reconstruction and expansion by other rulers. The most notable was king David in 12th century. Now the portions that you can see today belong to late medieval period. Besides the historic fortress suffered severe loss in 19th century from a natural disaster. St. Nicolas church is a popular tourist spot in vicinity of Narikala. Like Narikala this church had also suffered severe loss in an accident. Later much of it is rebuilt or reconstructed. Now this restored church exhibits history of Georgia through fresco.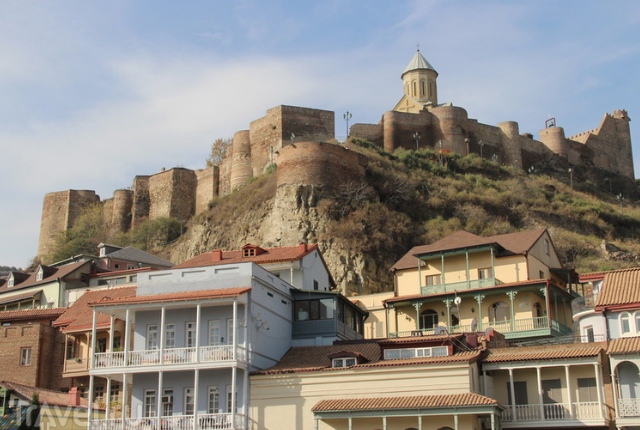 5. Bagrati Cathedral
Historians consider Bagrati cathedral  as one of the best medieval structures of Georgia. Located in Kutaisi city you can understand it while visiting. But this unique historic structure is said to be almost destroyed by an explosion during Ottoman invasion. Though restoration works have made it possible to recover some of its past glory still this place or site is listed as  endangered in the list of UNESCO heritage sites of world.