The country Ireland has somel offshore islands which are naturally beautiful place. One of the islands is this Achill island. It is called the largest island of Ireland. It has beautiful mountains, valleys, sea beaches and other sea related beauties. The history of Achill is also very old. It was inhabited 3000 years ago before the birth of Jesus Christ. Later several Irish clans and royal families ruled over it. These clans defeated the Vikings from outside in 9th century AD. For these reasons this island also has historic remains of castles, towers etc. In a word this place can be called a kind of heaven for tourists of different tastes. The island has good hotels to stay and facility for food also.
Here Are 5 Magnificent Tourists Spots Of Achill Island:
1. Ruin Of Carrickkildavnet Castle
A tourist if loves seeing historic sites then he or she can start from touring this site of Carrickkildavnet castle in southeast Achill island. This castle was built in second decade of 15th century by an Irish royal family. Later it came under the occupation of a famous lady called Grace O Malley who had a reputation of being a pirate too. Now ruin of this castle includes a spectacular looking watch tower that s four storied high. Historians say that it was built for safety purpose of the castle. The surrounding is beautiful also. It is one of the National Monuments of Ireland.

2.  Site Of Deserted Village
This site at close proximity of Slievemore mountain of Achill island is a popular tourist spot. Here you can see nearly 80 stone built houses of an abandoned settlement. This settlement perhaps belonged to a farming community hundreds of years ago. Archeologists have found signs of agriculture in nearby field of the village. They say that the house building skill of the people of that village was also unique.There was no sign of any connecting materials like mortar or cement between the stones. The houses also have single room. The village was abandoned in mid 19th century because of a local drought historians say.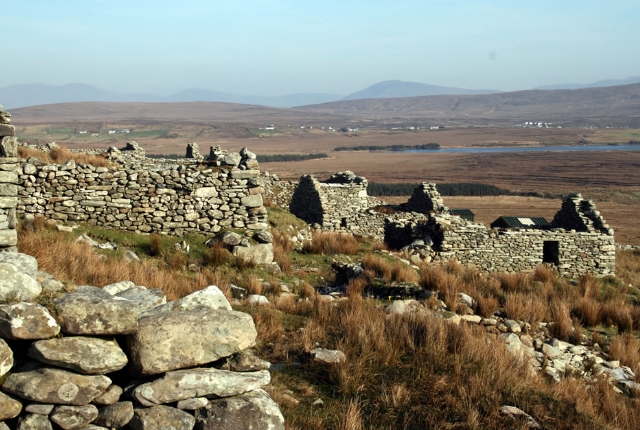 3. Keem Beach And Bay
If you have becpme a bit tired seeing historic ruins, you can visit the western part of Achill island that has the magnificent Keem beach and bay. The specialty of this bay or beach is that it is not extremely spacious but the beauty is worth visiting. The rocky surrounding will mesmerize you. Besides it is a spot from which you can view marine creatures like basking shark conveniently.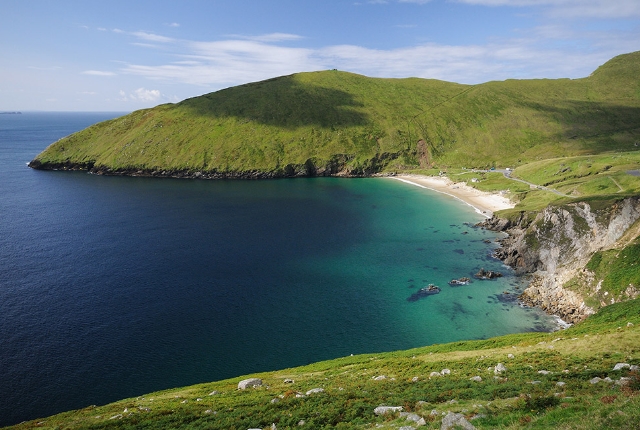 4. Dugort Beach
Beauty and grandeur have made some beaches of Achill to achieve Blur Flag status. This beach in north Achill is consisted of two such blue flag beaches. One is silver strand and the other is golden strand. The golden strand is particularly attractive. It has spectacular looking sand dunes and vegetation. The area has heritage of Christian missionaries too. The Slievemore hotel of that area is once part of such mission.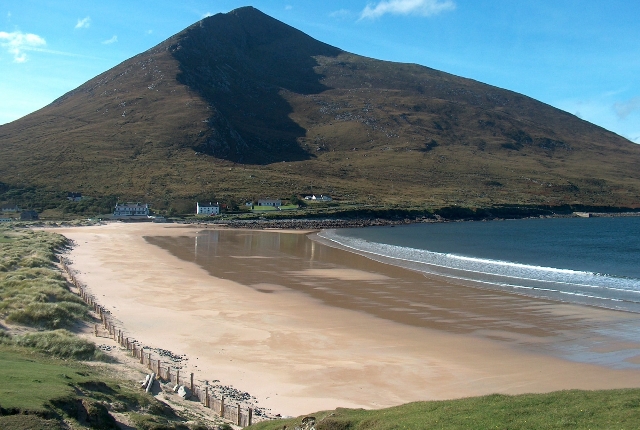 5. Kildavnet Church And Graveyard
Carrickkilvavnet castle or tower is known by the name of Kildavnet tower also. It is perhaps the most visited part of Achill island. But once you are in this place do not miss the ruin of the old church and graveyard nearby. The church is said to be established on the spot that once had church dedicated to Saint. Dympna in 7th century AD. The graveyard has many old graves of the people of the island. But two memorials are most notable. One belongs to the people died in an accident in 1894 and the other belongs to a similar incident happened in 1937 in the island.