At the same time when beaches have risen up to an important place in the life, the facilities nearby are equally important. You may like a beach which is beautiful but you would always prefer the average beach but with world-class facilities. Perhaps that is what is called the need and the want of human beings.
Therefore, having a beautiful beach is not what is required, sometimes there are other aspects that add to the beauty of the beach. These facilities are like hiking, diving, pools, and spa but the most important of all is a place to stay for which you will find resorts and hotels nearby. Today, you are going to learn about the 10 most awesome beach hotels in Europe. These hotels are surprisingly beautiful and amazing in all aspects. Read on to know more about them.
10 Best Beach Hotels Or Resorts In Europe:
1. Mayor Pelekas Monastery
Welcome to the mayor pelekas monastery which is lying in a magical location, upon one of the unsurpassed beaches of Corfu, Kontogialos beach in Greece. The journey to this hotel gets illuminated by the famous Greek sun and lingers the amazing smell of the sea breeze.
Here in this luxurious hotel having the location near the beach, you will never come across a single thing unfavorable to your taste.
From luxurious comfort and top service to exclusive facilities, the hotel gives you a complete hospitality experience. Consisting of 181 rooms, all are built in such a way that all of the, have a panoramic view.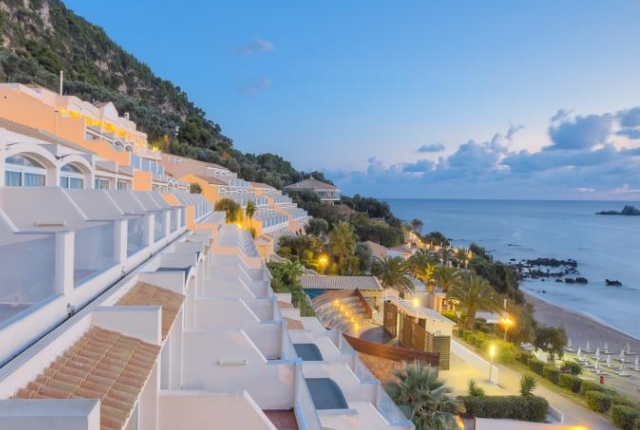 2. Cliff House Hotel
While searching for some hotel, the first thing that you might be looking for is whether the hotel deserves such a high price or not. Don't worry, you will know the perfect balance of the rate when you will come across Cliff house hotel. Regarded as one of the finest 5 star hotel in Ireland, the hotel with only 39 rooms is a perfect seaside boutique hotel featuring an amazing intimate Irish destination spa as well as enchanting restaurant with world-class food. Just go there and find out yourself what else you can boost about.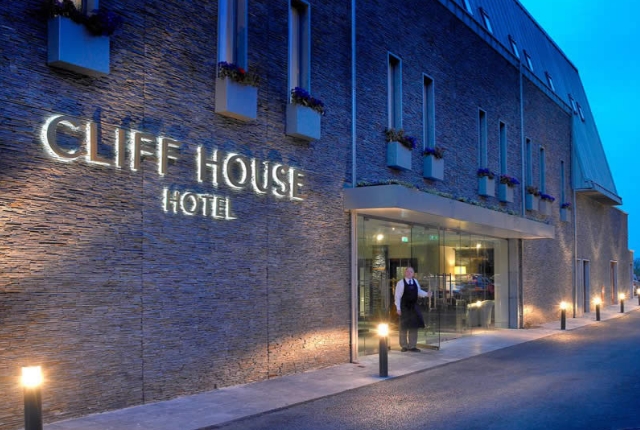 3. Santa Barbara Golf & Ocean Club
Santa Barbara golf and ocean club hotel is located in san Miguel De Abona, Tenerife, Spain. The hotel with its diverse and alluring landscape in another beach hotel capturing the essence of natural beauty from volcanoes and wild desert terrain to coastal seascapes, exotic flora and fauna and the lush forests. The glistering shores of Tenerife makes your day amazing with its various beach activities while the night has the benefit of beach walk with your hubby. The hotel is a perfect symphony of gentle waves and truly depicts paramount architecture and accommodations done with sheer perfection.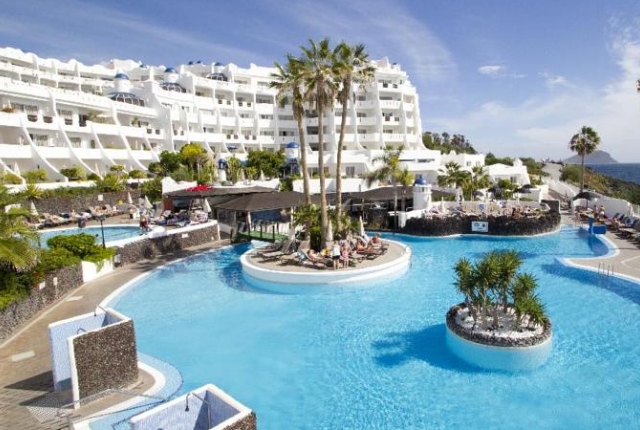 4. Amirandes, Grecotel Exclusive Resort
Just 20 minutes from the Heraklion airport, this is an amazing beachside resort in Europe that epitomizes Crete's most inspiring feature such as warm hospitality, excellent cuisines, beautiful architecture and stunning land and seascapes. The hotel has elegant rooms and suites plus 10 restaurants and bars, a spa and 3 private beaches. This 5 star resort offers amazing sea links and lies just a short drive from the major attraction in the city such including Crete Golf Club and Palace of Knossos.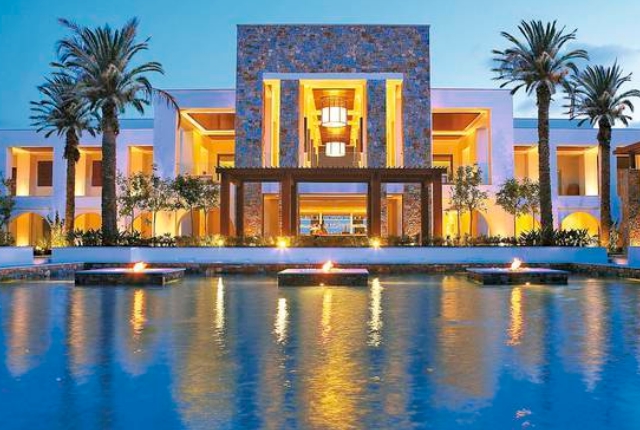 5. Atlantis Resort
The Atlantis resort is located on the paradise beach on Dr. Paradise Island in Bahamas. The Atlantis hotel has brought to you a very comprehensive way to explore your room type on your budget and preference. This is a contemporary hotel with upscale suites and featuring beaches, Water Park and amazing dining. The hotel is truly Ocean water themed based and features variety of accommodations such as beach tower, royal tower and coral tower. Moreover, there is lot more to do which you will only notice when you get here.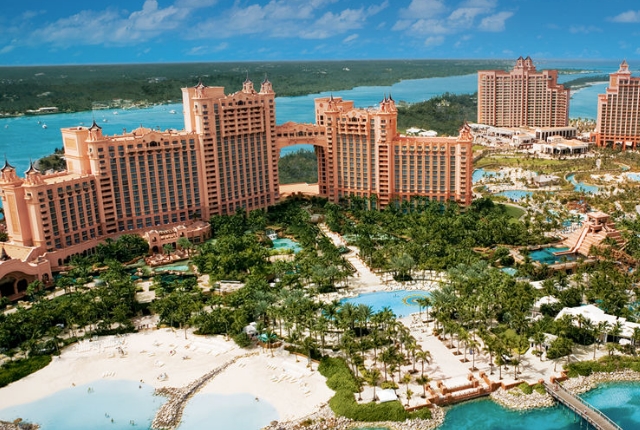 6. Jumeirah Bodrum Palace
Jumeirah palace is approximately 10 minutes from Bodrum city center perching in the natural beauty of zeytinlikahve cove and 2 minutes from the famous Bodrum international airport. The 134 room hotel is no less than a palace as its name suggest and has 4 bars, 3 restaurants, 5 public pools, and 62 private pools. From this luxurious palace, not only can you enjoy the amazing seaside view but also windsurfing, scuba diving, and parasailing.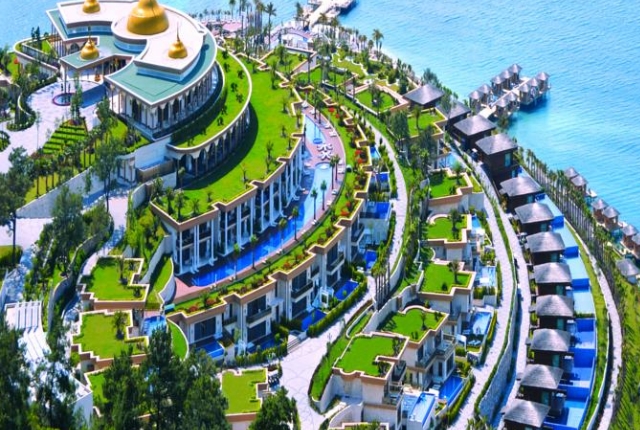 7. Sea Planet Resort & Spa
With its enviable seafront location in the Kizilot, the sea planet resort and spa is a luxurious hotel with un-paralleled art facilities and first class service. The hotel is the right choice for all those who are looking for an upscale, beach side hotel with plethora of facilities and services. Only once you reach here you will get all the facilities in hand with out-worldly accommodations. Here, you will never be short of facilities such as spa, swimming pools, fitness spots, saunas and amazing food.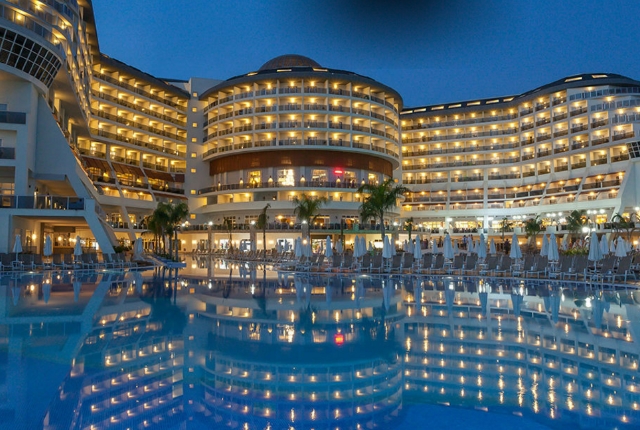 8. Dream World Resorts Spa
Dream world resort is another 5 star hotel situated in the Evrenseki-side district on turkey Mediterranean coast. The resort lies close to Hellenistic and roman ruins. The hotel is the host of intriguing attractions from where the guests can explore the mesmerizing area delightfully. All the 232 rooms are fitted with upgraded amenities and world-class facilities. Just be here and explore what is not mentioned here such as the seaside experience, and the amazing night life.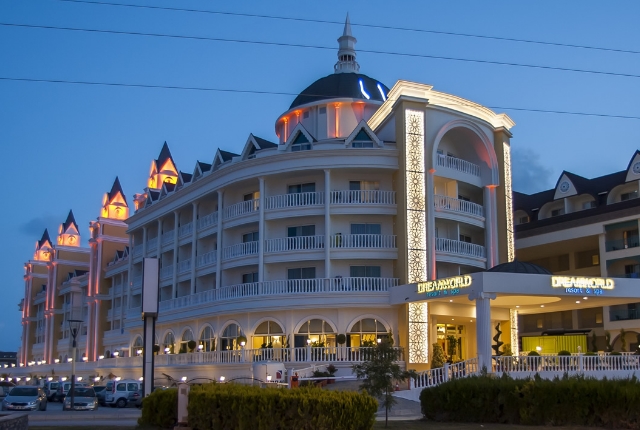 9. Amphora Hotel & Suites
This is an exclusive new hotel that offers an unconstructive view of the tranquil water of the Mediterranean Sea and astounding fishing harbor and medieval castle. Lying on the idyllic beachfront location of the former SODAP Winrey, amphora is inspiring and serene heaven of up-to-date elegance that will get your senses to life. With its 95 highly luxurious suites, superior rooms, amazing pools and panorama, there is nothing more you can expect about.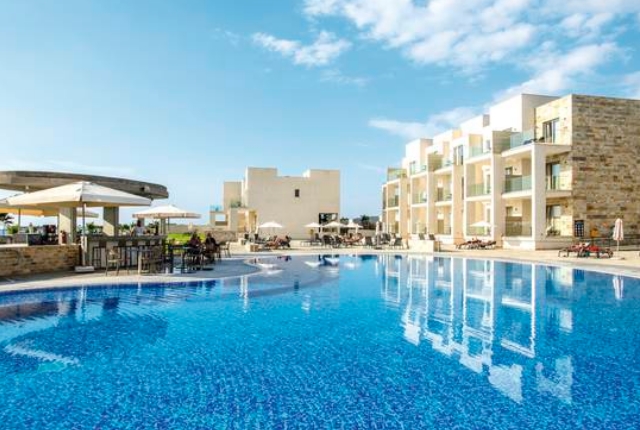 10. Crystal Aura Beach Resort & Spa
Crystal aura beach resort & spa is another 5 star beach hotel of Europe. It lies3.2 km from Kemer town center & 54.7 km from the Antalya airport of turkey. Just a few steps from the seafront, you will come across crystal aura that has a private beach, spa facilities, & many indoor & outdoor pools. What's more is the spa & other facilities that you will only come across once you visit here. So be here & see what more life has for you.