Switzerland's financial capital, Zurich is the country's largest city and is best known for the Swiss banks. It is the country's economic as well as cultural hub and is one of the most fascinating places for tourists. Zurich is often the starting point for a Swiss tour and it is renowned for being clean and efficient. Steeped in history and culture, it also boasts of a very modern lifestyle and has a number of hip clubs and fine dining restaurants. It is also the best place to enjoy a sightseeing trip on foot.
Here Are The Top 11 Tourist Destinations In Zurich:
1. Swiss National Museum
If you are interested in Swiss history, the Swiss National Museum is a must visit. In a huge castle like building with neo-Gothic influences lie the museum that is home to more than 820,000 cultural artifacts.
It is an exhaustive collection of artifacts dating back from the pre-historic era to the 20th century.
The artifacts range from gold and silver works to jewelry, costumes, textiles, metal work, musical instruments, watches, craft items and a varied collection of industrial antiquities. In order to offer a glimpse into Switzerland's past, the museum has a number of reconstructed period rooms which display furniture, furnishings, room settings, living spaces and decorative items from the past. The museum also has some fine medieval wall paintings.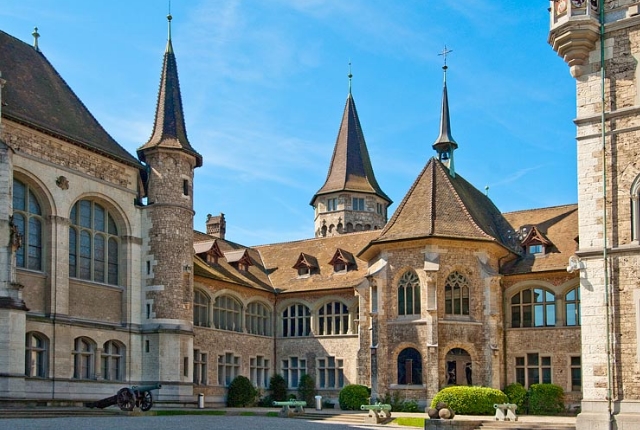 2. Kunsthaus Zurich Or Museum Of Fine Arts
Switzerland is a culturally rich country and it is quite evident in its art collection. Kunsthaus Zurich or Museum of Fine Arts is one of Europe's best art museums. Founded in 1787 by a society of artists, the museum features an outstanding collection of artwork by Charles Munch and Monet.
Paintings by masters such as Van Gogh, Cezanne and Marc Chagall also feature in its collection.
The Kunsthaus boasts about a particularly high number of paintings from the Impressionist, Post-Impressionist and Modern Schools of art. The museum also has avid representation from earlier periods. It features artwork from the Italian Baroque, Dutch golden age and the Venetian Settecento periods. Exhibits of contemporary sculptures are also found on the ground floor of the museum.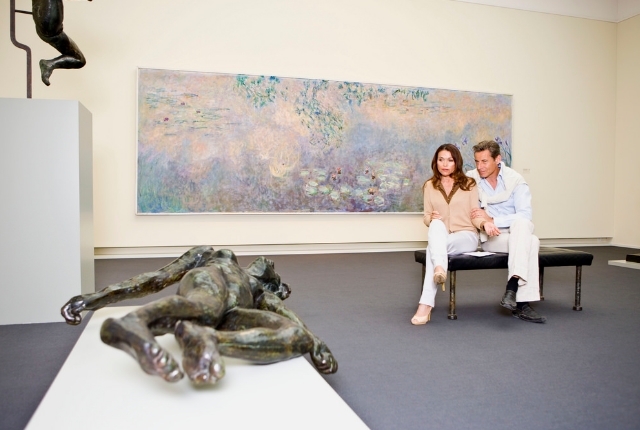 3. Zurich Alstadt
Zurich Alstadt is the old town area where you get a feel of the historic town. It has retained its old world charm and is now home to numerous tourist attractions in Zurich. Its plazas and popular landmarks are famous hangout places dotted with many antique shops, boutiques, restaurants and cafeterias. The area is also in close proximity to interesting places such as St. Peter's Church, New Market, Lindenhof, Fraumunster and the medieval Rathaus quarter. With a beautiful blend of gothic and medieval architecture, the buildings in the old town still reflect its past glory.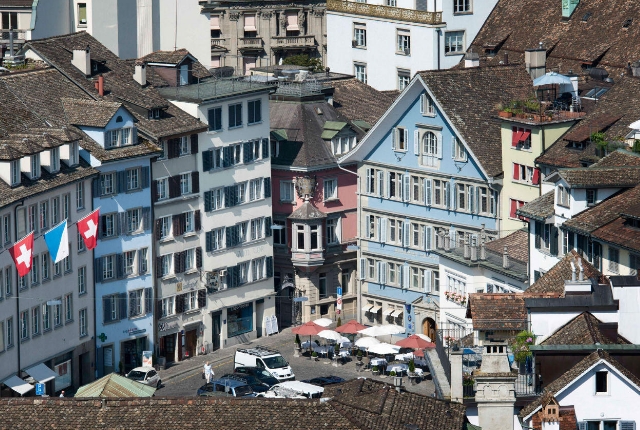 4. Lake Zurich
A lake which has its origin in an Alpine glacier, Lake Zurich is a huge lake stretching over Zurich and moving on to nearby towns of Thalwil and Kusnacht. Its shoreline has many beaches and swimming areas and the entire area is beautifully decorated with promenades and parks. Locals as well as tourists love to walk along the shores, jog along or swim in the pristine blue waters of Lake Zurich. It is also a great place to witness the glory of Glarus Alps. Tourists can take boat or ferry rides to enjoy the calm and peaceful atmosphere of this Swiss town.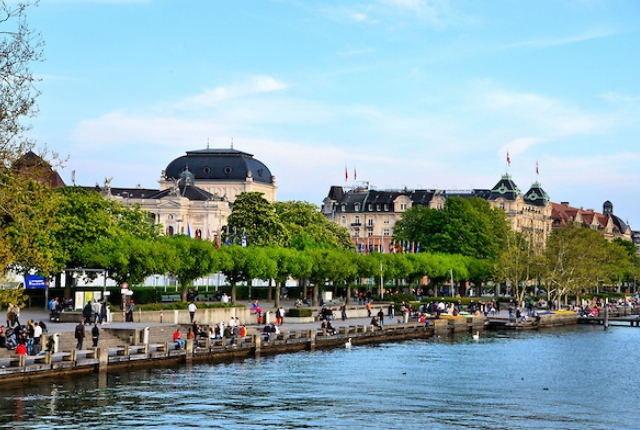 5. Fraumunster
Fraumunster is one of the four main churches of Zurich. Popularly referred to as the women's church, it was built in 853 by Louis the German to create a place of worship for his daughter Hildegarde.
Its gothic architecture is eye catching but, its main attraction is the wonderful set of five stained glass windows in the chancel.
It was created by Marc Chagall in 1970, depicting Elijah's ascent to heaven, various scenes from Christ's life and pictures of Jacob and Moses. For 700 years, Fraumunster served as a convent but today it operates as a church and is open for tours and services. The church clock tower and frescoes by artist Paul Bodmer are other attractions of this place.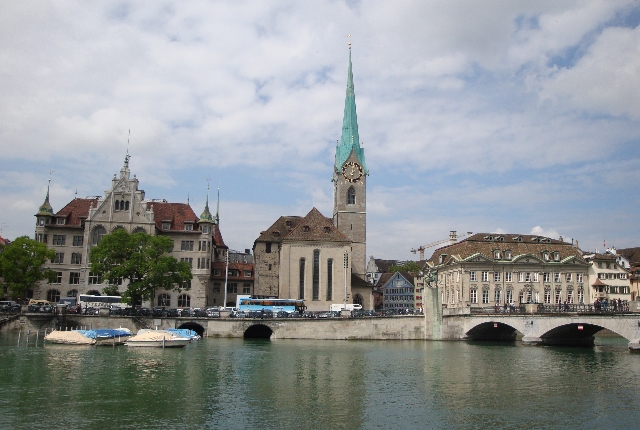 6. Sprungli House
For sweet lovers, Sprungli House is paradise. Opened in 1856, it is a confectionery house that makes delicious cakes, truffles, bonbons, macaroons, pastries and fine chocolates. It has a retail space on its ground floor and the café upstairs serves a wide range of desserts, breakfast and lunch. Tourists love this place for its unique collection of chocolates and sweet treats, which are often taken back as souvenirs from the Swiss trip.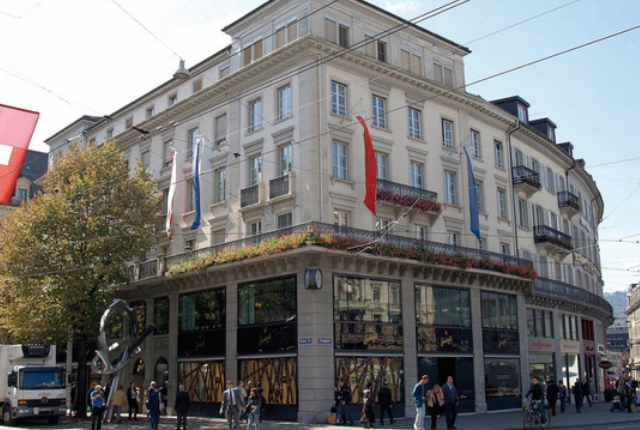 7. Uetliberg
If you want to reach a vantage point and enjoy the beautiful scenery around Zurich, Uetliberg is a place that you must visit. A mountain plateau overlooking the city, Uetliberg can be reached by train. Its summit is 871 meters high and has a wonderful glass enclosed lookout tower which provides breathtaking views of the adjoining area. During the day time you can see Glarus Alps, the area around Valais and Bernese along with the Black Forest in the north. It is a great place to start off a camping or hiking trail along the Alpine mountain ranges.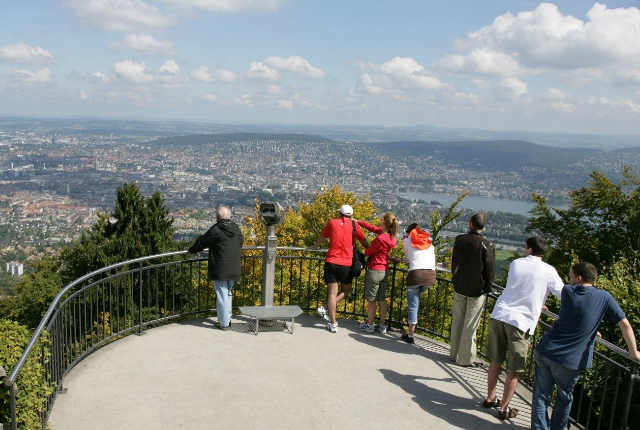 8. Grossmunster
The twin towers of Grossmunster or Great Minister are a landmark for all of Zurich. Founded by Charlemagne, this church is one of the four most important churches in the city. It was upgraded many times since its inception and is a popular historic place.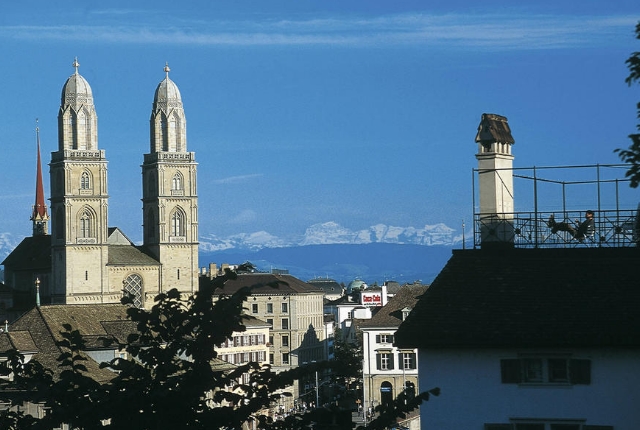 9. Zurich Zoo
One of Europe's finest zoos, Zurich zoo is home to more than 360 animal species. It is an exotic zoo that has tried to keep animals close to their natural habitats. While penguins are allowed to swim in chilling water, snow leopards can roam around the rocky Himalayan landscape created within the zoo. It can be reached by trams and trains from Zurich's main station.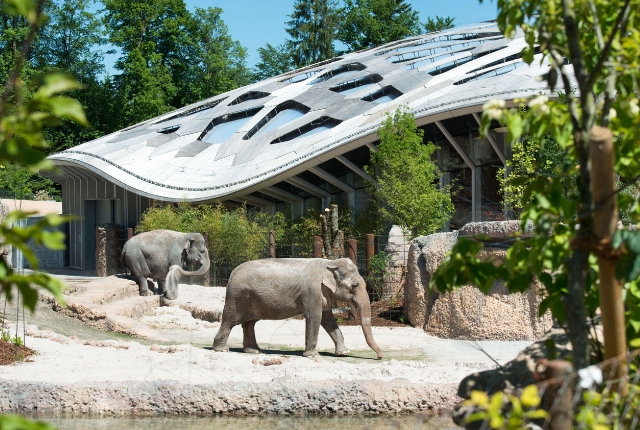 10. Limmatquai
Limmatquai is a riverside shopping destination which is very popular among tourists and locals. It has numerous elegant, old guild houses which have now been converted into restaurants that retain its old charm.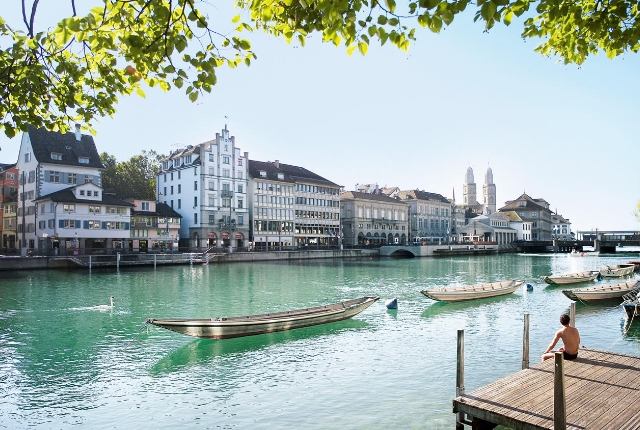 11. Bellerive Museum
Bellerive museum has a fine collection of applied arts covering different eras including the Art Nouveau. It is an art lover's delight and has art work with textiles, modern ceramics and marionettes by modern artists.