Natural beauty, snow-capped Alpine peaks, ravishing lakes, emerald valleys, gorgeous glaciers and quaint little lakeside hamlets paint the perfect Swiss picture. Switzerland is a land of mesmerizing charm. With its storybook charm, it looks and feels like a place straight out of a fairy tale. Bordering Italy, France, Germany and Austria, the country is infused with a multiculturalism that is quite unique. Although, there is no Swiss language in particular, people here speak French, Italian and German. Its cultural aspects also are worth mentioning. Cities such as Lausanne, Zurich and Geneva are steeped in history and has numerous museums and galleries, a number of historic buildings and are also known for its famous music festival. If you are in Switzerland, there will be lots to see.
Let's Look At The Top 5 Tourist Attractions Of Switzerland:
1. Jungfraujoch- The Top Of Europe
Perched atop the Swiss alps at 3,454 meters, Jungfraujoch is one of the most beautiful places in Switzerland. Located in the Bernese Alps, it is accessible via train and the journey itself is breathtaking.
A railway line that passes through enchanting snow covered mountains and lush valleys takes you to the highest railway station in Europe, popularly known as the top of Europe where you can get off at the observation terrace and the scientific observatory atop Jungfraujoch.
Amazing views of the Eiger, Jungfrau and Monch summits awaits you here. The area also offers great views of the Eiger Glacier lying beneath the mountain ranges. It also has plenty of mountain trails famous amongst climbers and hikers.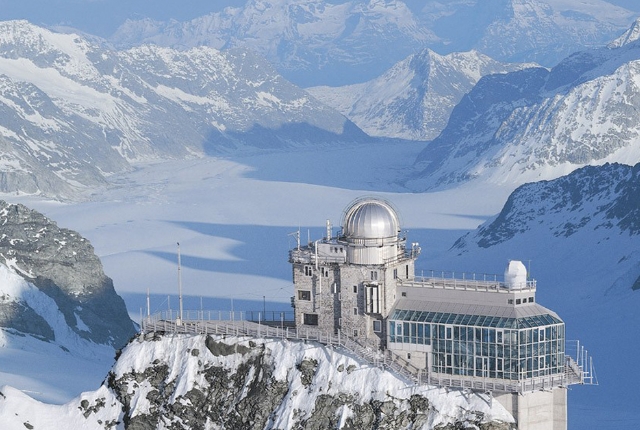 2. Matterhorn
An iconic sign of the Swiss Alps, the Matterhorn is one of the highest peaks in the Alpine mountain range. Lying between Switzerland and Italy, its peak is 14,692 meters high and is one of the most dangerous peaks for climbers.
Its steep slopes are difficult to climb and are known for very frequent avalanches.
At the foot of the Matterhorn lies the beautiful village of Zermatt. It has a world class resort offering quaint chalets and horse carriage rides. And to keep its old world charm intact, the village has banned motor vehicles, making it the perfect place to enjoy the beauty of a Swiss holiday.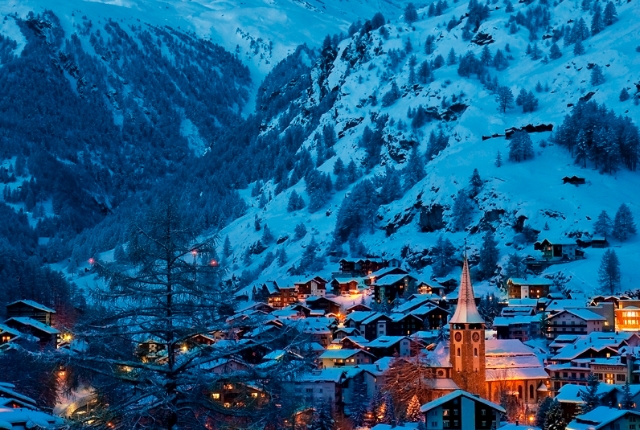 3. Interlaken
Switzerland's famous summer holiday destination, Interlaken is located amidst Lake Thun on the west and Lake Brienz to the east. Surrounded by the mighty peaks of Monch, Eiger and Jungfrau tower, it is the perfect place to start your alpine adventures. Interlaken's famous Hohematte town is a brilliant example of urban planning. A fantastic town with 35 acres of open space, it has flower gardens, quaint little restaurants and cafes along with a central boulevard that offer breathtaking views of the Swiss alps surrounding it. Hiking, climbing and kayaking are some of the preferred activities here. And if you want to enjoy the beauty of the lower elevations, take a paddle streamer to move around the lakes of Interlaken.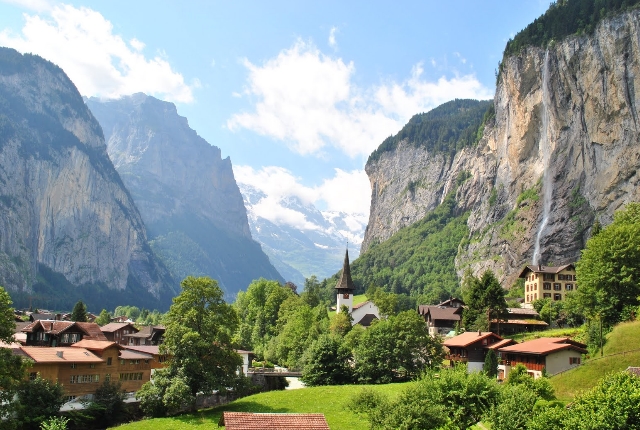 4. Chateau de Chillon
Sitting on the shores of Lake Geneva, Europe's largest lake is Chateau de Chillon. A famous historic site, the castle was once the main fortress that monitored freight on the lake. A fairy tale wedding destination, this water castle boasts of fine art pieces from the 14th century and has 25 separate buildings with three courtyards. It also has subterranean vaults and two circular walls. It is a famous tourist attraction and draws thousands of guests every year.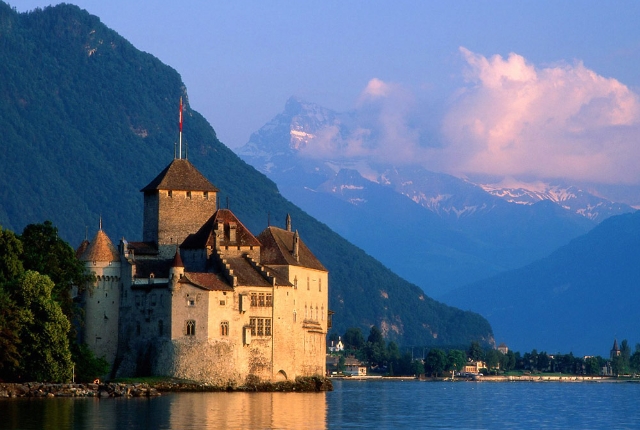 5. Geneva City
The city of Geneva is picturesque with snow-capped peaks all around it and can be best described as the perfect example of French joie de vivre and Swiss structure. The beautiful parks, gardens and promenades around the lake and the historic town is the perfect place to stroll amidst Swiss charm. A famous landmark on Lake Geneva, the Jet d'Eau is a fountain that shoots water 150 meters in the air and must not be missed while you are travelling in the region. The Grand Theatre and Opera House are other famous attractions of this city.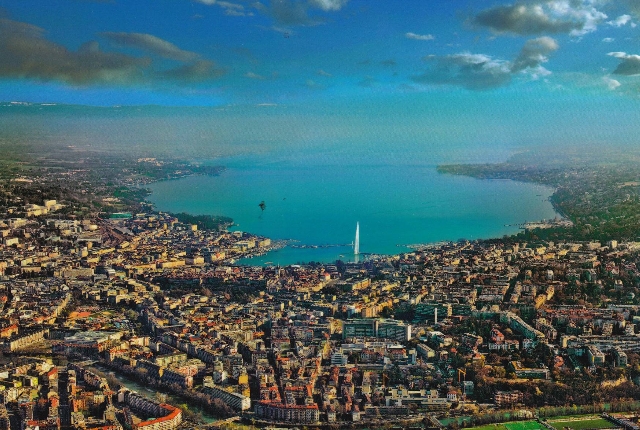 6. Lucerne
The quintessential Swiss town of Lucerne is a top favourite for tourists. Amazingly sparking blue lakes, majestic white mountains, waterfront promenades and a medieval town free from any form of motor vehicle is what Lucerne is all about.
A dreamy place, its frescoed historic buildings, beautiful plazas and fountains are all worth watching.
It is also famous for its annual International Music Festival. The Chapel Bridge, Lion Monument and Swiss Transport Museum are some of the notable tourist attractions of Lucerne. And if you wish to enjoy its beauty, ride a funicular to Dietschiberg on the northern side of Lake Lucerne and take the cableway to Mt. Pilatus.