Located in northeastern Italy, Venice is popularly known as the City of Canals. It has enthralled and amazed travelers from time immemorial. Unlike any other European city, it is built upon 118 islands and is interconnected via a network of waterways. To the outsider, it simply looks like a picture book, completely unreal, adorned with an appearance that is unchanged for over 600 years. It is a place where you can simply get lost without knowing where to begin your journey. Whether you choose to stroll by its canals or explore its secret corners, everything in this quaint little city is worth mentioning.
Let's Find Out 5 Amazing Tourist Attractions Of Venice:
1. Grand Canal
In a city that is dominated by its waterways and where cars are completely banned, the canals are its lifelines. The Grand Canal is the main boulevard that meanders through the heart of the city.
Take a gondola and ride through its waters to discover Venice in its full glory.
Lined with structures influenced by varied architectural influences ranging from Renaissance and Gothic to Romanesque, a tour of the Grand Canal will take you through a 3.8 kilometer stretch that connects Piazza San Marco with the mainland bridge and the rail station. On your tour, you can also see well preserved remains of grand palaces that once was the hub of royalty in Venice. Only four bridges cross the Grand Canal including the famous 16th century Rialto Bridge.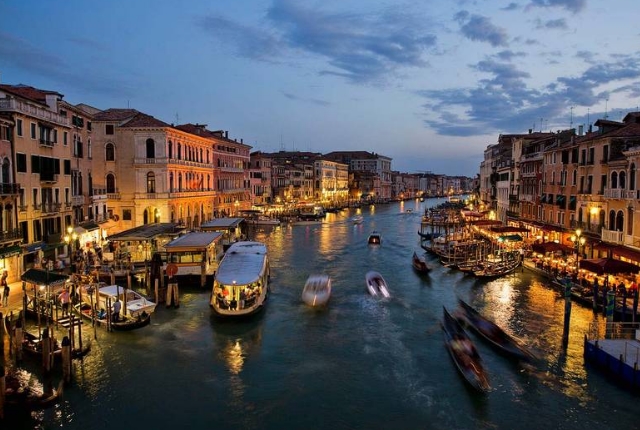 2. St. Mark's Basilica
Dating back to the 9th century, St. Mark's Basilica is one of Venice's most famous tourist attractions. Situated in the city's principal thoroughfare, it consists of a 30 story Campanile and a huge basilica.
The unique mix of Byzantine and Gothic architecture is evident in every façade of the basilica and is a fine statement of the wealth accumulated by the military prowess of this fascinating city.
The cathedral's walls and vault is covered with incredible mosaics from the medieval times and the jewel adorned gold screen of Pala d'Oro, an altarpiece located behind the tomb of St. Mark is considered one of the best depictions of Byzantine craftsmanship.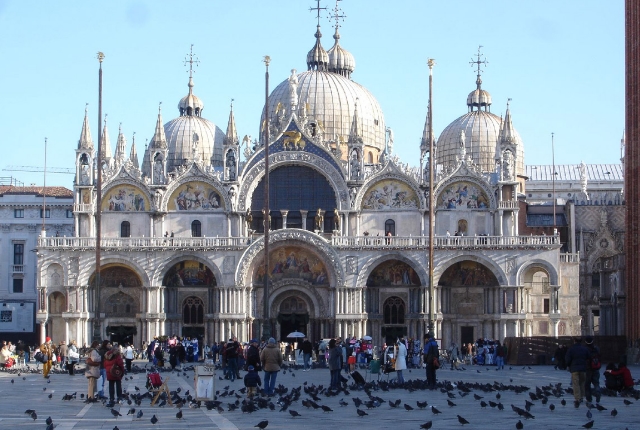 3. Rialto Bridge
Crossing the Grand Canal midway, the Rialto Bridge is the connection between two busy streets and a shopping district. Built in 1588, it is an architectural icon of Venice. The stone bridge is very famous amongst tourists and you will always find happy travelers posing on the bridge, ready to collect memories from their Venice trip. It is also a great place to pick up a few souvenirs from the shops in the adjoining area.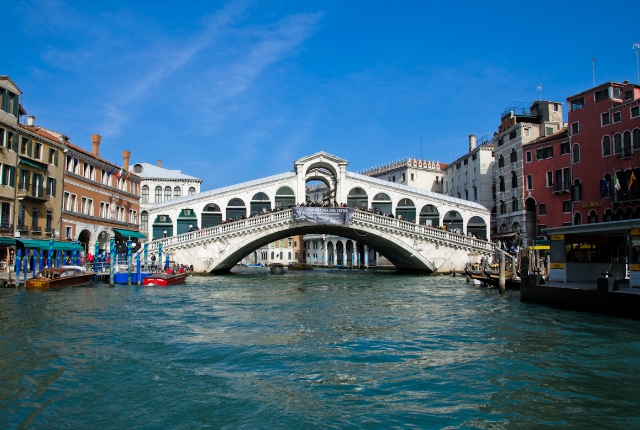 4. Palazzo Ducale Or Doge's Palace And Bridge Of Sighs
Palazzo Ducale or Doge's Palace was once the city's center of power. The magistrates or doges, as they are referred to in Italian, used to rule Venice and this palace served as the doge's residence.
It is an extraordinary architectural feat and visitors are awed by its opulence and lavishness.
The Porta della Carta, the gold vaulted Scala d'Oro and the Sala del Collegio are some of the finest chambers in the palace and have awed travelers from all over the world. Inside, you can see the works of famous artists such as Tintoretto, who made the famous 'Paradise', the world's largest oil painting. And if you opt for a private tour, you are allowed to walk through the Bridge of Sighs which leads to the prison cells of Prigioni.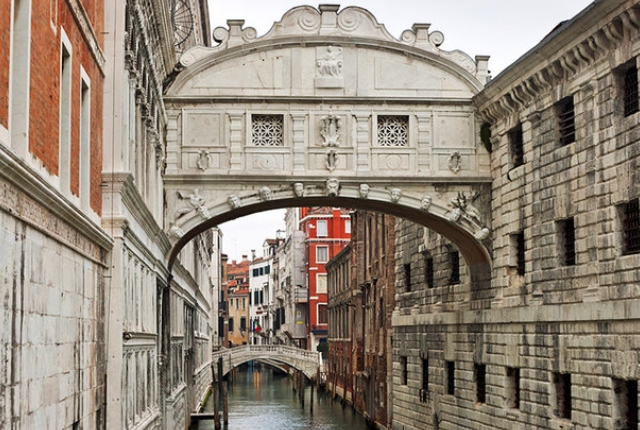 5. Piazza San Marco or St. Mark's Square
A city dominated by canals and waterways hardly has a public square and this holds true for Venice as well. The trapezoid shape Piazza San Marco or St. Mark's Square is therefore, the city's only public square which has been the meeting place for centuries and acts as an epicenter to any tour of Venice.
Located in close proximity to St. Mark's Basilica and Palazzo Ducale, it is a place that is always buzzing with activity.
It is a place which everyone passes by, whether it is the tourist enjoying Venice or an office goer fulfilling his daily duties. The area is perfect for strolls, sipping on a cup of coffee or enjoying a drink with friends. The sides of Piazza San Marco has been framed on three sides and it is lined with numerous cafes and restaurants that provide the perfect opportunity to enjoy the charming atmosphere of Venice. Hidden behind the framed arcades lie fashionable shops selling Italian designer clothing, bags, jewelry and many more coveted items. And if you are interested in viewing this busy street from the top, go to the Torre dell'Orologio.