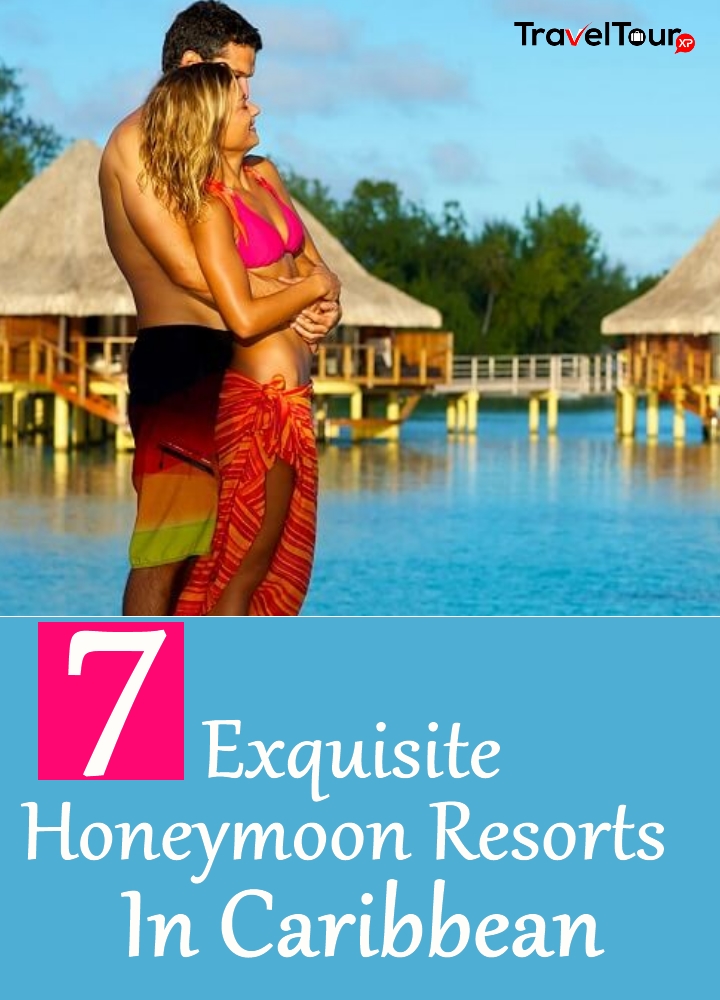 The Caribbean region is located near the Caribbean sea with gulf of Mexico, north American mainland, central America and south America surrounding it. It has various islands and surrounding coasts. There are so many islands with beauty in different forms. However, all of its islands are desirable and perfect. On these beautiful islands are made striking resorts. You must check out the top 7 among all.
Top 7 Honeymoon Resorts In Caribbean:
1. Luxury Bahia Principe Ambar Blue Don Pablo
Before going any further about its facilities and accommodations, I must draw your attention towards its appearance. This is one such resort whose very appearance from outside will draw you closer to it. There is a big pool with the umbrella shape terrace and relaxation zone for loungers with the Jacuzzi Bahia Spa, gym, 3 tennis courts, sports facilities, water activity center.
You have the Wi-Fi access in the lobby, 3 specialty restaurants, 4 bars and many more.

There is golf club, leisure mall, live music, discos and casinos. In 528 rooms, there are many suites, all offering its customers king size beds and are air conditioned. The sea front location of the resort is something to choose it without giving any kind of second thought. In short, this resort makes you comfortable in all respect as every facility is made to draw the attention of the customers. Do go for it, whenever you plan to have a trip to Caribbean.

Visit Luxury Bahia Principe Ambar Blue Don Pablo

2. Excellence Punta Cana

First thing first – its view is going to make you choose this one instantly. This is quaint and colonial style resort which makes an ideal destination for the couples who are in the quest of a romantic gateway. This resort surrounding by the palm trees on perfect white sand in the remote stretch in Punta Cana's Caribbean shoreline, is an inclusive and ultra-beautiful resort.

This is also the home of the world-class spa and offers exceptional range of services and activities.

There are restaurants, swimming pools, bar/lounges, room services and many other amenities waiting for you right here. If you don't believe these words then you must go through the words of couples who already have the experience of this hotel. I am sure that you wouldn't need to think much.

3. Paradisus Rio De Oro Resort And Spa

Located in Playa Esmeralda which is on the northern coast of the Holguin Province, this resort as its name goes – Paradisus is no less than a paradise. This is five star Eco resort with 354 rooms meant only for adults of above 18 years or more. For a fabulous experience, you must check out its royal service area.

This resort is recommended for incentive trips, honeymoons, weddings and wellness and spa.

There are 354 guest rooms, 24 luxury junior suites, 254 junior suites, 2 suite deluxe, 36 master junior suites, 16 luxury junior suites with the superb oceanic view, 6 master junior suites with the luxury royal service, 14 master junior suites, dining, 8 restaurants, 5 bars, 2 garden and dining. Not to mention its amenities, because they also play a significant role is taking it to another level.

Visit Paradisus Rio De Oro Resort And Spa

4. Breezes Resort And Spa Bahamas

This is an all-inclusive resort in Bahamas situated above 1000 feet from the white sands of the cable beach which is the best beach of the whole island. Just one upfront price and pack your bags for this resort.

The comfort of the guests and providing them amenities that make them visit here again is what this resort aims for.

There are no hidden taxes, subcharges and fees. On the contrary, you may enjoy the Wi-Fi in bedrooms and even the lobby. Eat what you want, drink you can and pay nothing extra than what you have initially paid. Also, tipping is strictly restricted at this resort. You can enjoy rock climbing, sailing, flying trapeze and snorkeling. This resort has 3 restaurants along with a beach grill and four bars including piano bar and nightclub.

Visit Breezes Resort And Spa Bahamas

5. Sandals Royal Bahamian Spa Resort And Offshore Island

This one is new, ultra luxurious, extra comfortable, lavish services like beds at the poolside. Keeping the comfort and the peace of the customer, there is Zen spa, butler service, room service which lasts for 24 hours and Mercedes or Rolls Royce. This also has the most striking freshwater pool of the whole island. Ah, how can Sandal Cay be missed which is the only resort of Nassau's with private offshore island and restaurants.

There are ten dining option which showcases cuisines from French to Bahamian.

From the duty-free shopping in downtown, this hotel is minutes away. There are the famous chocolate buffets where you may get the specialty coffee. This hotel is also voted as the leading hotel brand of the whole of Caribbean. You must not find any difficulty in making a choice when such hotels are there.

Visit Sandals Royal Bahamian Spa Resort And Offshore Island

6. Majestic Elegance Punta Cana

This is the second most marvelous resort of Punta Cana. The resort was first opened for the customers in 2008 keeping in mind the needs of the customers. The cutting edge facilities and services are first thing that attracts its visitors to be here for more than once.

This is the 5 star all inclusive resort of Punta Cana surrounded by the exuberant fauna and flora and the heart throbbing landscapes.

For Caribbean lovers and the first time visitors to the Dominican Republic, this is the ideal, I must say the dream resort. As its name tells, the most elegant resort of the whole island.

Visit Majestic Elegance Punta Cana

7. Aruba Marriott Resort And Stellaris Casino

The amazing oceanic view from the balcony with fresh breeze blowing into your room all the time, do you want a resort with such rooms? If yes, you should go for the Aruba Marriott as it offers not just this much but more than this. Here awaits comfort, amazing accommodations, and exclusive service like pools, restaurants, club and even more for you.

There are held five dining in the private lounge for only the members and there is full access to the tradewinds concierge service.

You must check out this resort if you want more than just beautiful rooms because the nature of the staff, its services, and facilities only make any resort great be it a 2 star or a mere resort.

Visit Aruba Marriott Resort and Stellaris Casino