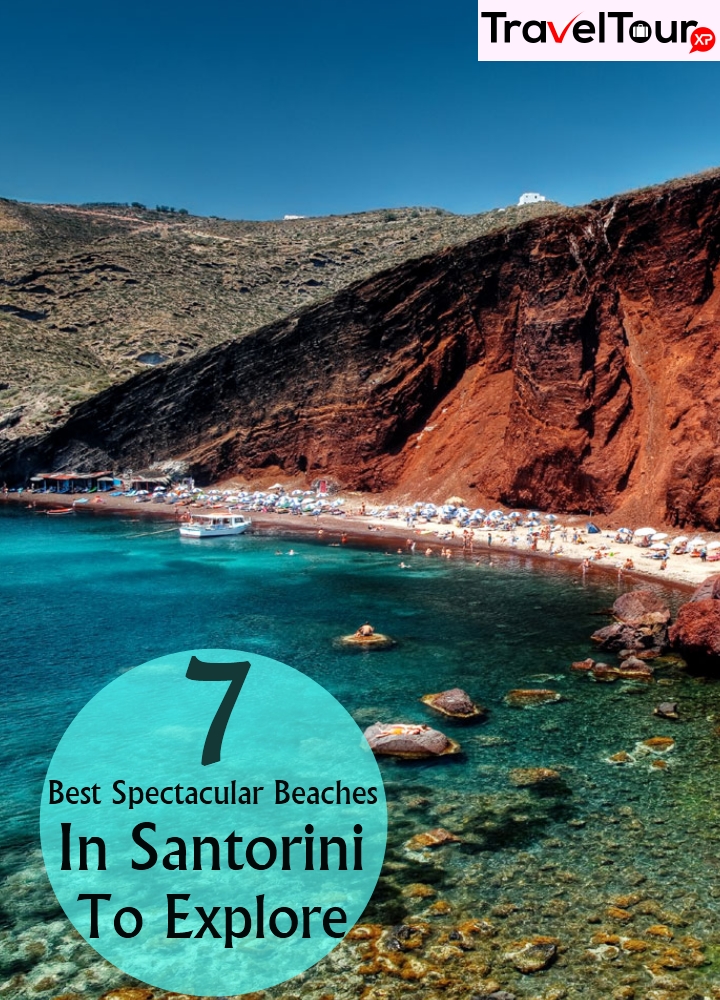 Adorned by pretty white pebbles, spectacular white or golden sand, eye-catching red rocks, enchanting clear turquoise waters, Santorini, one of the most popular Greek island, features several lovely beaches that you simply can't miss to visit when on this marvelous island. Wonderful beaches of Santorini have their own elegance and charm that is adorned by geological formations and natural environment. And, you can enjoy a host of fun-filled water activities and sports at the best beaches when vacationing in Santorini. So, if you want to discover which the lovely beaches in Santorini are that you must visit, think no further. Read on to learn about best Santorini beaches to explore.
Find below seven most popular beaches in Santorini that you should not miss.
1. Red Beach
One of the most fascinating beaches in Santorini is Read Beach. Watch this eye-catching scenic beach which comprises volcanic lava red stunning rocks, amazing pebbles, clear waters, and red sand. All these natural features make an amazing landscape in Santorini inviting tourists to visit it. Make sure you enjoy the thrilling snorkeling activity here. Incredible geological formations have developed colorful sea bottom here for you to explore.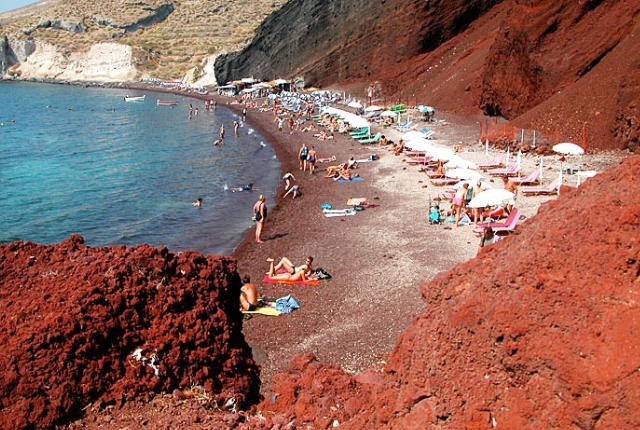 2. Monolithos Beach
Have a great enjoyable time with your kids and family at wonderful Monolithos Beach,which you can find in the vicinity of the airport. This long stretch of beautiful, wide beach is an ideal natural spot to relax in enchanting beach environment adorned by pleasant seawaters. Monolithos Beach is a fantastic destination to enjoy plethora of thrilling water sports and activities. This beach is an ideal spot to enjoy the kite-surfing the best.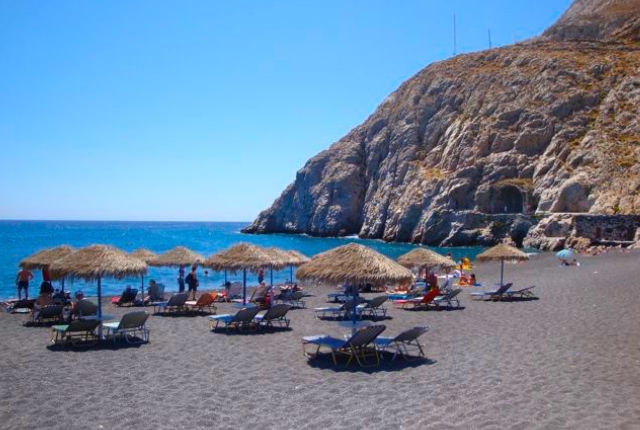 3. Perissa Beach
Do not miss visiting Perissa beach, which is an extensive and one of the busiest beaches in Santorini. It is also well-known as Black Beach.This outstandingly organized beach is an end of the extensive black sandy Perivolos beach. The presence of black pebbles, fascinating clear waters, pleasant environment, relaxing music, leisure couches, and sun-beds create an ideal atmosphere for you to spend a leisure time here. Enjoy the thrill of playing various water sports, such as sea skiing, fun jet skiing, and sea banana. Scrumptious food and ideal atmosphere to party make Perissa beach a perfect destination to chill during your vacations in Santorini.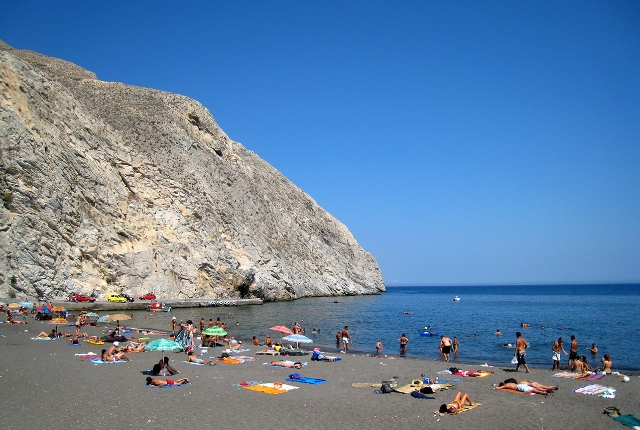 4. Kamari Beach
You simply can't afford to miss viewing spectacular crystal blue waters of Kamari beach when visiting Santorini. This is one of the most popular, beautiful, and easily reachable beaches that you can find on this Greek island. Spend a day here sunbathing, enjoying the fun of swimming in azure waters, and basking on the beach.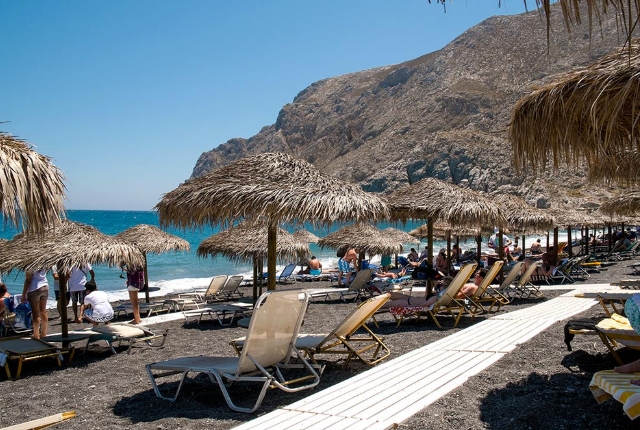 5. Vlychada Beach
Vlychada Beach, which is also famous as White Beach, is well-known for its peculiar fascinating landscape comprising gigantic white rocks. It offers you an ideal environment to relax on sun-bed and under the beach umbrellas. Click several pictures of breathtaking landscape here that feature incredible white rock formations. This beach in Santorini is an ideal spot for sunbathing.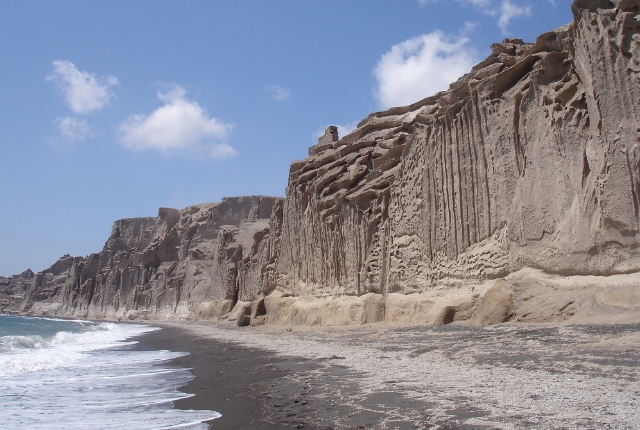 6. Koloumbos Beach
Another popular enchanting beach that you should visit when vacationing in Santorini is Koloumbos Beach. It is one of the longest and most quiet beaches that you can explore on this exquisite island. Do not miss swimming in the spellbinding blue waters of the sea here. Watch black pebbles and rocks adorning this coastal stretch in Santorini.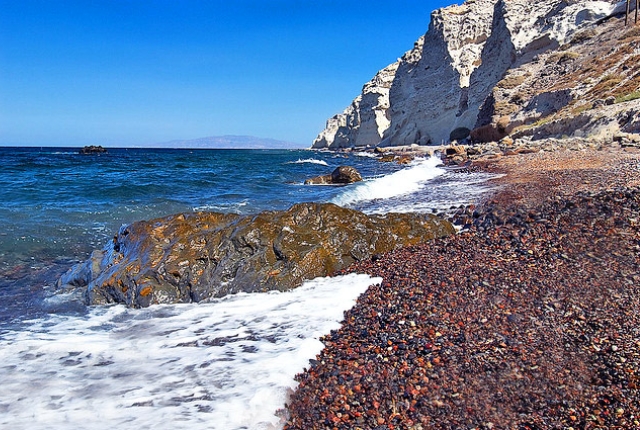 7. Katharos Beach
Take time out of your busy travel schedule to explore small, narrow, yet eye-catching Katharos Beach when in Santorini. White and black pebbles adorn this small yet pleasant beach. Katharos beach is known for its wild beauty and gigantic white volcanic rocks. Don't miss the wonderful opportunity to watch stunning sunset views of this beautiful island, particularly from café in the vicinity of this beach.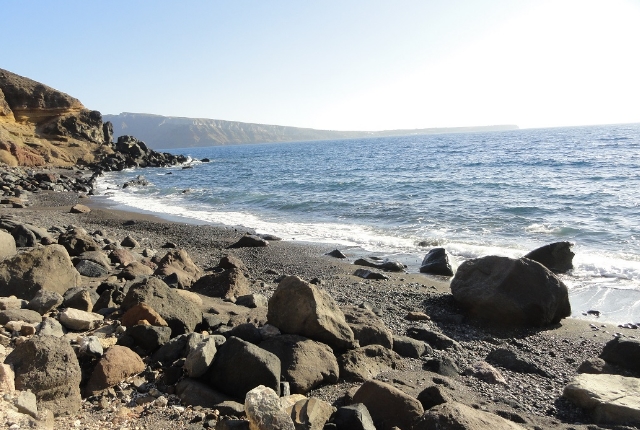 Now that you know these seven amazing beaches in Santorini, make sure you take time out of your travel schedule to explore each one of them.