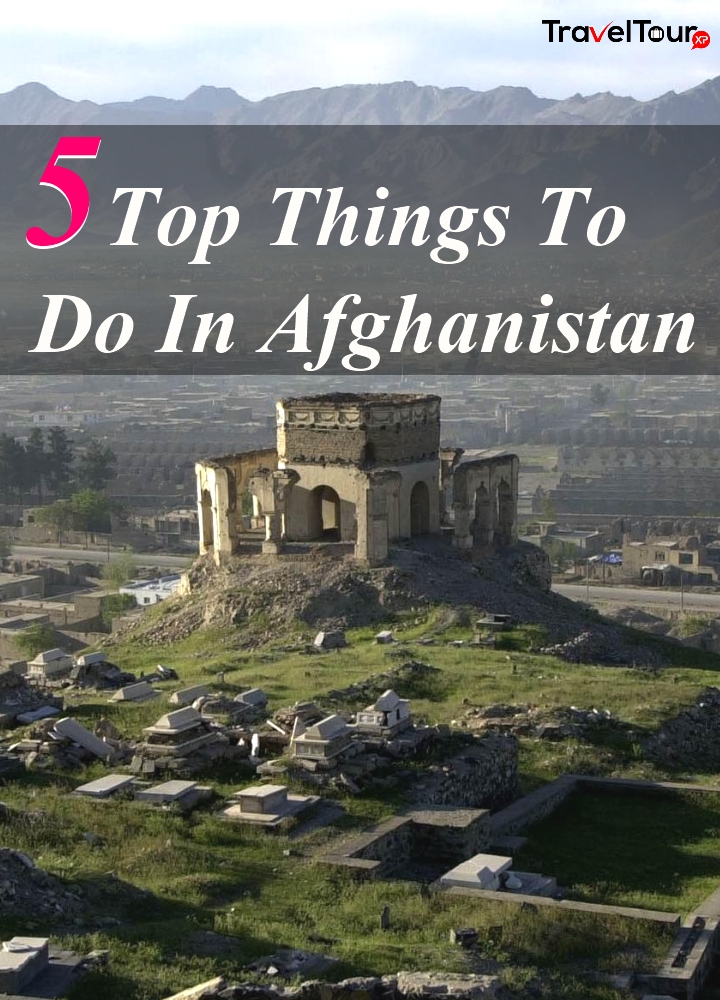 The mention of the name Afghanistan once evoked an image of a rugged country where people used to live leading a life fighting harsh environment. This enduring nature of this ruggedly beautiful country had been invaded and visited by several other people and cultures from Asia as well as Europe. Before it there was prehistoric settlement in this country too. The country was a part of the famous Silk Route also. All these have given birth to a rich cultural and historic heritage in this country. For last few years the county is going through a tough phase. There is unrest but an estimation in 2014 has shown that tourism particularly adventure tourism is on rise in Afghanistan. If you decide to visit this  country kindly contact the embassy or talk to your trip advisor for safety and security. You can start your journey from the capital city Kabul.
Top 5 Things You Can Do In Afghanistan:
1. Visit The City Of Kabul
Kabul the capital city of Afghanistan is one of the most culturally famous countries in the world. It is the prime place where a tourist can stay and plan his or her tour of the country. Kabul has major hotels around it. There are several interesting sites you can visit in Kabul oo. The most important is the National Museum of Afghanistan. Once it was one of the most important museums in this part of the continent with nearly 100. 000 articles.
Though it was vandalized several times but still it has thousands of articles at present thanks to contribution of international community and other countries specially from Europe.

Besides if you are art lover you can visit the National Gallery of Art too. There are a few mosques as well as tomb of historic personality like Nadir Shah, royal palace of Dar ul Aman to be visited also. If you have family with you then visiting Kabul zoo will be most appropriate.

2.  Spend Some Times In Babur Garden, Kabul

Babur is the noted Mughal ruler who was responsible for Mughal rule in India. Babur commissioned a garden in Kabul in 16th century. At present the garden is in highly restored form. It is a beautiful green place where you can spend a leisurely afternoon. You can visit the tomb of the emperor here also. There are souvenir and local craft shops from where you can buy things. You can also view how this place was before restoration work.

3. Enjoy The Ancient Splendor Of Bamiyan Valley

In 2001 destruction of two standing statues of Lord Buddha in Afghanistan was highly condemned world wide. The place was Bamiyan valley of Afghanistan. This place or valley has great strategic and archeological importance in the country. It has great remnants of  Gandhara art of ancient time.

The two destroyed or heavily damaged Buddha statues belong to that school of art.

The site is a UNESCO world heritage site. Since the incident restoration work is continuing there. Besides these two statues there are several art woks and other Buddha statues of 3rd to 5th century AD can be seen in different caves in the valley also. If you visit Afghanistan do not miss Bamiyan valley.

4. Engage In A great Adventure To Minaret of Jam

It is already mentioned that adventure tourism is currently is on a kind of boom in the country. Tourists engage in great adventure  to see the minaret of Jam in Ghur province that is more than 200kms form city of Herat. It is said that this place in the junction of two rivers is a bit difficult to reach.The minaret was work of sultan Ghyas ud Din in late 12th century. The minaret has amazing ornamental woks in blue tile on its wall. The place has tomb of the sultan also. A UNESCO world heritage site.

5. Pay A Homage In Mausoleum Of Ahmad Shah Durrani

Ahmad Shah Duranni is called the founder of modern Afghanistan or state of Afghanistan. For this reason after his death a great looking mausoleum is built in Kandahar to pay homage to this great king or leader. The mausoleum looks quite impressive with its typical Islamic architecture. You can visit this place to pay homage to the great man of Afghanistan too.