Are you looking for an escape from the ordinary? If you're on the lookout for high thrill, adventure driven activities, Canada is the place for you. Widely acknowledged for its spectacular mountains and beautiful natural scenery, Canada is also home to a variety of adventure sports in accessible locations. Be it mountain or water sports or something completely unique, there are ample choices to match the preferences and ability of every adventurer.
For All The Adrenaline Junkies, Here Is A Pick Of The Best Activities And Spots To Satisfy Your Adventure Seeking Soul:
1. Bungee Jumping – Nanaimo Bungee Jump
There are a number of places in Canada where one can experience the amazing rush of taking the leap, Nanaimo Bungee Jump being a prominent one.
The Nanaimo Bridge above the Nanaimo River offers a 150-foot plunge into the river, creating an adrenaline fueled, unforgettable experience.
This bungee has been ranked as one of the top 100 things to do in Canada by the National Post Survey 2006. It also boasts of a record of having had over 200,000 jumpers. The bridge, besides being a sought-after bungee jumping location, also offers a breathtaking view of the surrounding Vancouver Island.
2. Paragliding – Golden, British Columbia
Paragliding is a highly favored adventure sport in Canada and owes its popularity to the wild and scenic mountains of the country.
The provinces of British Columbia and Ontario have well-known sites for this flying sport.
One such place is Golden, a town in British Columbia. Golden is nestled in a rocky mountain trench and its big mountains are perfect for paragliding. Beginners can try a tandem flight. One can also opt for heli-paragliding which will take you to the better sites thereby avoiding unsuitable peaks.
3. Heli-Skiing – British Columbia
This one is on top of the bucket list for all ski enthusiasts. What better way to ski than to have a copter take you to the best destinations. This helicopter assisted sport allows skiers to reach impressive heights and spectacular slopes which would otherwise be difficult to access and thus gives one an exceptional view of the mountain world.
There are several options in Canada for Heli-skiing.
Golden and Revelstoke, both towns in British Columbia, are excellent mountain-sport destinations and offer great heli-skiing packages.
4. River Rafting/ Boating – Niagara Falls Open Jet Boat Tour
Rafting is another popular adventure sport in Canada. It allows you to take high thrill, exciting river tours while simultaneously giving you access to beautiful scenery, wildlife and nature in the country.
Locations such as Kicking Horse River in the Canadian Rockies and Kananaskis River are synonymous with the sport.
However, one that is sought after by many is the Niagara Falls Open Jet Boat Tour, which takes you on a thrilling tour down the Niagara River. One can witness the whirlpool and the scenic views that surround the Niagara River, as the ride takes you through swirling rapids, providing a truly remarkable experience.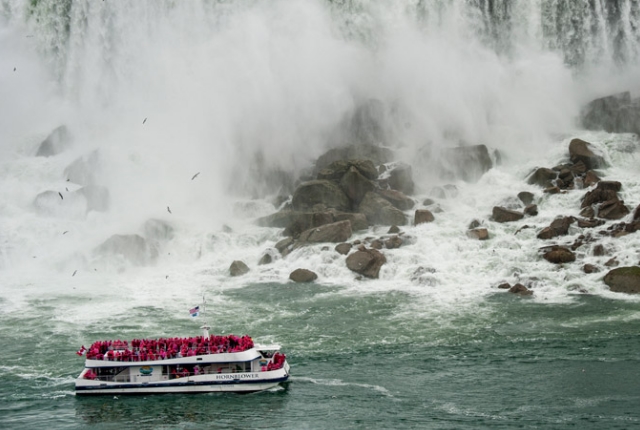 5. Swimming With Sharks – Ripley's Aquarium, Toronto
Delve into the deep sea and spend quality time with these misunderstood inhabitants of the underwater world. Though nerve wracking, it can be incredibly liberating at the same time to come face to face with these magnificent sea creatures. Ripley's Aquarium of Canada provides a 30 minute guided dive, although access is restricted to certified divers. Hornby Island in British Columbia is another place where you can dive into the deep sea and encounter rich marine life.
In conclusion, it must be taken into account that all adventure sports have an element of risk and must be carried out with extreme caution and proper guidance. It would also be beneficial for one to hold a travel insurance which offers coverage for these activities.