Puerto Rico is a brilliant combination of sun and sand, tropical rainforest, green mountains, breathtaking waterfalls and historic charm. Families, honeymooners or the ardent traveler, you will find everyone at this beautiful Caribbean destination. It is home to the only rainforest in the US Forest System and has several wonderful places that makes it a wonderful place to visit. With a predominantly Spanish Caribbean culture, there is alsa a hint of American culture in this island.
Let's Find Out 5 Incredible Places To Visit In Puerto Rico:
1. El Yunque National Forest
Far away from the hustle and bustle of the city is the El Yunque National Forest, the only tropical rainforest covering 43 square miles in the US National Forest System. A mountainous region filled with lush greenery, it is perfect for walks in the forest or discovering mountain trails along the forest.
Whether you choose easy walking trails or a difficult climb, hike along the green slopes to come closer to around 240 species of trees and plants.
The forest is home to over 50 species of orchids and there is also an abundance of small animals. The climate here is comparatively cooler and El Yunque's peak is 3,500 feet above sea level. It is one of the island's most famous natural attractions and people come to see the La Mina Falls, La Coca Falls, Bano Grande and Yokahu Tower when they travel to El Yunque.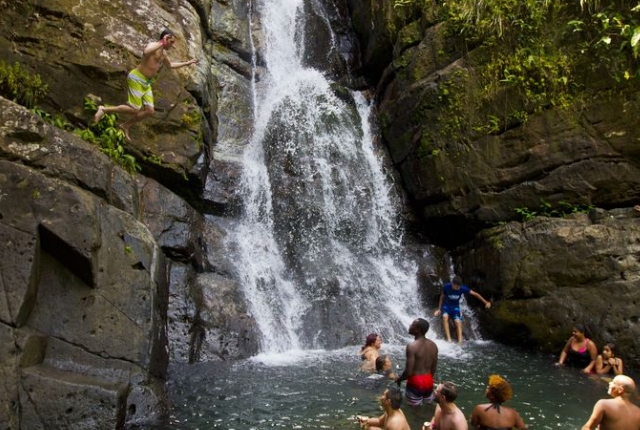 2. Camuy Caves
The Camuy Caves are one of the world's third largest cave systems in the world and is a famous natural wonder of Puerto Rico. The tour takes you to a subterranean world with ravines and over 600 feet deep caves.
Visitors to the caves are taken to a 200 feet deep cave known as the Cueva Clara Empalme via a trolley bus.
It is a preserved area and has several caves with rooms, tall stalagmites and stalactites along with an underground river flowing through the cave system. And if you are adventurous, take an eco-excursion and enjoy mud sliding, free jumping through the subterranean world, body rafting or dropping from the edge of a cave.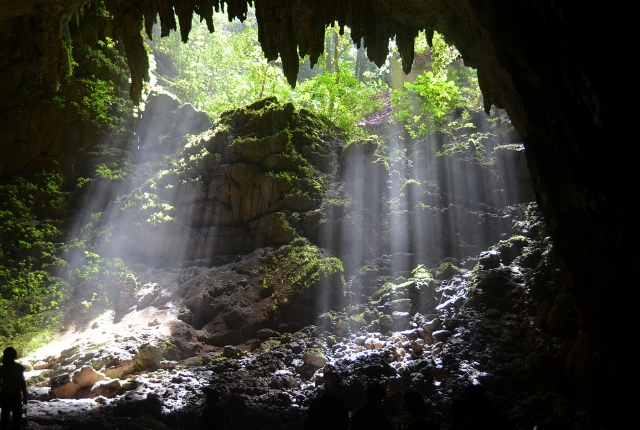 3. Culebra Island
The unspoilt beauty of Culebra Island attracts many tourists. Its unhurried pace, breathtaking beaches and lush hills are perfect for a relaxing vacation.
The island is famous for eco-tourism and it is only seven miles long.
Its waters have plenty of coral reefs and is therefore, popular among divers and snorkelers. Playa Flamenco is the most famous beach in Culebra. Its clear waters, palm lined shores and the blazing white sand makes it picture perfect. The West Beach, Culebrita Reef and Playa Tortuga or Turtle Beach are some of the other renowned areas of this quaint island.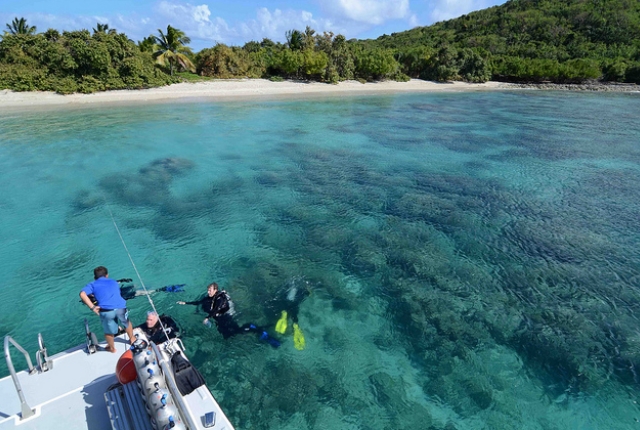 4. San Juan
To enjoy a tryst with Puerto Rico's past, you must visit the old San Juan. Its colonial architecture, majestic forts and glimpses of old Spanish history takes you back to another time. Over 500 years old, this city is a perfect culmination of the old and new.
While on side you witness its history on the other it is layered with modern conveniences.
The area has been designated a UNESCO World Heritage Site and is a perfect place to wander around its historical structures, enjoy great food at the local restaurants and even shop for a few souvenirs. The El Morro Fort is a famous tourist attraction of San Juan and is located at a short distance from the City Center. Other historic sites that you must not miss are Fortaleza, Castillo de San Cristobal and the San Juan Cathedral.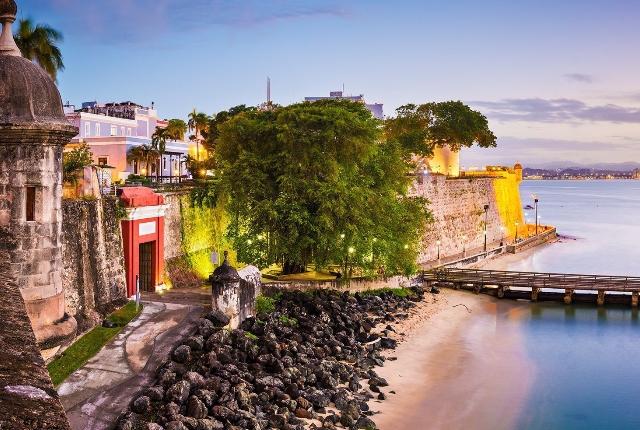 5. The Vieques
Vieques, the largest of the Spanish Virgin Islands, is now a popular beach destination. Located eight miles away from the mainland of Puerto Rico, it does not have any high rise buildings or luxury hotels. It has retained its quaint atmosphere and has plenty of small to upper-end hotels and restaurants.
Its beautiful beaches have made it a tourism hub and the 21 mile long stretch of Vieques is simply marvelous.
The island is also known for a unique phenomenon that occurs at Mosquito Bay. Also referred to as the Bioluminescent Bay, here you can witness one of the rare wonders of nature. As you boat on its waters on a moonless, dark night, you will suddenly find the oar shining or see flashy fishes passing by, all glowing in the water. The water has a high concentration of phosphorescent dinoflagellates that shine with the movement of water and cause this rare phenomenon. You can take a flight or ferry from the mainland to reach Vieques.