Spain is a major country of Europe that has diverse attractions for a tourist. Spain is a naturally beautiful country with great weather, sea related beauty, rugged mountainous features and terrific cultural as well as historic heritage. Spain is one of such European countries which was occupied by Romans in ancient era then for a long period by Islamic rulers and later Christian kings. An dalusia is a region that has such gorgeous historic heritage. Ronda is an ancient city of Andalusia that a tourist can visit for such heritage. Ronda was a town of Julius Caesar era. Later from 8th to long 15th century it was ruled by Islamic rulers like Berbers or Moors. For this reason Ronda has many unique and interesting sites around it that a tourist can visit. Here is a list.
Here Are 5 Glorious Places You Can Visit In Ronda, Spain
1. The Old Bridge:
During Islamic rule several interesting and unique architectures were built in Ronda. Some of these are said to be wonders of ancient and medieval architecture and still can be seen. One of such sites is this old bridge locally known as Puente Nuevo. This bridge was built in late 8th century. Over the gorge of El Trajo through this bridge the towns of  Ei Cuidad, the old Ronda and El Marcadillo, new Ronda are connected. The bridge is almost 100 meters high from deep region of gorge and has a length of 70 meters. The beauty of the gorge is simply awesome from this bridge. You need to take a stroll down the bridge to revel in its architecture as well as surrounding beauty.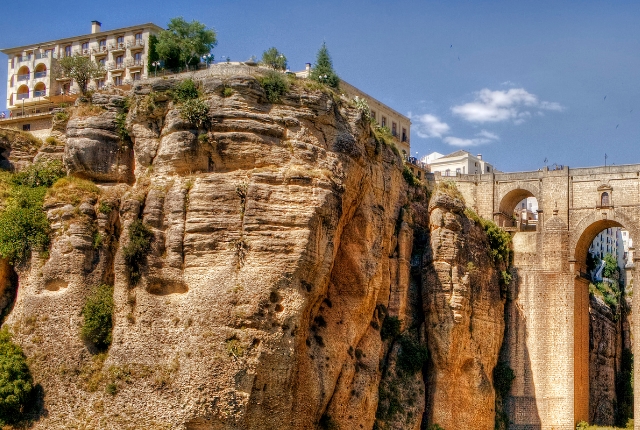 2. The Old City Gate:
When you enter the old part of Ronda do not forget to take a look at the old city gate. The gate has a typical Moorish influence in its architecture and it is a fortified one. The gate is called Puerta del Almocabar. There are some minarets and Islamic era architectures that can be seen beyond the gate.  It is said one of the architectures, a minaret named Alminar de San Sebastian was turned into a bell tower during Christian rule.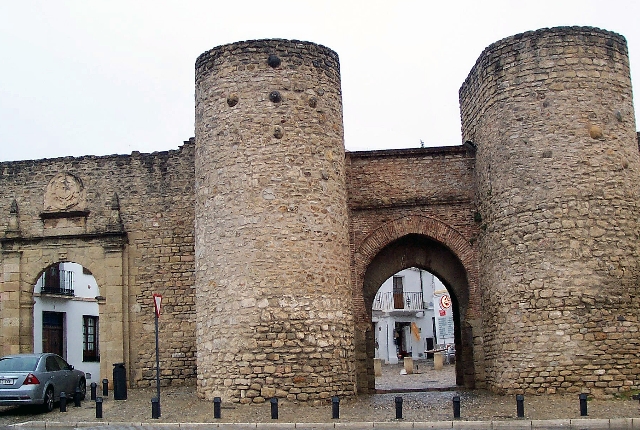 3. Moorish Baths:
Roman baths are exciting and one of the prime Roman architectures that proved Roman architectural excellence to the world. Same can be said to this site locally known as Banos Arabes which means Moorish baths. Islamic rulers had arrangements that used to fetch water from local fountain and supply it to this bath. This bath had elaborate arrangements for hot as well as cold bath. Even the wheel that helped to run this bath can be seen t day as it is finely restored. The whole bath has typical Islamic architectures like arches, columns and high ceiling that is in vault shape.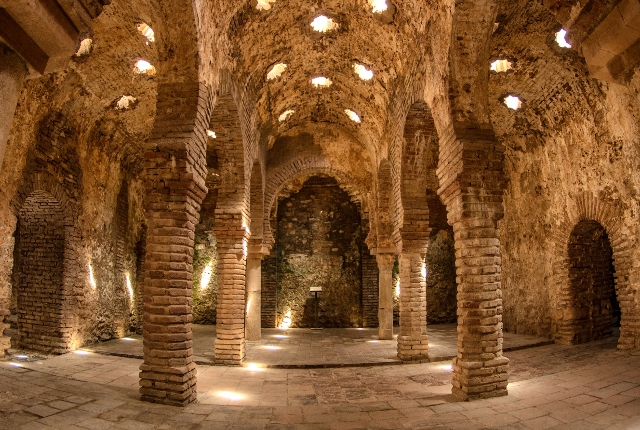 4. The First Church Of Ronda:
After visiitng Islamic era relics and monuments you can see Christian era relics of Ronda too. In this regard this church that is locally called Iglesia del Espiritu Santo must be on the top of your list. This is the first church that was built after Ronda was captured by the Christian kingdom. The construction started in late 15th century and took nearly two decades to finish. The rulers were cautious at that time that more attacks to recapture the city could take place from the vanquished Islmic side. That is why this first church of Ronda looks like a fort rather than a place of worship.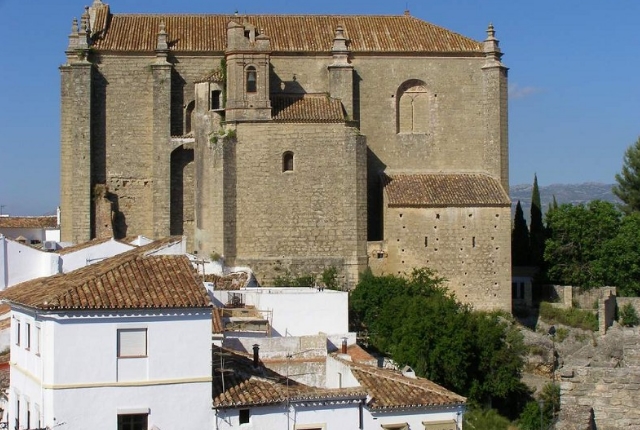 5. The Bullfighting Arena:
Everybody in this earth know that bullfighting is a very popular cultural event of Spain. Ronda is a major bullfighting center. This two centuries old bullfighting arena known as Plaza de Toros is massive as it is spectacular to behold. Spectators sit in two level of rows at the time of the event. Ronda is a place where a major bullfighting famiy lives. You can enjoy a show here if you like to.