San Diego is one of the major cities in the state of California. San Diego is located near to the border of Mexico and around 120 miles from Los Angeles. If you are planning a trip to San Diego, don't worry, there are lots of places for you to have a wonderful time.
Some Of The Best Places To Visit And Enjoy If You Visiting San Diego Are Just Given Below
1. Balboa Park:
Balboa Park is a super cool cultural park built on a 1200 acre area.
The park contains 16 gardens, 15 museums and various other attractions.You will definitely enjoy San Diego Air and Space Museum, Automotive Museum and Museum of Art.
The park also contains attractions like San Diego Zoo, Old Globe Theatre and Balboa Stadium. San Diego Zoo is one of largest zoos in the state of California.

2. SeaWorld San Diego:
It is one of the best attraction points in San Diego.
Being an animal theme park, Sea World entertains throughout the day. There are different shows like Killer Whales, Dolphin Point, Sea Lions and Pets Rule show in the park.
You will also find some adventurous rides in the theme park.

3. USS Midway Museum:
It is the number one attraction point in San Diego.
Opened in 2004, USS Midway is the most popular naval warship museum in the country.
The museum has been visited by more than million people in the last ten years. You will be given tours to each and every part of the ship including the engine room.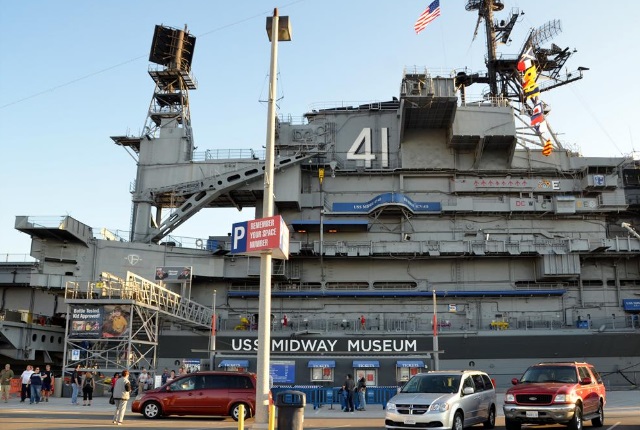 4. La Jolla Cove:
A trip to San Diego is not complete unless you visit La Jolla Cove, which is one of the most beautiful beaches in San Diego. You will find picturesque places when you stroll along the beach.
La Jolla Cove is the favorite destination for swimmers and scuba divers.
5. Seaport Village:
Shopping in Seaport Village is a perfect way to end a trip. You will find a lot of shopping complex and dining restaurants in the village. The village is situated very near to the San Diego Bay and Downtown. The shops offer lots of deals to the tourists.