Nestled in the Indian Ocean, the Maldives is a group of 1200 islands which can only be called as 'Paradise on Earth'. Visited by millions of tourists throughout the year, the predominantly Muslim country has carved a niche for itself in the tourism industry, and is a must visit if you love sun kissed beaches, idyllic weather and everything that goes with them. However, there is more to the Maldives than just its picture perfect beaches.
Here Are 10 Things You Should Not Miss Out On Doing While Touring The Country:
1. Fall In Love With The Beaches
The beaches of Maldives are world renowned for their beauty. If your idea of a perfect vacation is just lounging by the beach with your loved ones, you will find no dearth to the number of picturesque and utterly jaw dropping beaches you can visit while here. Promising utmost peace and relaxation, each beach you step on promises to be better than the one before in terms of looks and feel.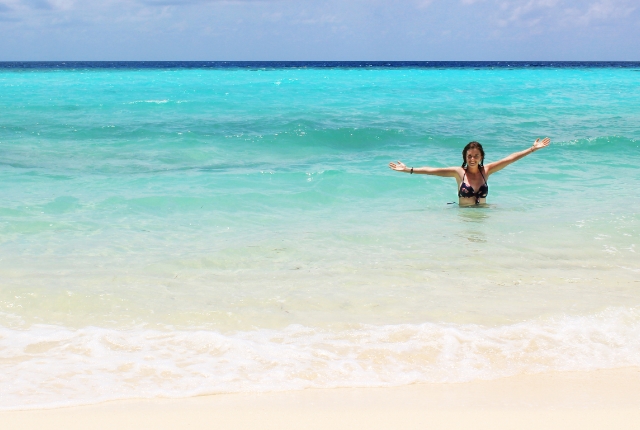 2. Go Scuba Diving
Visiting the Maldives and not going scuba diving is akin to visiting Paris and not visiting the Eiffel Tower. World renowned for its stark underwater beauty, the colorful corals and reef gardens around the islands are must visits. There are numerous scuba diving centers with highly qualified and certified instructors who will be more than willing to take you to some of the best dive spots in the country consisting of caves, channels, drop offs and varied marine life.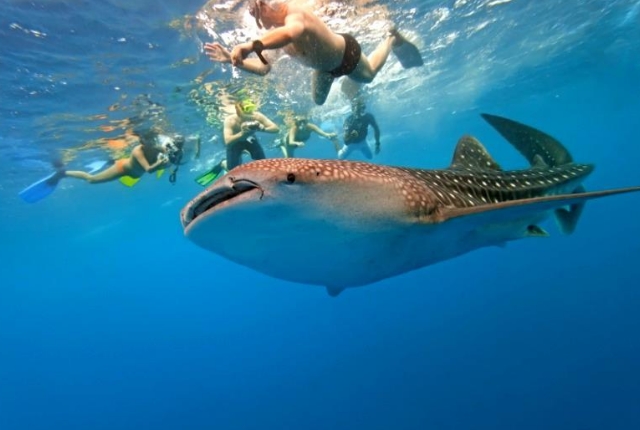 3. Try Snorkeling
If descending to heights of 50 meters and below gets to you, you can try snorkeling around the shallow reef gardens dotting most of the islands in the country. Most resorts also feature water bungalows with steps that lead you directly to the beautiful blue-green ocean and coral gardens below.
4. Experience The Thrill Of Fishing
Experience the good ol' tradition of pole and line fishing with the locals. Net fishing is banned in the country, even for commercial reasons. Many resorts also offer tag and release fishing safaris that let you fish to your heart's content. Night fishing is also a popular sport here wherein you can hop onto the fishing boats that stop outside the atolls to pounce on sleepless fish.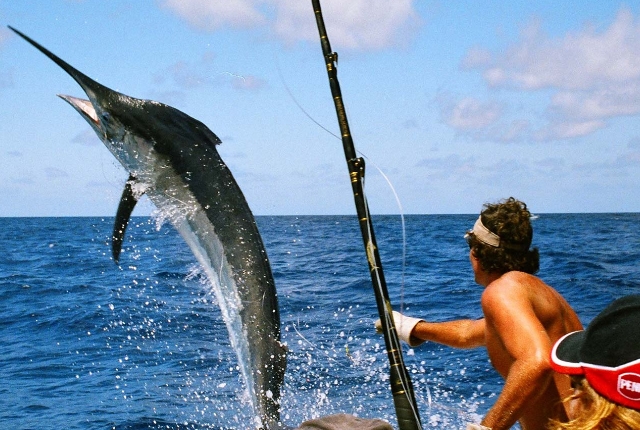 5. Catch Some Waves With Windsurfing
Maldives hosted the 2014 Asian Surfing Championships following which the country became a hot spot for surfers from around the world. In addition to tackling the waves at ready made surf shacks and points, you can opt to catch some big ones near the reefs where the currents are the strongest; all with proper support and safety from instructors of course. Wind surfing is another option while surf safaris are also popular in the resorts.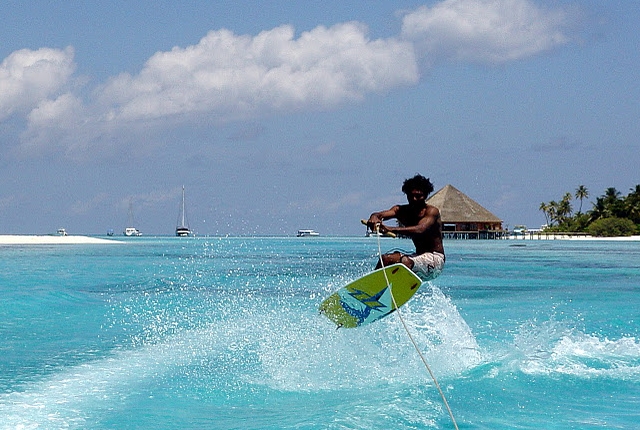 6. Go On An Island Excursion
With over 1200 islands to explore, island hopping is one activity you will never tire of in the Maldives. Local boats will ferry you to inhabited islands where you can catch glimpses of century old Maldivian customs and traditions that exist to this day. Feeling a bit adventurous? Take an excursion to an uninhabited island, get dropped off on the shores in the morning and get picked up by dusk; a true Robinson Crusoe experience we tell you!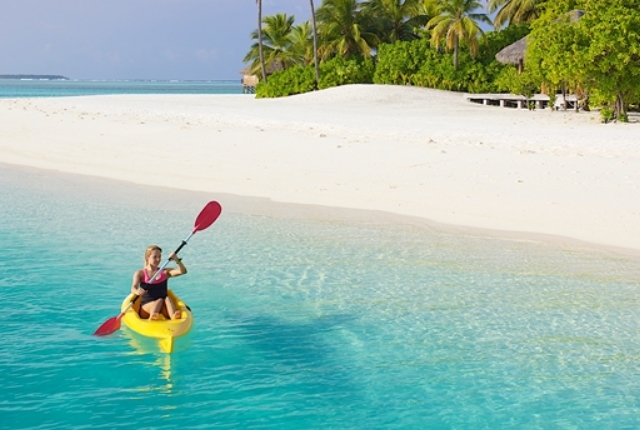 7. Take In A Spa Experience
Most if not all the resorts in Maldives house international spas that come with world class facilities and services to make you swoon. Some resorts also offer private spas in the comforts of your room while others offer services atop glass floors that let you watch the fishes swim by underneath you as you relax. Some of the best spas you can try out in the country include the Spa Cenvaree at the Centara Ras Fushi Resort Maldives, Six Senses Spa Laamu, Banyan Tree's Luxury Spa Vabbinfaru, Reethi Rah's ESPA, Taj Exotica's Jiva Grande Spa and the underwater spa at Huvafen Fushi resort.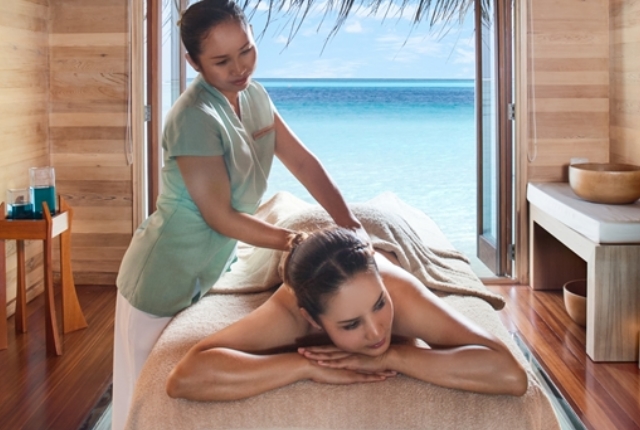 8. Dine In An Underwater Restaurant
Don't miss out on the chance to dine at the world's first ever underwater restaurant, the Ithaa restaurant in the Conrad Rangali Island Resort. Better make reservations in advance as the restaurant can only seat 14 diners at a time and is almost always booked to capacity.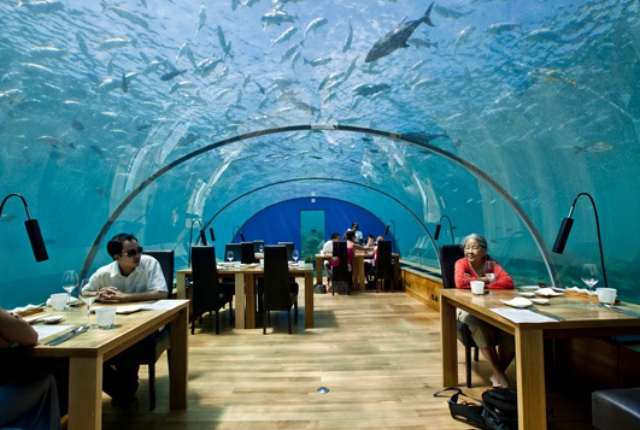 9. Opt For A Marine Life Safari
Do not miss out on the chance to spot some amazing marine life in the form of spinner dolphins, whale sharks, turtles and eagle rays. The spinner dolphins in particular, like to put up a show or two by prancing around your boat. Don't forget to take along your binoculars.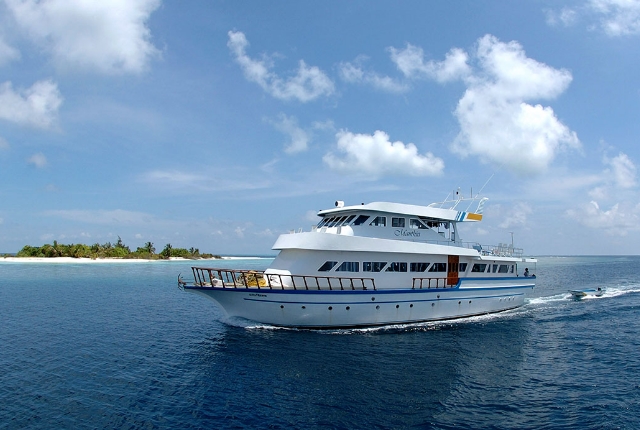 10. Swim With Some Sharks
Maldives banded shark fishing in 2010 following which the country became a shark sanctuary of sorts. You can choose to dive into the depths of the ocean and swim alongside grey reef sharks and hammerheads. Local instructors will take you to the places where these sharks gather to feed on rolling masses of tiny fish. Just be sure to stay clear of their feeding grounds lest you want to be mistaken for food as well.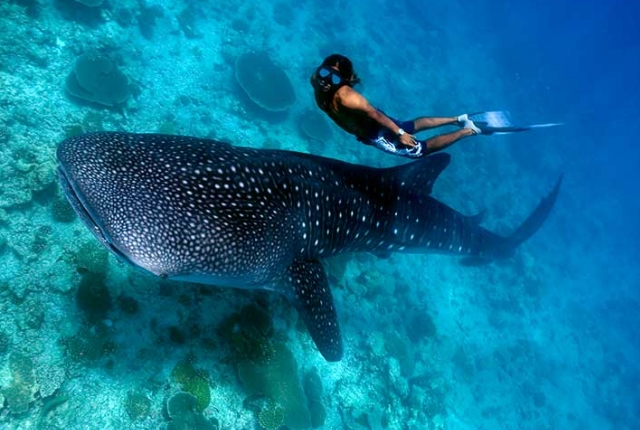 11. Go On A Sunset Cruises
There is no better way to embark on a romantic journey with your loved one than on a sunset cruise. Offering you spectacular views of the setting sun, these cruises usually include a candle light dinner in a neighboring island, something you must not miss out on if you are honeymooning.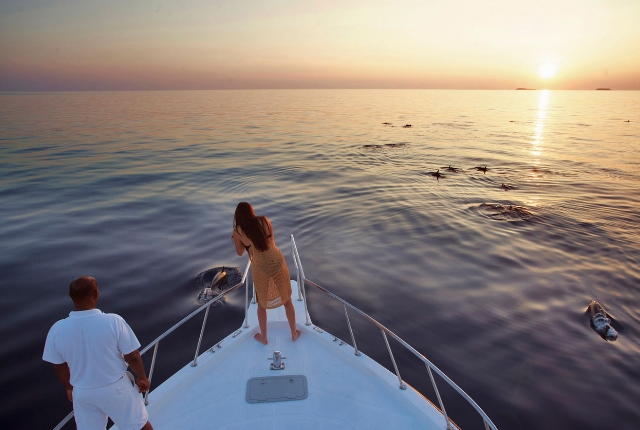 12. Explore The Country By Seaplanes
If boats don't appeal to you, consider exploring the entire country by seaplanes. Coming as a cross between helicopters and planes, a seaplane cruise will take you around the entire Maldivian archipelago, offering you great views of the islands below. Regular stops can also be arranged as per your request.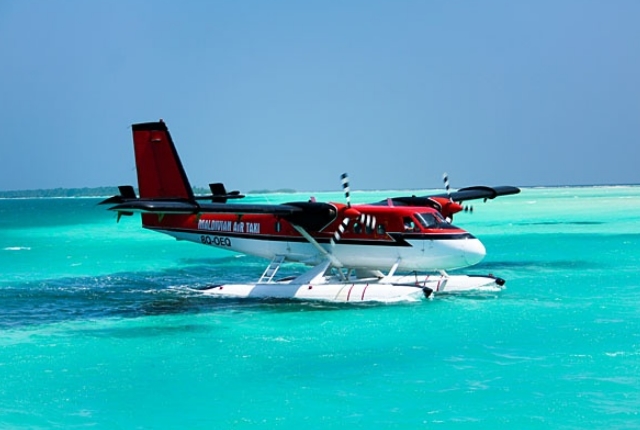 13. Stop By The Capital For A Day
Of course you don't want to forget the capital of Maldives, Mal'e which sits on its own stretch of island. Must visit attractions on the island include the 16th century Old Friday Mosque, the National Museum, and the Fisherman's Market among others. Since it's the capital you are visiting, you may want to dress a bit conservatively so as to not offend the local authorities.