Greece is a country that holds a position among the countries bearing longest histories in its lifetime since inception. Renowned as the birthplace of Democracy, Olympic Games, Western Philosophy and Literature, political science and mathematics, Greece is such a country which speaks audaciously of its Greek culture and its triumphant implementation in the ancient world history. Let us dive deep and entreasure the luxury of the best five star rated resorts in Greece and eventually grow a fan of it.
1. Ionian Emerald Resort
The Number one on the list of the best 5-star rated resorts is the grand Ionian Emerald Resort of Karavomylos. This lavishly facilitated resort is rich in beautiful countryside sightings and enchanting mountain ranges in the backdrop.
Since its inception in 2009, the Ionian Emerald Resort has always stayed on topmost position in the tourist's list of best resorts to stay in Greece.
It houses 28 voluminous rooms with magnificently lavished guestrooms and ten extravagant suites. The rooms are equipped with TV sets, DVD players, AC, Internet facility and a balcony which opens to a sea or pool sight.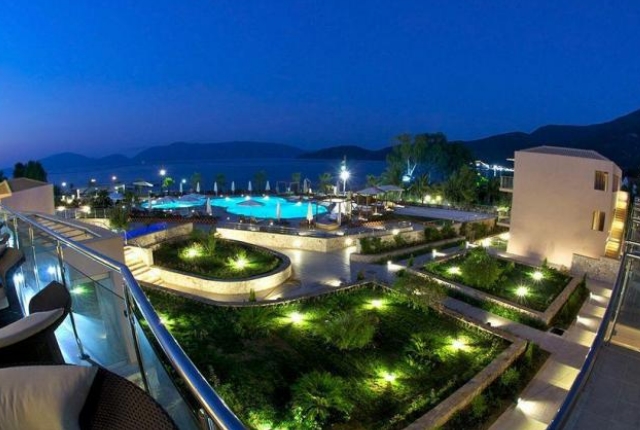 2. Oceania Club And Spa Hotel
Situated on the Halkidiki peninsula, the Oceania Club and Spa hostel is mostly preferred by families who intend to cherish regal amenities with fervour as well as undergo refreshing recreational activities inside the resort campus.
The 297 guestrooms enhanced with world-class living amenities add to the spectacular architecture of the hotel.
This splendid 5-star hotel is best for couples, family as well as individuals by all means. Also nearby attractions like Blue Flag Marina which offers countless water-sporting activities, an entangling coastline and the pulsating Nea Moudania city in the proximity adds to its honour.
Visit Oceania Club And Spa Hotel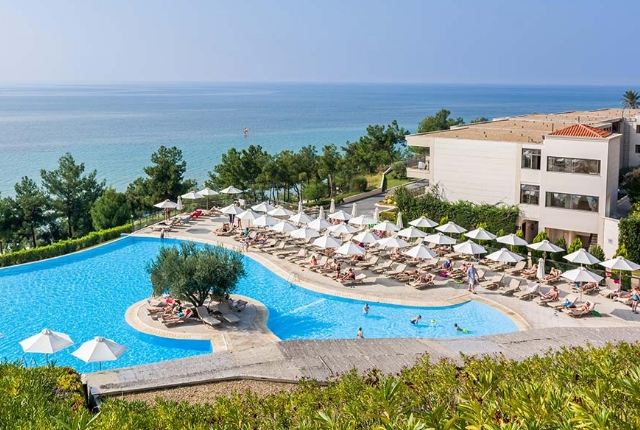 3. Ikos Olivia
Another alluring resort in Halkidiki of Greece is the Ikos Olivia. Located by the coastline of 450m outstretched beach and enclosing incredible 22 acres landscape, Ikos Olivia is a resort which is luxurious and classy.
Impressive facilities are offered to the guests who have come to relish the elegance of comfortable and spacious rooms.
Four international restaurants with multi-cuisine regimes and five bars including the beach bar, theatre bar and the pool bar ones take care of the guests in the most extravagant way possible. The resort is also equipped with special services like Spa, Steam bath facility, heated swimming pool, beauty salon and so on.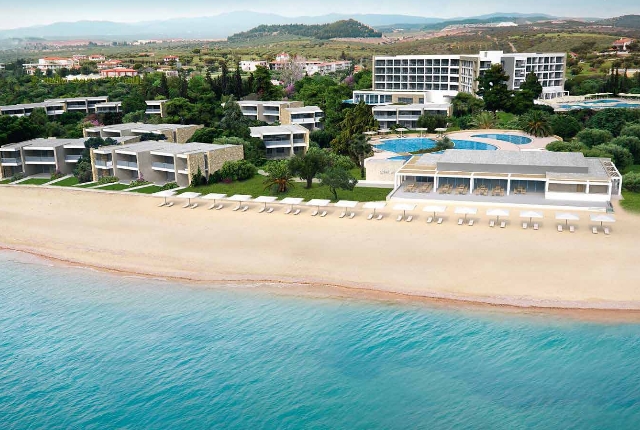 4. Gaia Palace Hotel
While travelling in Kos, the best resort to spend your nights is the Gaia Palace Hotel. This 5-star hotel is a hotel perfectly blended with its Greek style architectural marvels. You could take a dive in the sea, relish the sun bath or relax by the pool side at the Gaia palace hotel.
The rooms are elegantly facilitated with all necessary amenities required to comfort your entire stay in the hotel.
Internet Corner, Bars and restaurants, TV Room etc. are its added advantages. Pools with deckchairs and umbrella are preferred relaxation spots. The Resort also houses gym, spa, sports club and other recreational centres.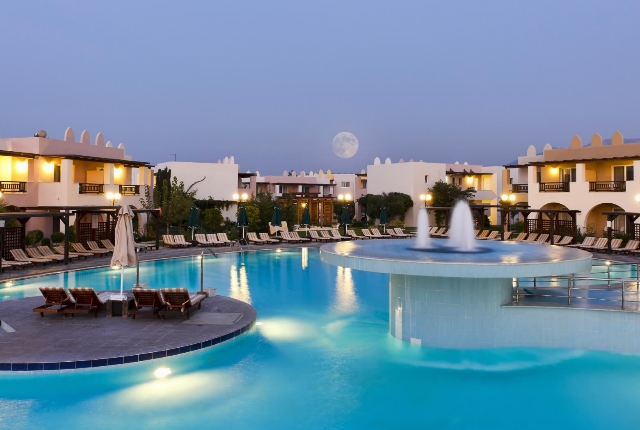 5. Kontokali Bay Resort And Spa Hotel
Kontokali Bay Resort and Spa Hotel is a wonderful marvel when it comes to the architectural excellence and impeccable services. The far-stretched Resort campus is a home to few exotic beaches, top-notch multi-cuisine restaurants. Other facilities include indoor and outdoor swimming pools, Spa, Jacuzzi, playground for kids, golf course, tennis court etc. Rooms are sophisticatedly built with necessary daily products and utilities.
Visit Kontokali Bay Resort And Spa Hotel