Hello love birds! Are you getting married soon? This is the time you should be planning for your honeymoon. A honeymoon is the most special time for a couple. They get to know each other in a better way and seeing a new destination together is certainly a plus. How about going to Greece for your honeymoon? Greece is in Southeastern Europe. It has amazing scenic views and the most gorgeous resorts. Speaking of resorts, we have listed the 7 Amazing Romantic Resorts in Greece for Newly Weds. Take a look!
Here Are The 7 Amazing Romantic Resorts In Greece For Newly Weds:
1. Atlantica Imperial Resort And Spa
The Atlantica Imperial Resort and Spa overlooks the Kolymbia Beach. This is a posh resort which has so much to offer when it comes to amenities. The rooms are elegant and offer t6errace with inland or sea views.
The villas here have private pools and a garden. You can opt for the villa for your honeymoon.
There are dining options available here. There is Greek restaurant on a terrace. There  are two other restaurants along with 2 bars. The pool here is gorgeous – it is lagoon style. There is a gym as well. In case you want to relax with your partner, there is a spa too.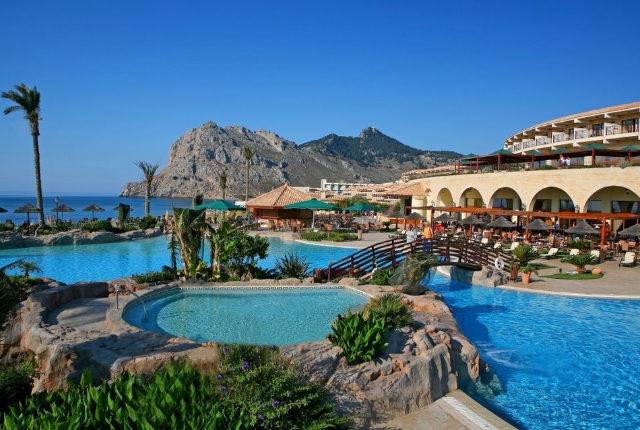 2. Daios Cove Luxury Resort And Villas
The Daios Cove overlooks the Mirabello Bay. This is a seafront resort. It has balconies that have sea views. If you take the villa, you will get a living room too. Since you are going for a honeymoon, ask the property manager for the room with a pool. You would need the privacy for your honeymoon. There are three restaurant, three bars and a private beach here. Spend time at the private beach with your love and see the sunset.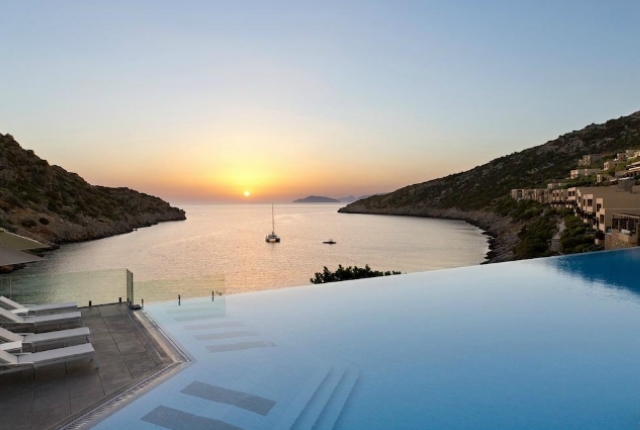 3. Ikos Oceania
The Ikos Oceania is a seaside resort. There is a terrace along with the rooms. Most of the suites have sea views. Romantic, isn't it? There are five restaurants here with an infinity pool. You can access the beach directly. This is such a lovely property to spend your honeymoon. You can get into activities with your partner like squash, canoeing and windsurfing. It will be fun!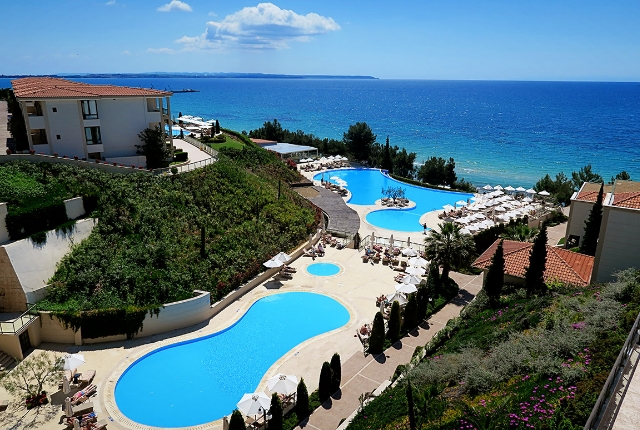 4. Blue Palace – A Luxury Collection Resort And Spa
Now this hotel is jusr 2 minutes walking from the beach. We love this option. The hotel has bungalows which are very contemporary. There are balconies attached which give lovely sea views. If you upgrade your unit, you will get a private pool. We feel the private pool is such an important part when you are on a honeymoon. You could choose from the 2 or 3 bedroom villas which have fireplaces as well. It will be so cozy to sit near the fireplace and sipping wine. Perfect!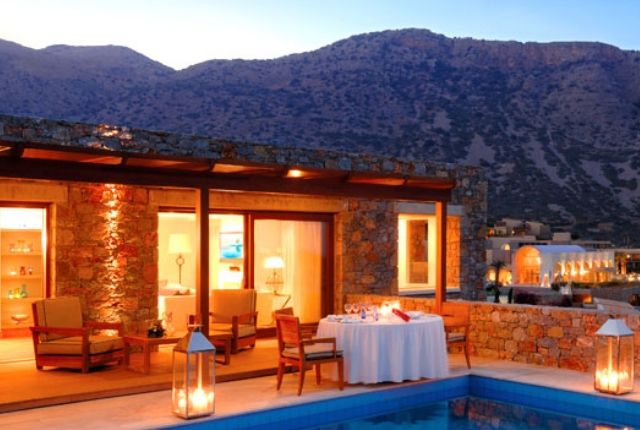 5. Canaves Oia Hotel
Carved into a cliffside overlooking the Aegean Sea, this luxury, all-suite hotel is 10 km from the Santorini cable car and 11 km from the Museum of Prehistoric Thera. Featuring minimalist decor, the airy suites come with free Wi-Fi, iPod docks, and flat-screens with DVD players. All have minibars, balconies, and tea and coffeemaking facilities.
Upgrades have living/dining areas; some include private plunge pools.
Room service is available. Breakfast and parking are free. There's a chic restaurant/bar and an infinity pool. Other amenities include a gym, and an open-air spa with massage services. Wine tasting and yoga are offered.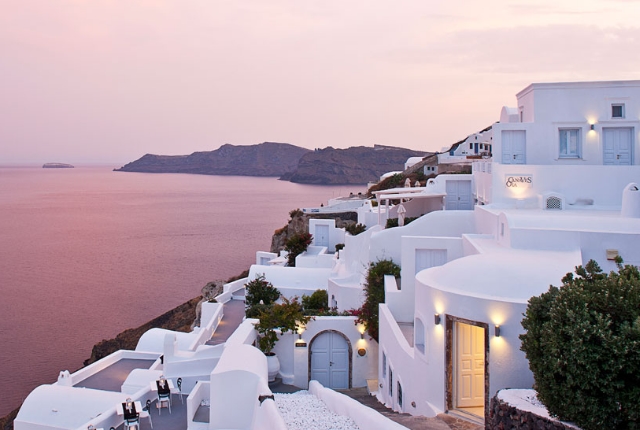 6. Thalassa Beach Resort
Once again, this is a beachfront resort! The rooms take inspiration from the islands and have private balconies and terraces. Take the suite for the sea view. You and your partner can indulge in the cooking lessons at the property. There is a restaurant with a terrace. Also, there is a hot tub and a swim up bar with a pool. Relax with your partner at the spa here. There is an art gallery in the property for art lovers. Some live entertainment happens every evening where you and your partner can unwind.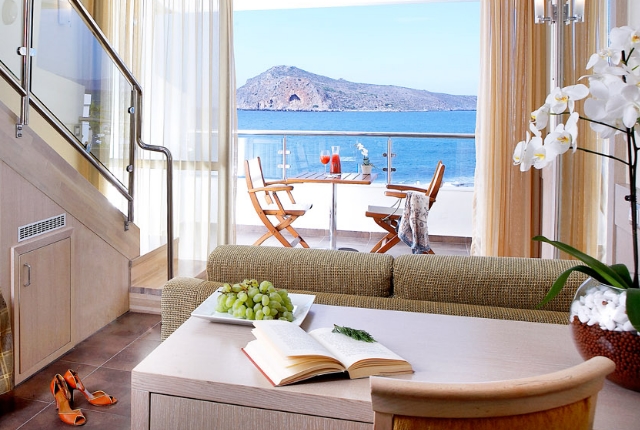 7. Domes Of Elounda
This resort is near Plaka village. It takes 12 minutes to walk from there. This is a luxury resort which faces the Aegean Sea. The rooms have such a contemporary decor. You should take the villa for some private time.
There are whirlpool tubs, terrace, private pool and full kitchens in some of the units.
There is beach access, 4 restaurants, 4 bars, outdoor pool and a spa. You will definitely love this one! Domes of Elounda is a lovely option for honeymoon couples who are looking for luxury and lots of quality time.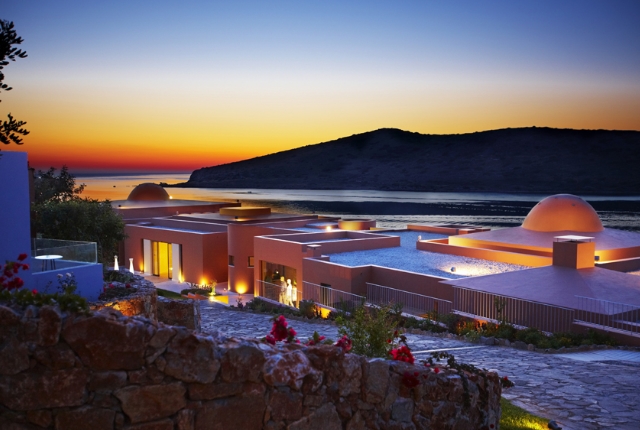 Greece is such a beautiful place to go for a honeymoon! The resorts mentioned above are simply beautiful. You should definitely think of Greece as your honeymoon destination. Make sure you click lots of pictures and have lots of fun. Choose the best resort and enjoy the beauty of Greece!