People always say that New York is the city that never sleeps, but for sure they haven't visited Bangkok yet. The capital of Thailand is really the city that never sleeps and because of that, there is plenty of stuff to do. Trust us when we say that you could easily get distracted and maybe deprive yourself of the must-see-do things in the city. From temple visiting, museums, fine dining, art shows to street foods, Bangkok truly has it all.
The many and diverse aspects of Bangkok are what truly make the city attractive to different people. While temple visits can be interesting for the spiritual or architectural types, excellent food, and the gastronomic world can appeal to others. The vibrant nightlife and its multiple offerings can be other facets of the city.
So, in order for you not to get lost or miss the landmarks or attractions that people will ask the most when you go back home, we have prepared this list with the sole purpose to help, and if you follow it carefully, you have covered the most important aspects of the city.
1. Damnoen Saduak Floating Market
One of the largest floating markets in the world, Damnoen is nowadays mostly a tourist attraction and is often named the most famous floating market as well. As you can imagine there is plenty to do and shop here, but you have to be careful and expect to bargain for everything. Lately being accused of lacking cultural appeal, the sole existence of the market makes it one of those unavoidable places, even though it is just for a photo.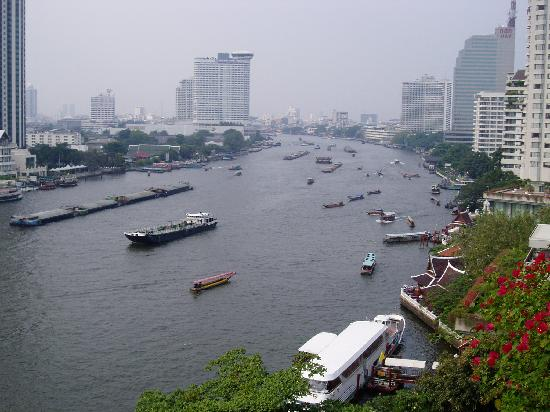 The Phraya River it's all over the city, so you are definitely going to visit it, but it is required that you really experience all its splendor. There are many ways to do this. One of them is doing boat trips through several canals and even taking public water transportation. The other is to climb the stairs at Wat Pho and get one of the best views of the river's basin.
3. Wat Traimit (The Temple of the Golden Buddha)
Temple visitation is kind of unavoidable upon arriving in Thailand. Regardless of your mood about this, the Temple of Golden Buddha is one of those places that you can't avoid. The highlight of the temple is the 5.5-tonne statue of a seated Buddha. There is also a museum in the temple in which you can get interesting facts about the temple itself, the golden Buddha, and the history of Thailand.
The Patpong museum is a small exhibition dedicated to reviewing the story of Patpong's red lights district. This district is mostly known for being the hub of adult entertainment in Bangkok, even though there are several others in the city. In the museum over more than 100 original items are displayed and also have a lot of games, interactive screens, and even an X-rated show. This tour can be a unique way to experience the district, understand what is about, without even going in.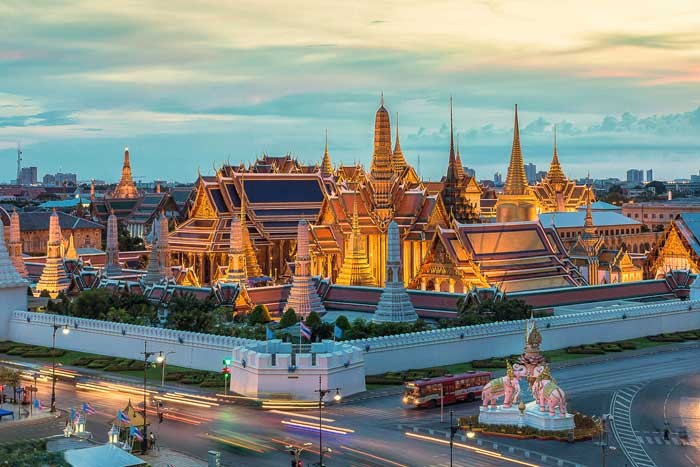 Source
The definitive landmark of the city, no one can just skip the Grand Palace, so let's just review some of its many highlights. Home of many Thai dynasties until 1925, the Grand Palace comprises many buildings in which there is even a temple that houses one of the most recognizable monuments of Buddha in the world: The reclining Buddha. Visiting the palace is to get in touch with Thailand's history and also an incredible way to appreciate Thailand's traditional architecture in all its splendor.
One of the most photographed religious structures, despite its simplicity, the Giant Swing has become the mandatory spot for telling people that you were in Bangkok, with the license of the reclining Buddha. Many cities have monuments with their name in it. Bangkok has the Giant Swing.
Certified as the tallest building in Thailand, no visit to any major city skips the mandatory stop to its famous skyscraper. Mahanakhon was opened in 2016 and showcases an unconventional spiral form. Featuring hotel, retail, and residences, perhaps a condo here is the most expensive in all of Thailand. It also has an observation deck (which pretty much is the primary reason to visit) and several shops.
Jim Thomson was a prominent figure in the country's economy and development of Thailand's silk reputation. He disappeared one day while traveling to Malaysia. An American entrepreneur and serviceman around the end of WWII, he established himself in Thailand after the war and quickly became notorious in the business scene. Many years after his disappearance, they turned his house into a museum that celebrates his accomplishments and reviews Thailand's silk history.
Next to the Great Swing, The Wat Suthat is another temple that you can't leave behind. Its incredible architecture and wall paintings make it a unique place for those who are interested in art and buildings. Because it isn't as popular as other temples, inside you really will have a quiet peaceful time.
Undoubtedly the biggest market in Thailand and perhaps one of the biggest of its type in the World. Here you will find any kind of goods that you can think of, from plants to electronic goods, to food, drinks, and even pets! There is a stand in Chatuchak Market for everything. This market is a shopping spot but also a cultural landmark, one unique way to experience Thai culture.
Want to be added to this list?
Click here
to bring up our submission form. We will be in touch shortly with feedback.