A honeymoon by the beach is no doubt an occasion to remember. Why not make it all the more special by booking a honeymoon package in any of these world famous beach resorts? You will be guaranteed the honeymoon of a lifetime for sure!
1. Hilton Waikiki Beach Resort, Hawaii
Your honeymoon will become an everlasting memory at the Hilton Waikiki Beach Resort. Located in Oahu, the resort offers a special honeymoon package just for the two of you as well as anyone who accompanies you. Expect to get pampered to the core with the numerous beaches, gazebos, gardens, spas, luxurious rooms, fine dining restaurants and endless sunsets. The perfect ingredients for a relaxing and super romantic honeymoon!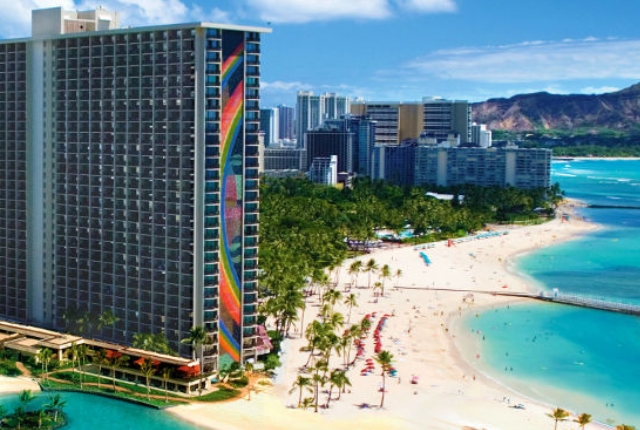 2. Camino Real Beach Resort, Acapulco
With a temperate climate the year around, Acapulco is a paradise for beach lovers. It is also a popular choice for honeymooners who love everything about the sun, sand and sea. The Camino Real Beach Resorts sits on the private Pichilingue Beach and offers you a load of activities to keep you busy throughout your honeymoon. While swimming and snorkeling are some of the activities offered by day, the clubs of Acapulco will keep you busy at night. The highlight of the resort is its two adults only pool which will help you enjoy a quiet escape with your loved one.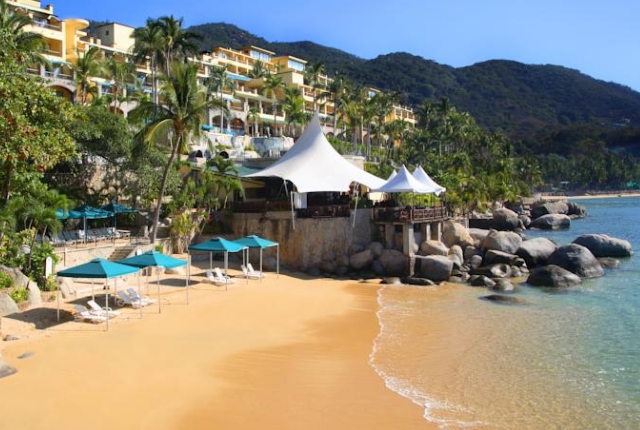 3. Cayo Espanto Beach Resort, Belize
Located near San Pedro, the Cayo Espante Beach Resort sits on a private island and houses just seven private villas, offering you the best in terms of privacy, seclusion and romance for an unforgettable honeymoon. The beachfront villas feature private docks and plunge pools while a personal houseman will be there to tend to your every need. Stroll on the sun kissed beach and take in the romantic sunset hand in hand, head out to the barrier reef system for a day of snorkeling, diving and fishing, arrange an excursion to the Mayan ruins and the rainforest or escape on a private yacht cruise to explore nearby islands.
4. Caneel Bay Resort, Virgin Islands
Situated in the Virgin Islands National Park, the Caneel Bay Resort is a must visit if you want your honeymoon to be filled with loads of activities and pampering. Book a private cottage that overlooks the beach and stroll hand in hand on the Honeymoon Beach. Opt for a day of sunbathing, snorkeling, scuba diving or kayaking. Opt for romantic yoga-for-2 classes and enjoy candlelight dinners by the shore at night with your better half.
5. Reethi Rah Island Resort, Maldives
Fancy a Robinson Crusoe experience for your honeymoon? Then head over to the Reethi Rah Island in the Maldives. Upon arrival at the airport, you will be whisked to the island via a posh yacht. Opt to stay in an overwater bungalow or a beach villa, each of which comes with a private houseman to tend to your needs. Stroll and sunbath on the beach, opt for scuba diving classes that will take you to some of the best underwater coral reefs in the world. Enjoy a wide variety of activities like wakeboarding, kayaking, pedal boats, tennis and even cooking classes. And be amazed at how you get to see no one else on the island except at the main beach, pool, spa or restaurants.
6. Hilton Bora Bora Nui Resort & Spa, Bora Bora
Located on a stretch of powder white beach overlooking a crystal blue lagoon, the Hilton Bora Bora Nui Resort & Spa will welcome you with open arms for a romantic honeymoon. Stay in overwater bungalows that come with glass floor panels as well as swimming platforms leading you right to the ocean below. Take in the beauty of the sunrise and sunset from your room and opt for a day of pampering at the Hina Spa. Your stay here will definitely go down memory lane as one of the most romantic trips you had ever been on.
7. Hyatt Regency Aruba Beach Resort & Casino, Aruba
If you just want to kick back and soak in the sun's rays while doing nothing but relaxing on your honeymoon, then Aruba is the perfect destination for you. The Hyatt Regency Aruba Beach Resort and Casino caters to honeymooners the year around. Be enthralled by the resort's serenity as you lounge by the pool complex and spa by day. As night falls, head over to the nearby clubs, restaurants and casinos for a night of gambling, partying and snacking.
8. Antigua Beach Resort, Jumba Bay
Antigua Beach Resort is a private Rosewood resort that sits on its own island. Honeymooners will have a blast here with the resort's myriad facilities and activities for couples. Stay in a luxurious pool suite that overlooks the private beach, opt to explore the island on bicycles (courtesy of the resort), enjoy candlelight dinners by the beach, camp out under the stars and revel in some stargazing, get pampered at the after- hours spa or simply enjoy each other's company in the antique soaking tubs and private showers located outside every suite.