Australia is a truly fascinating place for all kind of travelers. Its water, mountains, sands, coral reefs – all of it is worth mentioning. The country which is also the smallest continent in the world is a major tourism hub and has enthralled visitors with its beauty and warmth. Its vibrant, cosmopolitan cities, remarkable wildlife, rugged national parks and vast deserts make it the ultimate travel destination for many. A great country, it is also known for friendly people, awesome restaurants and lots of fun and frolic.
Let's Now Find Out The Top 10 Incredible Places To Visit In Australia:
1. Sydney Opera House
Sydney Opera House is Australia's landmark building and has become synonymous with the country's image.
One of the greatest architectural marvels of the 20th century, it has been shaped like the sails of a ship.
Located on Sydney's Bennelong Point, this breathtaking structure is surrounded by the bay on three sides. It hosts numerous performances every year, has theaters, studios and concert halls along with exhibition rooms and a cinema. Tourists can either walk around the structure, watch a show or enjoy great food at one of the restaurants in its vicinity.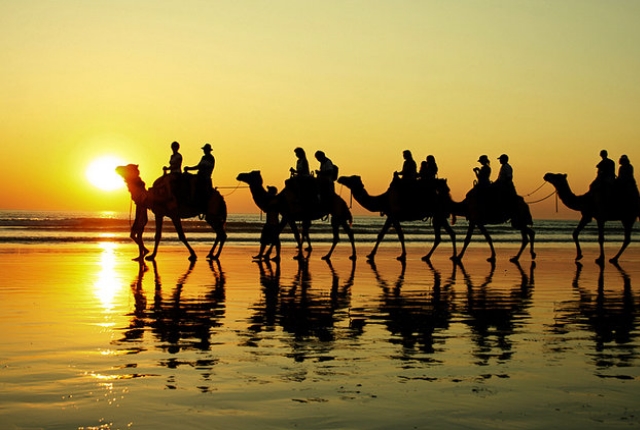 2. Great Barrier Reef
The Great Barrier Reef is Australia's biggest natural treasure. The largest living structure on earth, the reef is visible from outer space and has been designated a World Heritage site.
The Great Barrier Reef Marine Park was established in 1975 to protect its unique ecosystem and it includes over 3000 coral reefs, 300 coral cays, the breathtaking Whitsunday islands along with 600 other continental islands and the mangroves.
It is a great place to explore the underwater world and snorkeling, scuba diving and deep sea diving are common activities here. The reef has an astounding variety of marine life including tropical fish, dolphins, sharks, corals, turtles and rays.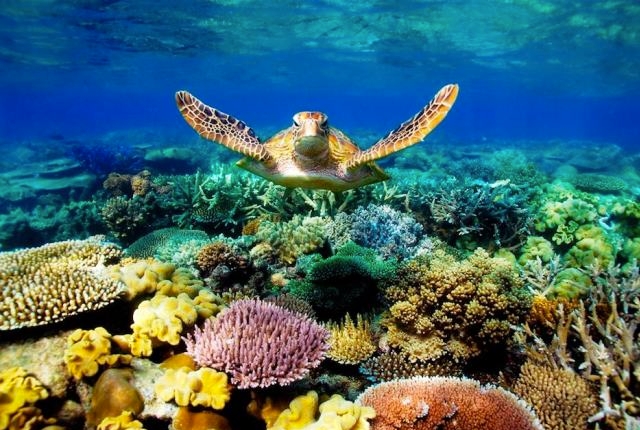 3. Blue Mountains National Park
Located close to Sydney, Blue Mountains National Park is a UNESCO World Heritage Site. This stunning park was named after the blue haze coming from the numerous eucalyptus trees growing inside the park. Spread over 664,000 acres, the park has awesome waterfalls, gorges, bush land and over 140 kilometer of hiking trails. The aboriginal rock paintings are a major attraction at the park. The Three Sisters sandstone rock formation is another fascinating structure located within Blue Mountains National park.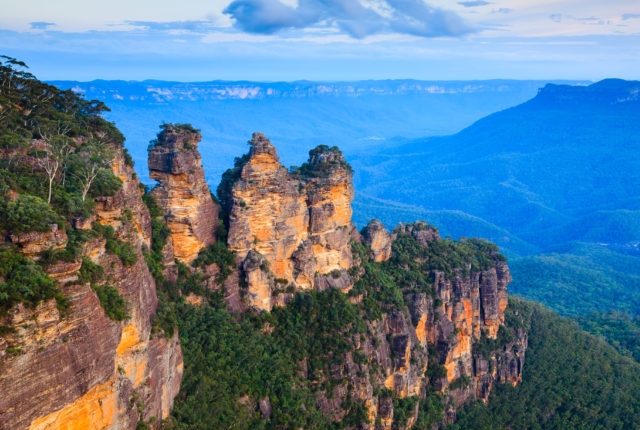 4. Bondi Beach
Bondi Beach is one of the world's most famous beaches. Great for a walk on the beach, picnics, sunbathing and various water activities, it is a favourite place for tourists. Its natural beauty, long coastline with sandstone cliffs, shops, cafes and restaurants make it a hotspot. The Sunday Markets along the beach also draw a large crowd along with the skate park and ocean pool.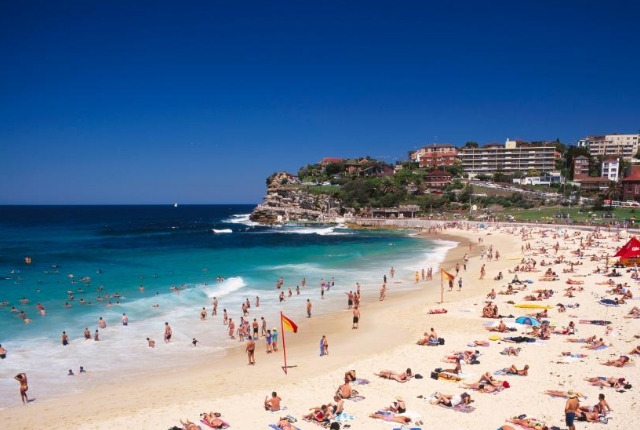 5. Kakadu National Park
One of the world's greatest wilderness areas, Kakadu National Park is a World Heritage site. Located at the Northern territory, it stretches over 19840 square kilometers. It is
Australia's largest national park and along its edges lie mangroves, rivers, gorges, rainforests, waterfalls and wetlands.
The remarkable variety of wildlife at Kakadu also draws a large number of visitors. Tourists can enjoy its diverse ecosystem either on foot, by water or in cars.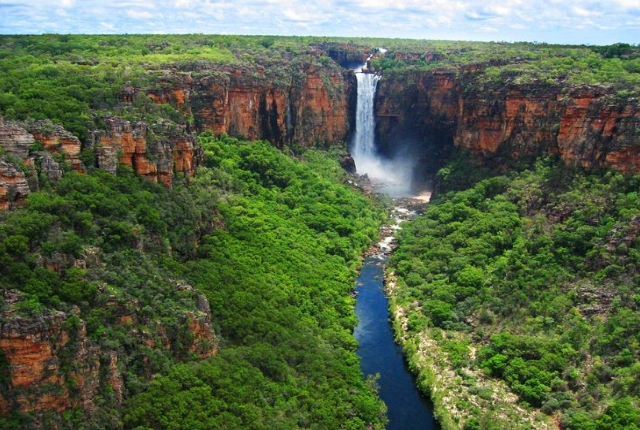 6. Fraser Island
Queensland's Fraser Island is noted for its beautiful sand dunes, lush rainforests and more than 100 freshwater lakes. Considered the largest sand island in the world, it can be reached from Hervey Bay and is listed as a World Heritage site.
Tourists to this place are amazed by fish filled rock pools known as Champagne Pools, the beautiful coloured sandstone cliffs of the Cathedrals and adventurous four-wheel drives on the sand.
Its rainforests boast of an amazing diversity of flora and fauna. Over 300 species of birds inhabit the island and sharks, whales and dolphins are abundant in its waters. The spring fed freshwater lakes too will mesmerize you with its great variety of fishes.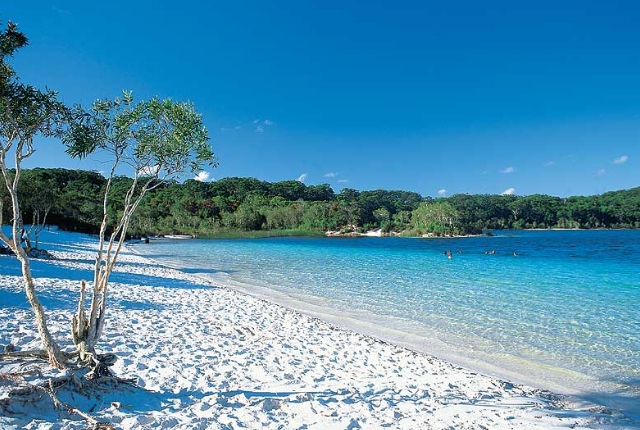 7. Uluru/ Ayers Rock
Located within Uluru-Kata Tjuta National Park, the Uluru Rock which was formerly known as Ayers Rock is one of the most well-known natural wonders of Australia.
A red monolith, it is 348 meters tall and juts out from the plain surrounding it.
This sandstone formation is truly unique in a sense that it changes colour dramatically as the sun sets. From a terra cotta colour, it takes on varied hues of blue, violet and red as the setting sun casts its rays on it.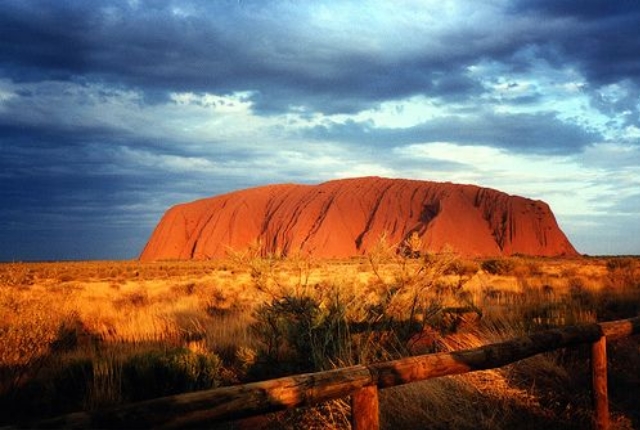 8. Whitsunday Islands
Travelers seeking a heavenly vacation can head to Whitsunday Islands. An extraordinary collection of 74 islands located amidst Australia's famed Great Barrier Reef, most of it is deserted.
However, seven of these islands have luxury resorts that are tailor made for great holidays and are often frequented by celebrities.
Whitehaven Beach with its picturesque white sands make it an ideal place to spend a lovely vacation. It is also a great place to discover the marine life surrounding the island. It is perfect for unlimited hours of scuba diving and snorkeling.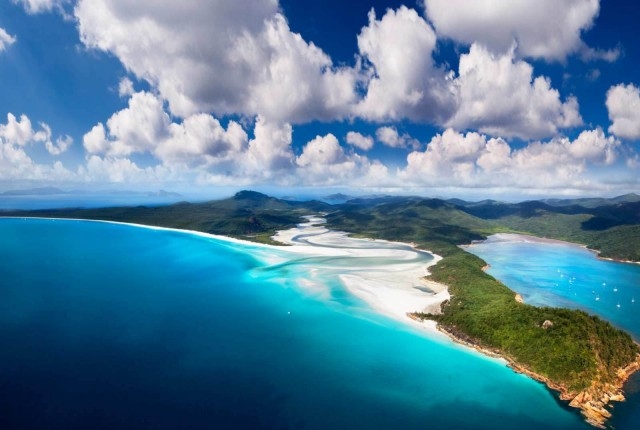 9. Great Ocean Road
The Great Ocean Road is one of the finest roads on Australian soil. Located in the southeastern coast of the country, it stretches from Torquay to Allansford in Victoria.
A major attraction along this road are the wave sculpted rocks that stand along the beach.
The Twelve Apostles, the Arch, London Bridge and Loch Ard Gorge are the most renowned rock formations in this area.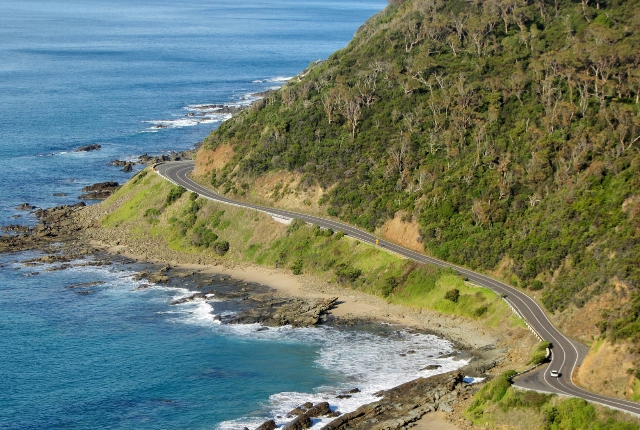 10. Broome And Kimberley Region
Located in the southern part of Kimberley, Broome is a popular tourist destination. Its wide sandy beaches, turquoise waters and plenty of activities on the beach make it a hotspot for most travelers.
The Cable Beach in Broome is very famous and tourists here can be seen riding on camels as they traverse the white sandy beaches.
Broome Crocodile Park, Broome Historical Museum and tours to the Horizontal Waterfall, Mitchel Falls and Cape Leveque are other attractions of this region. A rare natural phenomenon known as Staircase to the Moon also happens in Broome. The moonlight creates an optical illusion that looks like steps leading to the moon during the months of March and October and many people come to witness it.