In recent times people from all over the world particularly people from western countries are showing keen interest in the history and culture of different Asian countries. With beautiful green forests, golden sandy beaches, blue sea, crystal clear lakes, local markets with indigenous materials different big as well as small countries of south east Asia are attracting millions of visitors everyday. Cambodia a small nation surrounded by countries or neighbors like Thailand, Vietnam is one of such countries.
Cambodia has a very colorful history. In a world of democracy this country is ruled by a monarchy system even today. Cambodia was under great royal power like Khmer before it came under French rule in 1863 of which it achieved freedom in 1953. The elements of this colorful past can be seen in the country in forms of  remnants of big temples, cities and shrines. Tourists who have a fascination for this colorful past of Cambodia can visit these relics scattered around the country.
Here Are 5 Must See Historic Sites Of Cambodia For Visitors
1. Angkor Wat
 Angkor Wat, one of the world heritage sites declared by UNESCO is the greatest attraction of Cambodia. People from all over the world come into the country to see this massive Hindu temple that was built in early 12th century by king Suryavarman 2. Situated in front of a big rectangular pond the whole temple stands upon rectangular platforms too. When tourists reach it from a distance a few towers first come into view. The main tower in the middle attains a height of nearly 213 meters. The temple is a Hindu one. That is why it is full of exquisite sculptures of Hindu gods and goddesses and scenes from Hindu mythology. Tourists can stay in Siem Reap city which is very close to this famous historic site. There are excellent hotels for  tourists in the city to stay.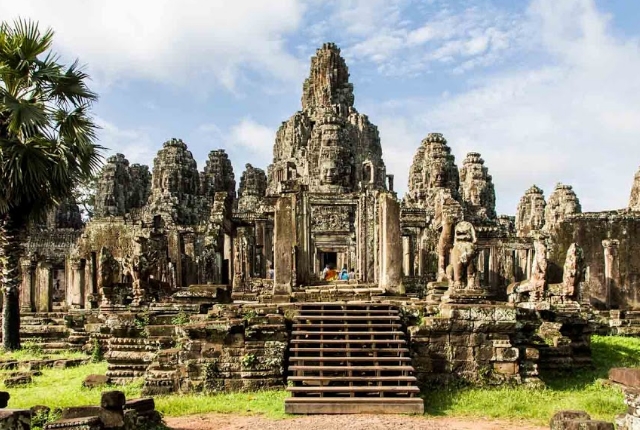 2. Angkor Thom
Like Angkor Wat, Angkor Thom is another great tourist attraction which is also located near Siem Reap city.  This is actually the oldest capital of Cambodia that was built at the end of 12th century by king Jayavarman 7. The main attractioin of this old historic site is the temple of Bayon. Visitors who love history flock here to see world famous stone sculptures that show some faces which are said to be the mixture of faces of Lord Buddha and king Jayavarman.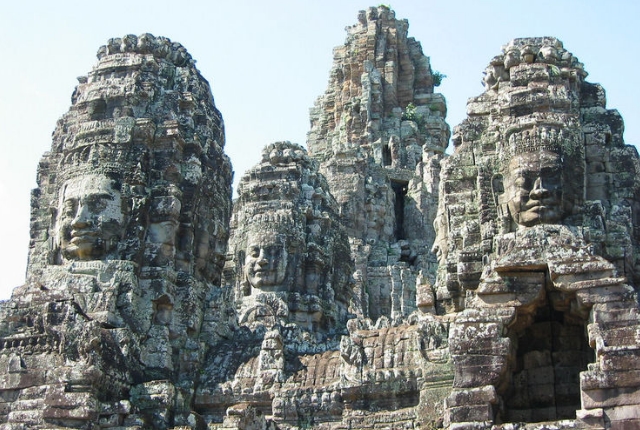 3. Preah Vihear
Tour experts and local historians say that this interesting historic site is rather less visited by visitors. But it is also a work of king Suryavarman 2 and Suryavarman 1 before him. Dedicated to Lord Shiva this site housese excellent stone structures built as different temples. Located on the top of a cliff of Dangrek mountain in Cambodia the site is very close to the border of Thailand from that side.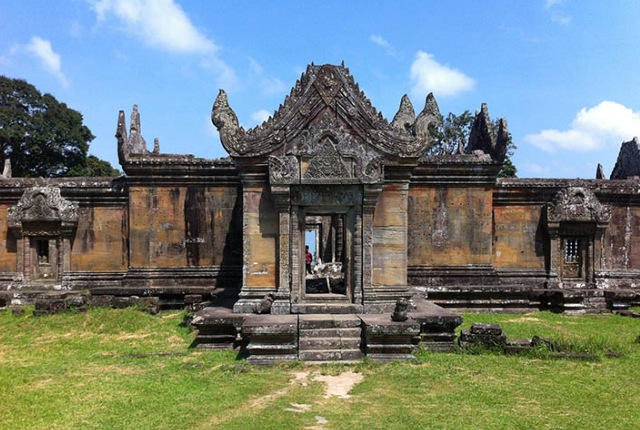 4. Koh Ker
Want to get a taste of seeing a pyramid like temple in south east Asia? Then you must not miss Koh Ker the seven storied pyramid like temple and its complex located at a distance of 120 kilometers from Siam Reap city. Koh Ker was the capital of Khmer kingdom for sometimes in 10th century. The temple complex once was covered in dense jungle and rendered inaccessible. But situation has improved for visiting now. A tourist can see remnants of different stone built temples which are scattered in the area.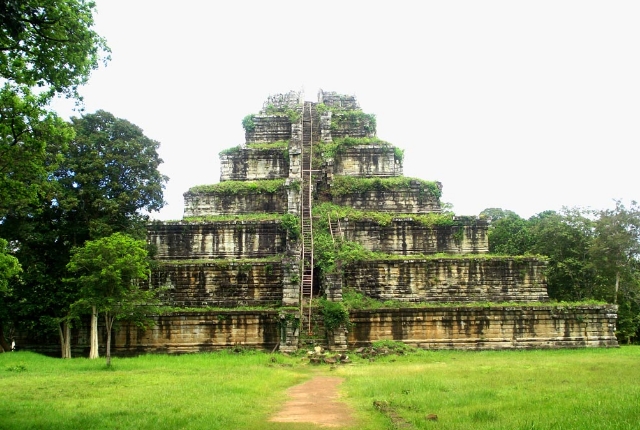 5. The Killing Field Memorial in Choeung Ek
The genocide or mass killing of people after civil war of Cambodia by Khmer rulers that continued from 1975 to 1979 is an infamous incident in the history of world. But the relevance of it on the history of the country can't be denied. That is why for history loving tourists a monument in the memory of people killed in that incident can be seen in Choeung Ek. There is glass cage in the behind of the memorial that holds the skeletal remnants of the deceased also. The place is located at a distance of 17 kilometers from Phnom Penh, the capital of Cambodia.