Madagascar is a big island nation situated on the southeast coast of Africa. This beautiful island is known to split from the mainland Africa about 90 million years back housing numerous species of animals that are endemic to this exotic island and cannot be found anywhere else. Madagascar is the fourth biggest island comprising a vast range of landscapes, reefs, beaches, plants, and rainforests. Malayo-Polynesians are the inhabitants of the Madagascar. Once you reach this amazing island, you can find endless number interesting activities to do. Unique wildlife, nature, culture, and incredible history of this African island country await you. So, let's have a look at some fun, interesting activities that you must not miss when in Madagascar.
Find Below 10 Engaging Activities To Do In Madagascar That You Should Enjoy:
1. Visit Palaces At Ambohimanga
Ambohimanga, one of the most sacred regions in the island of Madagascar, was the capital in the ancient times during the reign of the king Andrianampoinimerina in 1787. The Royal Hill of Ambohimanga is a UNESCO World Heritage site, and it comprises the royal city, two palaces, two sacred basins, small pavilion, and burial site. A visit to the Royal Hill offers you an excellent opportunity to explore the king's abode, dozens of worth-seeing stone gates, and several beautiful royal summerhouses.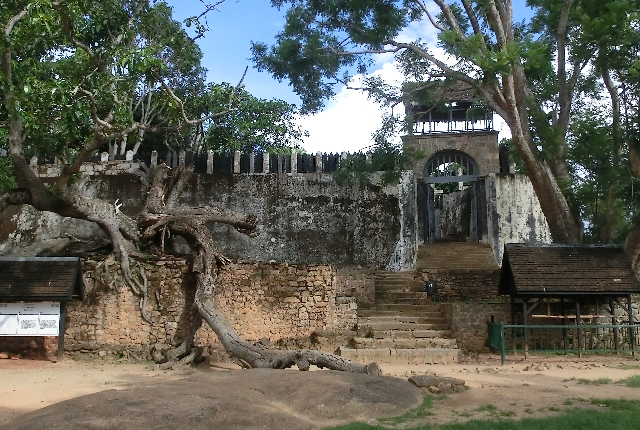 2. Have Leisure Time At Beaches
Do you love to spend leisure time on beaches? Madagascar offers you several beautiful, refreshing beaches, most of them are on tourist trails while others are not yet explored. Some of the popular beaches where you can relax and have a pleasant time are in the areas around Morondava, Diego, and exotic islands of Nosy Be, Nosy Ve, and SainteMarie. Have a walk on the sandy beaches, feel the fresh air, and watch clear ocean waters.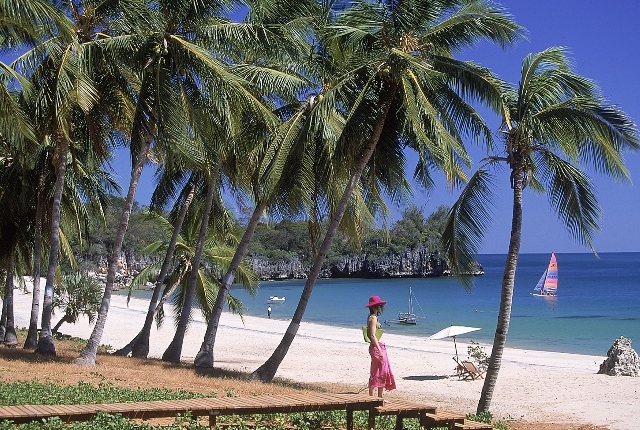 3. Smell The Fragrance At Nosy Be
Nosy Be in the northwest Madagascar is the abode of various plants having sweet fragrance, such as ylang-ylang, lemongrass, vanilla, and patchouli. Enjoy following the exotic fragrance and discovering various fabulous plants at Nosy Be and its adjacent islets of Nosy Komba, Nosy Tanikely, and Nosy Sakatia.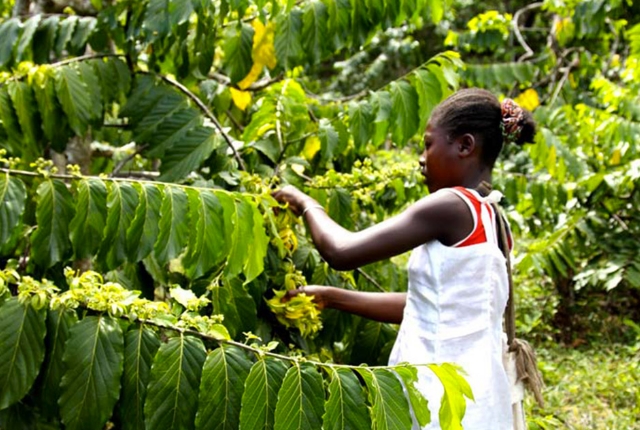 4. Explore Flora At Arboretum D'antsokay
Arboretum d'Antsokay is a botanical garden located near Tulear having about 900 species of plants that are endemic to the arid area of Madagascar. Visit to this place offers you an opportunity to learn how plants are used in food, construction, and medicine. Also, this is site is rewarding for birders as you can watch some amazing species of birds flying here.
5. Whale Watching
Do you want to watch incredible site of migrating whales? Baie d'Antongil, also widely famous as Antongil Bay, offers you a great chance to view the site of migrating Antarctic Humpback Whales every year. Antongil Bay becomes a lively site of fascinating display of gigantic whales swimming and courting from June through September every year. Warm water environment is ideal for whales to stay in water near Madagascar, and exquisite backdrop helps you have great clicks of fabulous whales.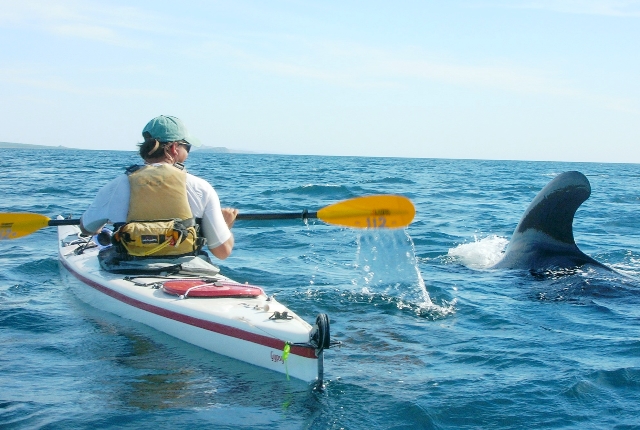 6. Shop At Zoma Market
Find the world's second biggest open air street market in Antananarivo, the capital of Madagascar. Shop a variety of stuff ranging from gemstone jewelry, wood carvings to embroidery and various handicrafts at Zome market. Here you can find plenty of leather goods and exquisite fabrics. It gives you change to interact with friendly Malagasy people there.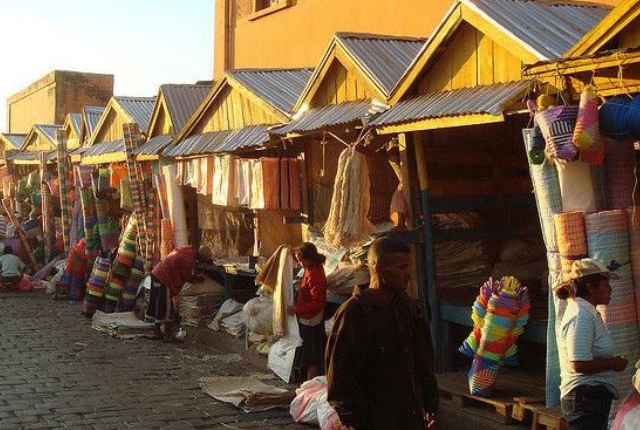 7. Snorkeling Among The Reefs
Madagascar offers you a rare chance to enjoy snorkeling among the exotic reefs of Nosy Hara Archipelago and explore the fascinating marine life. Spend wonderful time watching sea turtles, manta rays, and colorful fishes as you snorkel in the water. Temperate and clear water is favorable for you to swim comfortably in the water.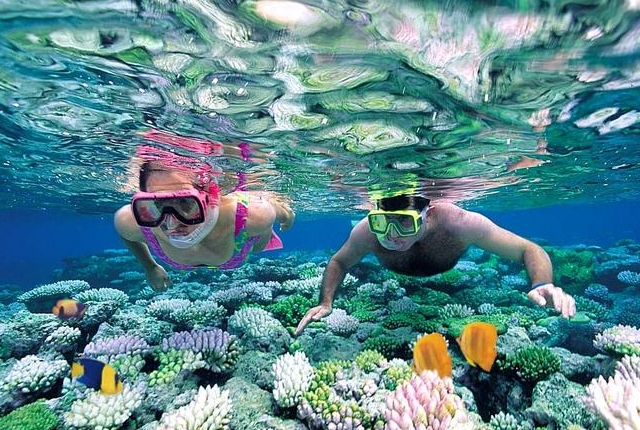 8. Go To Big Tsingy Stone Forest
Going to the Tsingy Stone Forest is not easy as it takes your one complete day to reach it via 4×4 vehicle through the rough paths. Here you can find two parks, namely Tsingy, i.e. large park and Small Tsingy. Even though the journey to this forest is tough, your visit to this unique Stone Forest would be worth as it gives you a rare opportunity to watch impressive landscape of thousands of slate grey limestone, razor-sharp towers penetrating the blue skies and creating eye-catching scenario.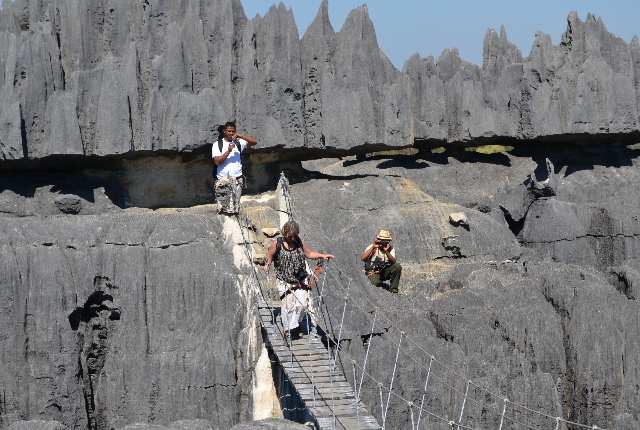 9. Watch Unique Baobab Trees
Avenue of Baobabs in the island of Madagascar is world-famous for comprising unique Baobab trees that you can find in plenty here. It is situated near the western coast near the Morondava town. Watch groups of about two dozen Baobab trees that are well-protected since this area suffers the threat of deforestation. Some of the Baobab trees here are about 800 years old and greater than 30 meters tall. Watch the exceptional, magical view in the evening at the time of sunset.
10. Don't Miss Endemic Wildlife
Madagascar is world-famous to have countless unique wildlife that cannot be found in any other part of the world. In this spectacular island, you can find about 70 different species of Lemur and a variety of chameleons. Madagascar have eight plant families, five primate families, and five bird families that you can find not any other place on this planet. Some of the endemic wildlife include dancing lemurs, tomato frogs, Aye-Aye, Comet moths, chameleons in varied lengths and sizes, Malagasy leaf-nosed snake, fossa, flat tailed geckos, and plants like travelers palms.
Now that you know these fabulous activities to enjoy when in Madagascar, make no delay in planning your excursion to this African island nation to have a great time.