Bali, An Indonesian Island, is one of the most traveled place in India. Famous for its beaches, magnificent biodiversity, flush villas, vibrant nightlife a complete package for an exotic holiday. Crystal clear water and  surf favorable beaches makes it a desired destination for exciting water sports.
Although surfing remains the main feature of Bali, Those looking for something beyond Snorkeling and swimming  will have their best time here. Around Tanjung Benoa Peninsula, which is the Island's gateway to exciting sports, You will find the majority of the water activities offered by various operators.
Have A Look Here And Find Out What Will Excite You The Most:
1) Surfing
Bali is renowned as a surfing hot spot, thanks to its location in the southern Ocean. Bali has been blessed with good weather throughout the year with 60 plus surfing spots. You need to check out seasons though based on what you want to experience. The peak season from april to october is when you will find solid swell hit the reefs around Uluwatu, Nusa Dua  & Kuta.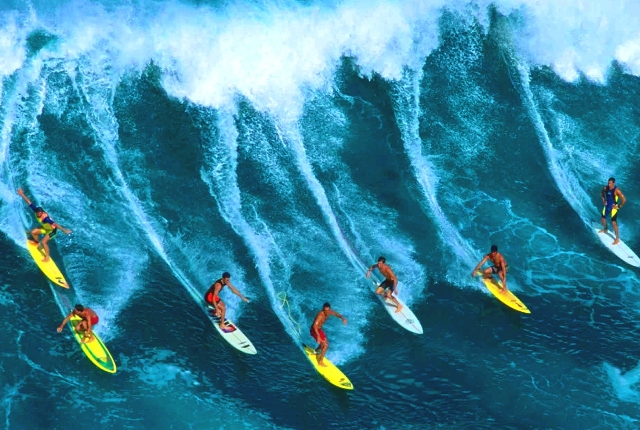 2) Banana Boat And Flying Fish
It is a 6 people ride on a banana shaped boat consisting of a tube which caters for all age groups. It is a safe ride and the boat is tied behind a speed boat to gain rush. All of them wear life jackets and a instructor is present on each ride. He even takes sharp turns at times to increase the thrill. Flying Fish is similar but it lets you experience airtime.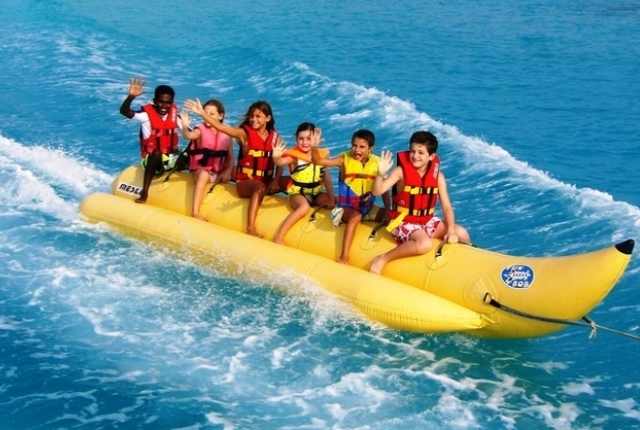 3) Snorkeling
Snorkeling in Bali is the best option for you to enjoy under water world. The equipment is provided by the instructors and you can enjoy the rich marine life under water. It  is an exciting sport which lets you rub shoulders with some unique marine species without carrying any air full tanks and doesn't require any expertise certification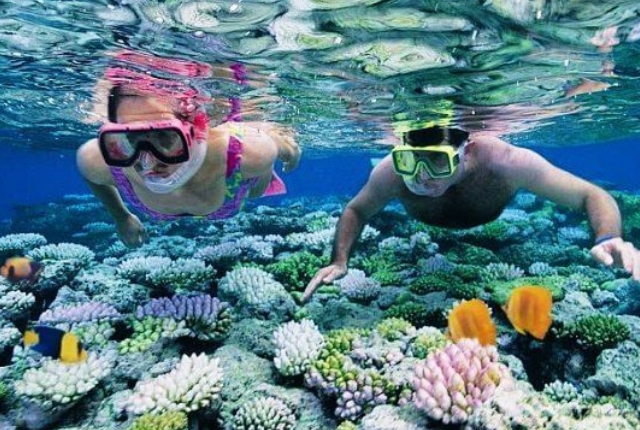 4) Scuba Driving
Deep below the rough Bali waves lies an extremely beautiful & breathtaking  world to explore.The Underwater sites include drop off walls, Coral reefs and ship wrecks. Nusa Lembongan, Sanur reef, Amed , Tulamben, Gili Tepekong & Menjangan Island are some of the great dive spots.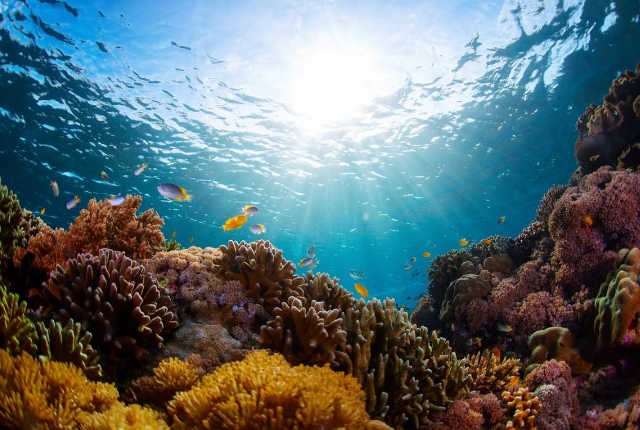 5) Under Sea Walk
Under sea walk is yet another opportunity for non divers. You get to walk on the smooth sea surface. Its just simple walking and absolutely safe. It offers you a close view of the marine world and play with fishes. No water touches your face and hair . As soon as you start walking on the ocean floor, many often compare the experience with enthralling space walking. It is truly a dream come true. Under Sea Walk at Bali operates at Sanur and tanjung sites.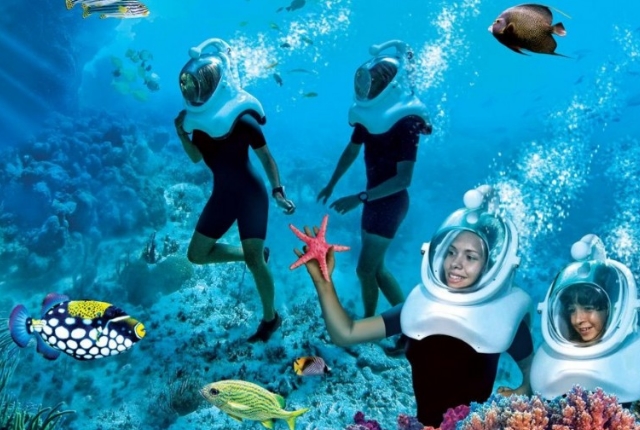 6) Water Jetpacks And Flyboarding
The newly added activity is water Jetpacks in Tanjung Benoa. These are specially designed kits which lets you fly 10 meters high. You get to fly over the water with  a fully three dimensional freedom. These are high density propulsion devices which lift you high up in the air and you can be in stationary position of move in any direction you wish. Some basic control instructions and you are set to fly aboard.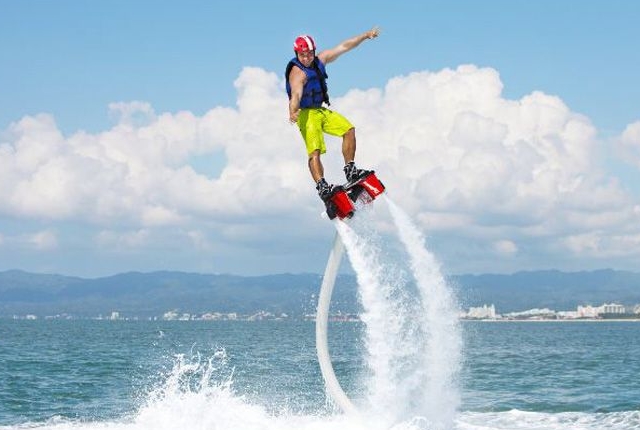 7) Stand Up Paddle
Stand up Paddle (SUP) is an offshoot of surfing. Unlike suffering where the rider sits until the waves comes, in SUP paddle boarders stand on their board and paddle to propel themselves on the waves. Most surf schools in Bali can introduce you to paddle boarding and make it easier for you and can surely get you hooked!. It is a cool way of sightseeing in Bali, and you can explore the coast from a different angle.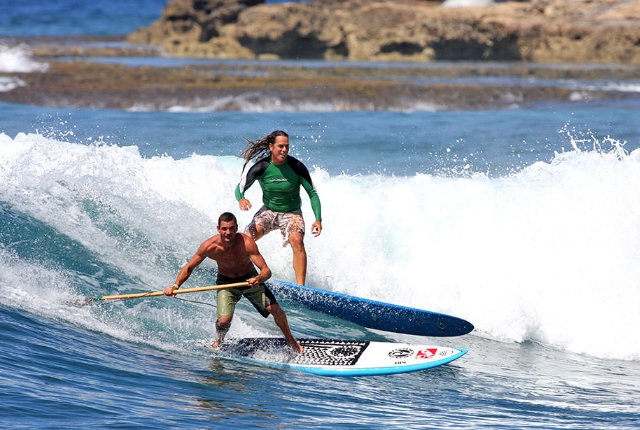 8) Kite Surfing
Kitesurfing  combines regular surfing with some elements of a wakeboarding and you can fly like a kite, breaking through the waves. 'Kitesurfing' also known as 'Kiteboarding' lets you speed over the waves rather than just waiting or paddling for a wave to come. Safety measure are well taken care of and you have life guard boats always behind you. You will find these schools at sanur.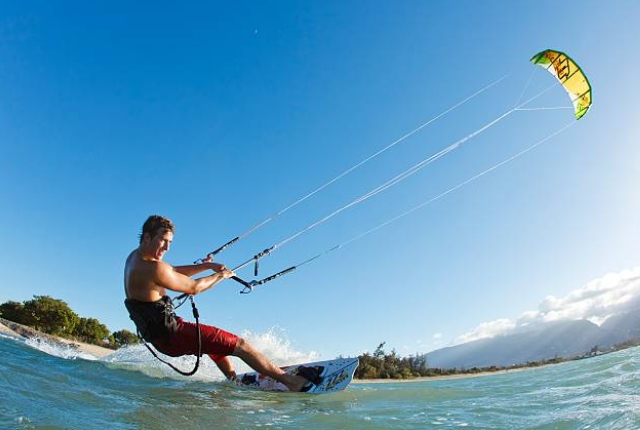 9)  Wakeboarding
Bali Wake Park is the only place which offers wakeboarding in Bali. It has a 5 hectares of artificial lakes and verges sculpted and landscaped out of a marshy plot. This sport was recently introduced in Bali and you will find a looming crane pulling the boarders instead of the normal speed boat. Hence it makes possible for utmost 8 boarders riding at a time. It is a well designed and equipped park with security measures well taken care of inside the park.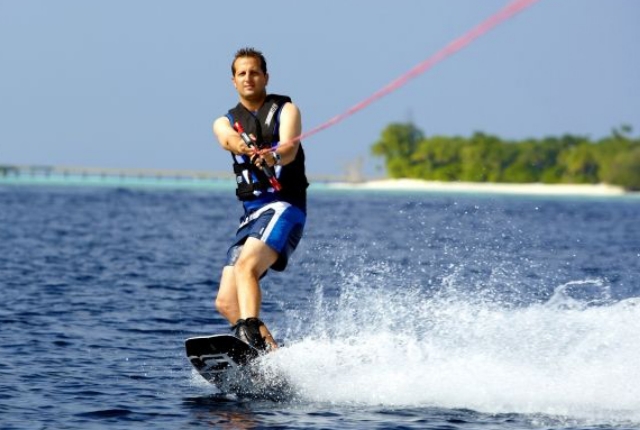 10) Rafting
Rafting on the rivers Ayung and Telaga Waja is a lifetime experience.  Cruising and rushing yourself along the steady or rapid streams will surely rise up you adrenaline and will build up a gushing thrill in you. You will also get a chance to explore the flora and fauna of Bali and be into nature's company speeding against the flowing river.