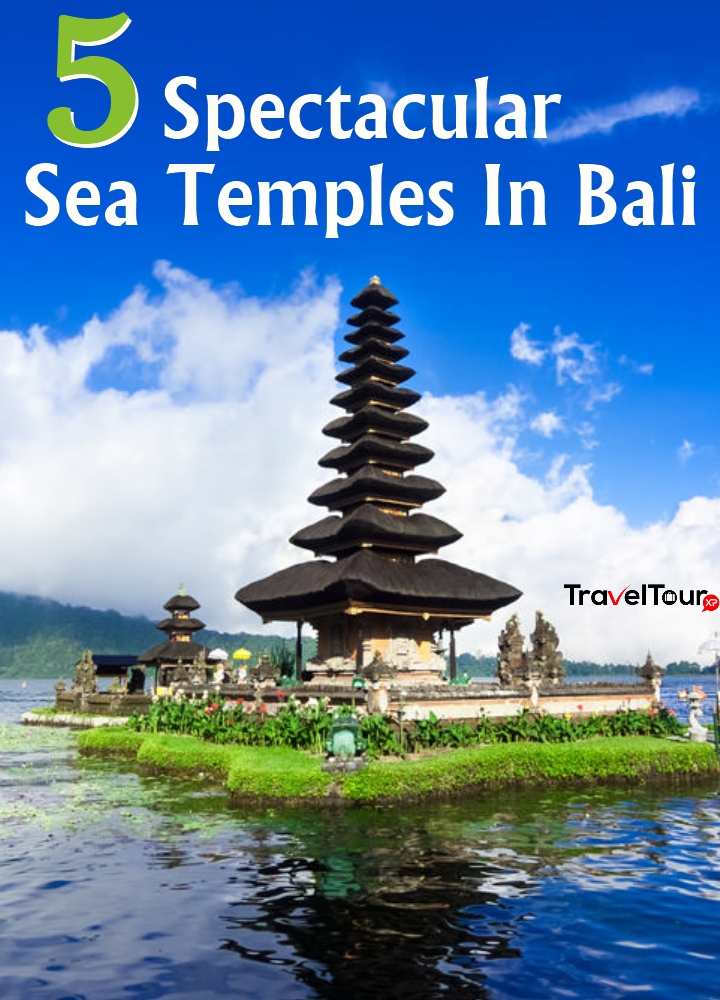 Are you planning a religious tour to Bali? That's a brilliant idea. Bali is one of the most popular and most beautiful islands on the planet. Spectacular sacred sea temples are peculiar to Bali. Beautiful beaches, volcanic mountains, forests, coral reefs, spectacular forests, amazing rice paddies, and enchanting temples are key attractions that make Bali an interesting tourist destination. Bali's spellbinding coasts and highlands are home to several ancient temples. Centuries-old architecture, ornate decorations, vibrant celebrations, and exotic backdrops adorn the temples in Bali making them prominent tourist attractions that you simply can't afford to miss. So, if you are looking forward to visit popular temples in Bali, you are sure to have an interesting trip to this marvelous Indonesian island. Read on to discover more about wonderful temples in Bali.
Find Below Five Prominent Temples In Bali That You Must Not Miss Visiting When Vacationing Here:
1. Tanah Lot Temple
Tanah Lot temple is Bali's not-to-be-missed iconic landmark and one of the topmost tourist attractions that you must visit when holidaying in Bali. It is a sea temple with beautiful offshore setting and stunning sunset backdrop. It is an incredible rock formation.
Tanah Lot features an ancient Hindu shrine amid the water with constantly crashing waves.

You will find that the onshore site comprises wonderful smaller shrines along with shops and cultural park featuring dance performances. Tanah Lot sunset is one of the best viewed sunsets. This temple is considered as one of the sacred temples in Bali as legend states that it is safeguarded by holy sea snakes that were formed from its founder's scarves. You can find this stunning temple in Berban village of Tabanan regency.

2. Uluwatu Temple

Another spectacular sea temple in Bali that you must visit is Uluwatu Temple, which is believed to be dedicated to Lord Rudra, which is manifestation of Sang Hyang Widhi Wasa.

This Balinese temple is present one the southwest cliff top about 70 m above the marvelous crashing waves offers spectacular sunset backdrops and amazing ocean and horizon views.

Do not miss watching cultural performances, such as Kecak dance or Ramayana ballet, that are organized at incredible amphitheatre located at the south of this temple. Gaze at impressive ancient sculptures and architecture here. In the dense forests in its vicinity, you can spot grey long-tailed macaques.

3. Pura Mas Suka

Pura Mas Suka is one of the enchanting seaside temples in the magnificent Bali. It is popular as diminutive temple which dominates an edge of a high cliff that views spectacular Indian Ocean. You can reach this temple through narrow twisted road that runs via barren red-rock landscape and changes as you reach Karma Kandara.

4. Pura Gede Perancak Temple

Another fabulous sea temple in Bali that greets visitors with its eye-catching white stone entranceways is Pura Gede Perancak Temple. This amazing temple is popular as the monk Nirartha's first stepped place on the land of Bali after numerous years. This magnificent seaside temple overlooks the pleasant river Perancak, and it is situated in the vicinity of the village Gede Perancak.

5. Pura Sakenan Temple

Another wonderful sea temple in Bali is Pura Sakenan, which you can find in the south of Bali on northwest coast of Serangan Island. This stunning temple was constructed in the 10th century by a high priest well-known as Mpu Kuturan.

It was initially built using corals and limestones from the coral reefs in the vicinity.

Discover two prominent areas of this temple where the biggest area features antique walls around the grounds of the temple and some renovations and smaller area still retaining the ancient features. Watch towering trees around the temple grounds.

Now that you know these five spectacular sea temples in Bali, plan to visit each one of them when vacationing on this fascinating island in Indonesia.