The very mention of Bali conjures up images of emerald green paddy fields, gigantic volcanic mountains, large swathes of virgin beaches and kaleidoscopic coral reefs. With its spectacular scenery, vibrant culture and world class resorts, Bali has a compelling appeal that captivates the imagination of travelers.  Bali is also home to numerous world class luxury hotels. These hotels have a penchant for spoiling guests by offering services that go beyond the ordinary. To discover the exotic charm of some of the best luxury hotels in this island paradise, read on.
Here are 6 Must Visit Luxury Hotels in Bali:
1. The Villas at Ayana Resort and Spa Bali
The beautiful floating villa lobby at the Ayana Resort and Spa sets the tone for your unforgettable stay at this super luxe 5 stars resort and spa. The cluster of 78 super spacious, light filled villas are situated amidst beautifully manicured gardens. Each villa is decorated in authentic Balinese style and features local artwork. Situated just 8 kilometers from Central Jimbaran, Ayana Resort has an enviable location atop a cliff top which affords the most breathtaking views of the sea.
From decadent European cuisine to authentic Balinese fare, guests can choose to have a memorable meal at any one of the numerous restaurants at this world class hotel like Kampoeng Bali, Dava, Damar Terrace, Padi, Sami Sami Restaurant Bar, Kisik Bar and Grill, Honzen, To'oge, Ah Yat Abalone Seafood Restaurant.
Visitors can soak up the chic atmosphere and down an artisanal cocktail at the 'The Rock Bar Bali', 'The Martini Club', or at 'The Unique Rooftop Bar and Restaurant'. Some awesome amenities which guests at this resort can avail of include the opulent 'Thermes Marins Bali Spa', the beautiful 18-hole golf course, a tennis court and fitness center.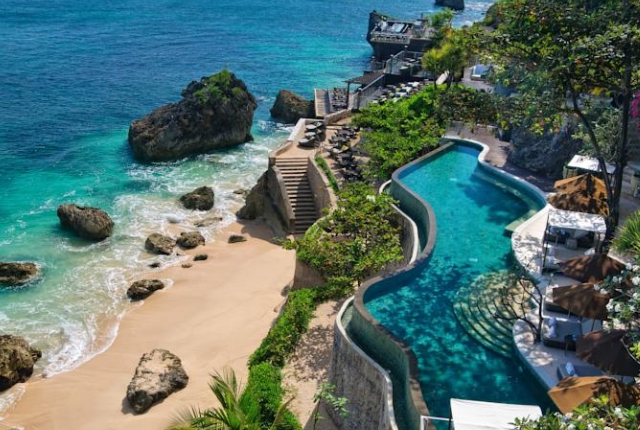 2. Fairmont Sanur Beach Bali
Enjoy magical sunsets and soak up the soul stirring tranquility of Sanur by staying at the Fairmont Hotel.  Fairmont Sanur Beach Bali, is  an all suite and villa luxury resort, which features a stunning tropical garden and semi private beach.
Each of the 120 opulently decorated rooms at this world class hotel has modern amenities, which include a flat screen TV, an I-pod dock and free wi-fi facility.
To enjoy a truly memorable dining experience, guests can try the Pan Asian inspired cuisine at the hotel's in-house restaurant. Retreat to an oasis of tranquility and enjoy the luxurious full body massages which are performed by qualified massage therapists at 'The Spa'. This hotel also has a fully equipped business center and a world class fitness center.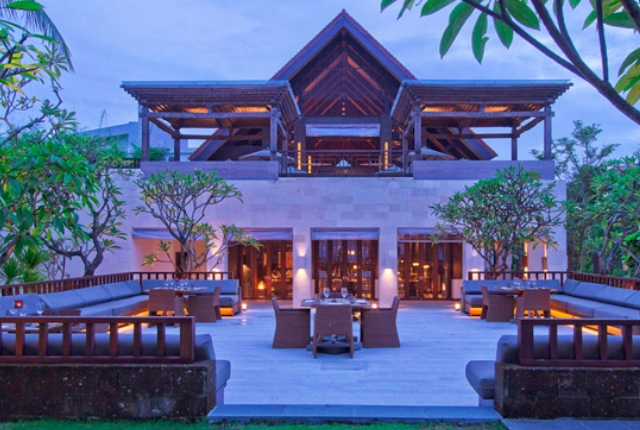 3. Viceroy Bali
Located within the precincts of a charming Balinese village, the Viceroy Bali, comprises of 25 luxuriously appointed pool villas.  Perched atop a river ridge in the highlands of Ubud, the Viceroy Bali is the ideal destination for honeymooners and travelers who are seeking an intimate place to relax.
Each of the rooms in this secret, tropical hideaway is kitted out with king size beds and boasts of amenities like a fully stocked mini bar, espresso machine and the latest electronic equipment.
One of the top dining venues in Bali the 'CasCades Restaurant' gives guests a unique culinary insight into authentic Balinese cuisine. Enjoy exceptional views of the Petanu River gorge while sipping on a classic cocktail at the 'Viceroy Bar'. To enjoy a soul balancing massage, guests can head to the 'Lembah Spa'. An airconditioned conference hall, a boutique which specializes in casual resort wear and a well equipped gymnasium are some of the other facilities which are available to guests.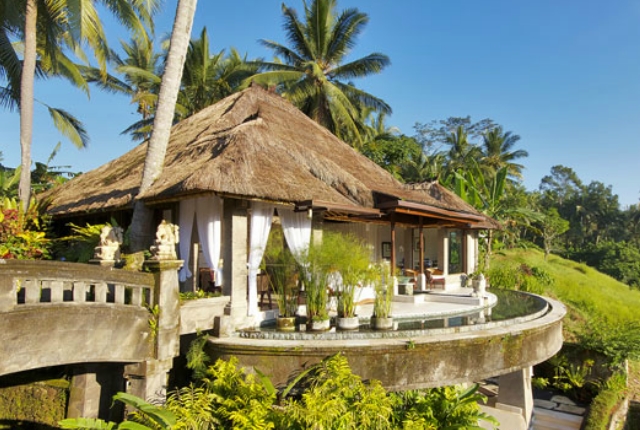 4. Mandapa, a Ritz- Carlton Reserve
Located just 10 minutes from downtown Ubud, Hotel Mandapa, is the last word in luxurious living. Set amidst emerald green paddy fields, meandering ochre pathways and rolling hills, Hotel Mandapa comprises of tastefully decorated 60 villas and suites.
Guests can enjoy a memorable meal at 'Kubu', 'The Library', 'The Pool Bar' or 'Sawah Terrace' restaurants.
To enjoy an intimate dining experience, guests can have a cozy meal amidst the verdant paddy fields. Guests can choose from a comprehensive treatment menu by heading to the 'Mandapa Spa and Wellness Center'. This hotel also boasts of two world class swimming pools.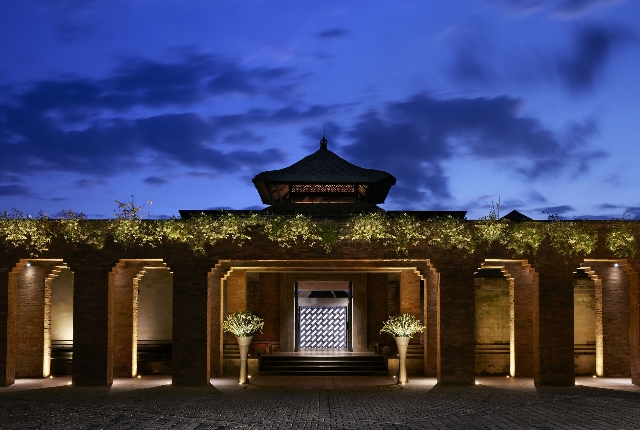 5. The Legian Bali
This multi-award winning hotel which is situated along Semiyak beach meets the expectations of the most discerning guests. This sophisticated ocean front boutique hotel comprises of 67 suites.
Each of the suites which afford stellar views of the Indian Ocean is decorated in traditional Balinese style.
Guests can choose to dine at 'The Restaurant', 'The Club Lounge', 'The Lobby Lounge', 'The Ocean Bar' or at the 'Pool Bar'. Guests can enjoy timeless and authentic healing treatments at 'The Spa'. Health enthusiast can head to the large in house health club. This hotel also offers a well appointed business center.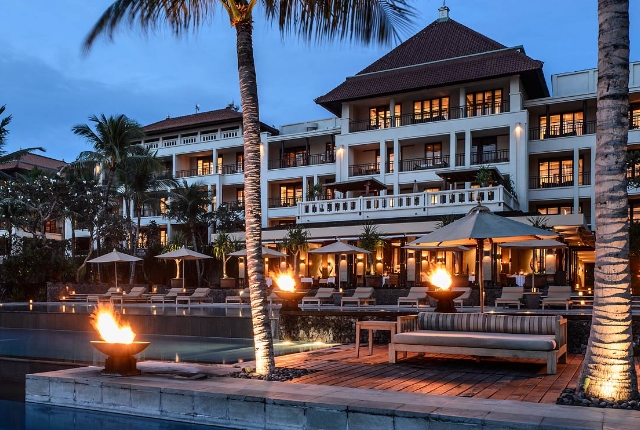 6. Hanging Gardens of Bali
Hanging Gardens of Bali is a luxurious resort type hotel which comprises of gorgeously appointed villas edged by private infinity pools. With its sense of discreet luxury, tranquil decorations and expansive spaces, the 44 private villas of Hanging Gardens of Bali scream of understated elegance.
Guests can choose to dine at The Garden, the Garden Bar, the Spa Collection or in the elegant environs of the Library.
Guests can also enjoy a brilliant afternoon tea while taking in the sights of the jungle outside. To balance your physical and spiritual energy book an appointment with a world class therapist at the fantastic spa at Hanging Gardens of Bali. This hotel also has a state of the art business center.