The crescent-shaped Santorini Island is one of the popular isles of Greece and perhaps also in the world. There are very few destinations in the world that combine ancient cities, spectacular scenery, amazing restaurants, beautiful beaches, an active volcano and the best wine, but Santorini has all these and much more to offer. If you are planning a trip to Santorini then you are on the right page. Here we have listed few top luxury hotels that will make your holiday the most wonderful, unforgettable and exclusive with their style and services. Choose one and book right now as these are filling out quick.
Luxury Hotels In Santorini:
1. Grace Santorini
Grace Santorini is an award-winning, exclusive boutique hotel that rests on top of the popular caldera offering amazing views. Luxurious rooms refurbished in contemporary style, Santoro restaurant with unique menu, beautiful pool, spectacular sunset views, complimentary wellness sessions, never-ending views of the blue sea, all these make the hotel the bets in the island.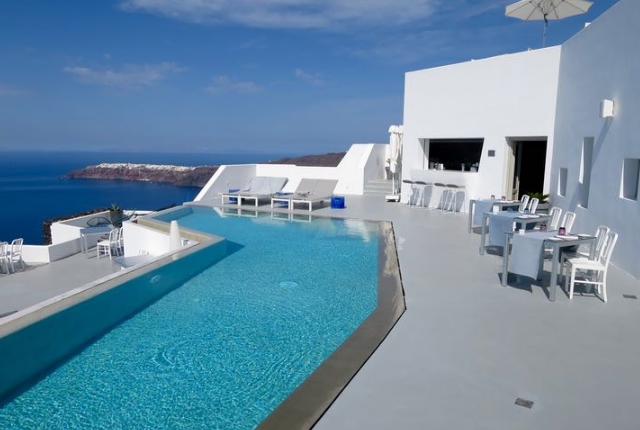 2. On the Rocks
On the Rocks is an exclusive rock carved destination in Imerovigli village with stunning views of the sea, caldera and the dazzling sunset. The white washed walls against the clear blue sky and endless sea are amazing. The architecture of the hotel is something that makes your stay interesting. Free flowing stairs, rooms with modern facilities, pools, scrumptious food create a relaxing atmosphere for a romantic holiday.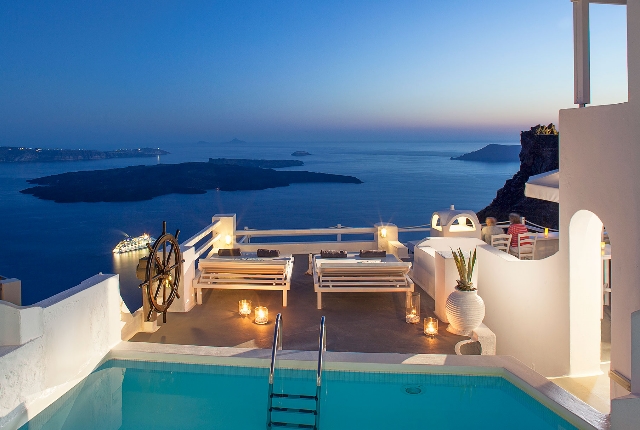 3. Tsitouras Collection
Tsitouras Collection is a boutique hotel that is easy to access due to its location in Firostefani. Decorated with amazing artwork all over and most wonderful staff, the hotels is simply magical with luxurious suites, stunning views, fantastic service and above all the most wonderful poolside dinning.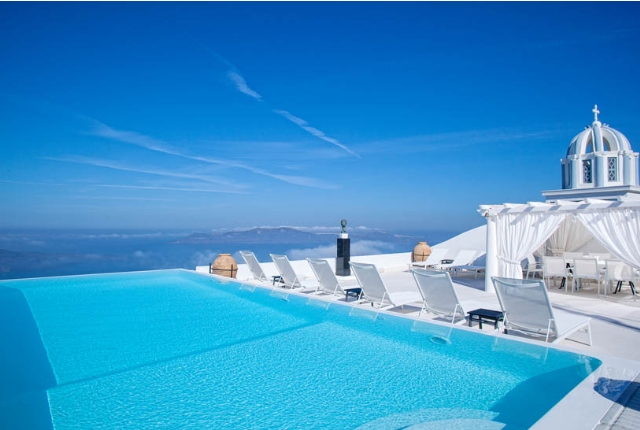 4. Pezoules
Pezoules is a lovely private property located in the lower caldera cliffs in Santorini giving guests breathtaking views of the pristine sea. With less than 10 rooms designed in cave style, the room is perfect for honeymooners. Modern comfortable rooms with traditional and contemporary blend interiors, infinity pool, friendly staff, beautiful views and quite atmosphere is all you can experience in this stay.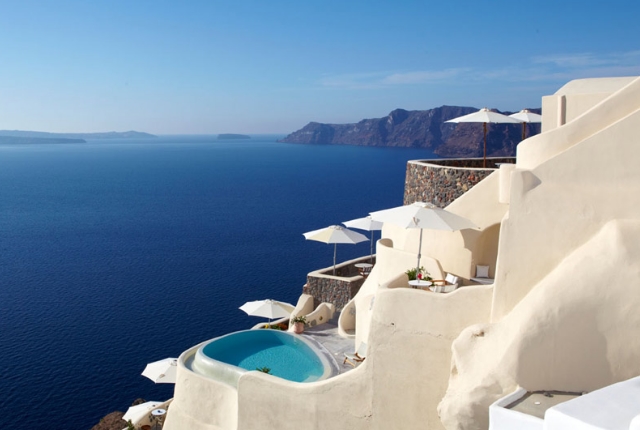 5. Anastasis Apartments
Anastasis apartments are a beautiful cliff steps free apartment styles units with individual private balconies and kitchen for guests in Santorini. Relaxing individual rooms with undisturbed views, total privacy, contemporary decors, restaurants, bars, swimming pool, spa and above all the stunning views of the sea, caldera and the sunset are simply astounding.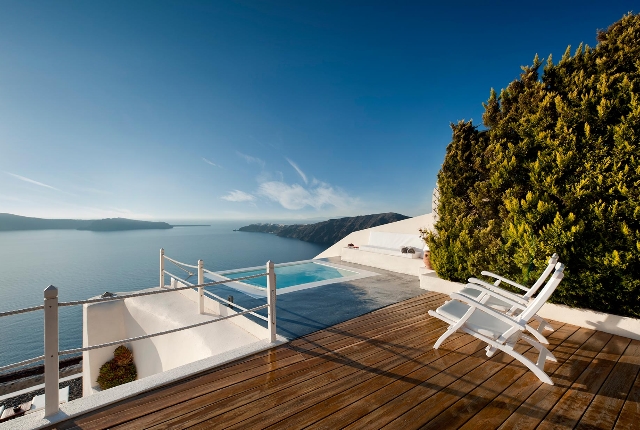 6. San Antonio:
Do you want to enjoy your vacation in a secluded location? In that case, San Antonio is the property where you need to stay. It exceeds all your expectations. Located on the outskirts of Imerovigli, the luxury hotel features a beautiful infinity pool that is located amidst exotic gardens and the sophisticated spa is in a cave. It is definitely a posh option for stay.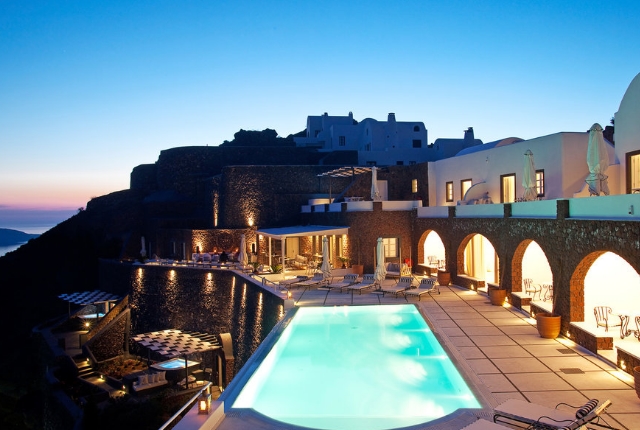 7. Katikies Hotel
Perched on the cliffs of the beautiful Oia, Katikies is one of the best hotels in Santorini. It can be easily accessed by a car or taxi. The beach is just 10 minutes away and the guests are provided free transportation to the beach. The incredible rooftop restaurant offers sweeping vistas of the Caldera. Every room has a private terrace offering unforgettable sea views.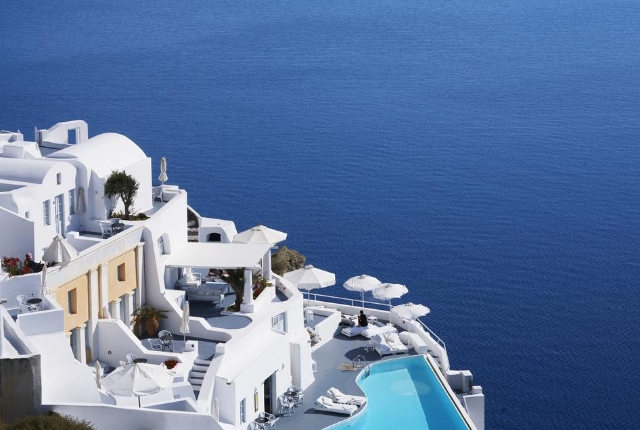 8. The Tsitouras Collection
Located in Firostefani, this 18th Century mansion offers luxurious accommodations as well as spectacular views that gives a feeling of unparalleled extravagance to their guests. Tsitouras houses have beautiful antique artworks and special architectural features like skylights, vaults, domes etc. The hotel blends sophisticated aesthetics, local architecture and imaginative creativity that transcends time shaping ineffaceable memories in the hearts and minds of their guests.
Visit The Tsitouras Collection