Updated on September 8, 2020
Are you traveling to Finland? When we are traveling to a new and unfamiliar destination, we want to know about the best places to eat, drink and famous beaches of a particular place. Since you are traveling to Finland, we have prepared a list of the 5 Beaches You Will Love in Finland. Every beach in Finland has its own specialty and we have mentioned it below. Take a quick look at the list before you reach Finland so that you can plan your holiday accordingly.
Here Is The List Of 5 Beaches You Will Love In Finland:
1. Yyteri Beach
Yyteri Beach is very long but very clean. It is a beautiful beach which has many facilities. You can play volleyball or football here. If you want a lazy day at the beach, you can just go to the nude part of the beach where stripping down is allowed. You can satisfy your hunger cravings at the shops which sell snacks. You can catch a beer near the beach. When it is wintertime, you can take a walk on this beach.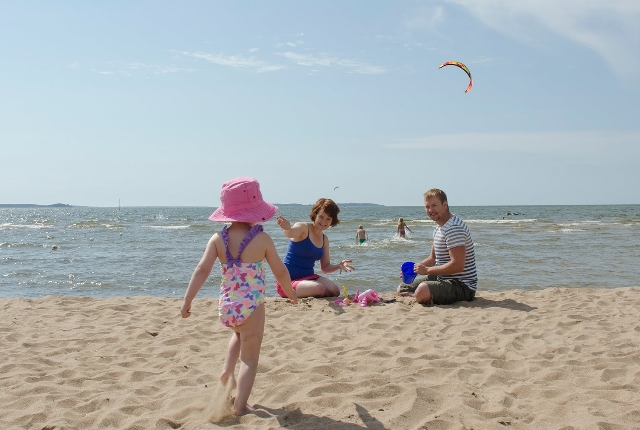 2. Bellevue Beach
This beach is very clean and it should be visited for sure. It is one of the most famous seashores in the whole of Finland. If you are going in summer, it is great. You will also see some fishes swimming in the water. It is a great sight for nature lovers! The water is very clean to see little fishes swimming. Also, it is very safe to swim because the water is shallow. It is a great place for non-swimmers too.
3. Hietaranta Beach
Now the Hietaranta Beach is best on a sunny day. It is a great beach to carry a book with you and relax. Soak up the sun and read some here. There are some activities on the beach as well. There is a cafe where you can find some snacks and drinks. Play beach ball or volleyball here for having a fun day at the beach.
4. Nallikari Beach
Nallikari Beach is in Northern Finland. It is a small beach. Just rent a bicycle and ride it on the beach because the sand is flat and perfect for riding a bicycle. You can also take a walk alone. You can take a dip in the sea. The water can be a little cold for you. The beach is clean and there are cafes and restaurants where you can catch a bite. Make sure you pack your swimwear when going to this beach because the water will tempt you a lot.
5. Rauhaniemi Beach
If you are going to Finland, you must know that the beaches here are not so long. They are small and do not stretch to kilometers. This is one basic thing to understand when in Finland. The Rauhaniemi beach is segregated into two parts. One part is for the little children and the other one is for elder people. You can go for the sauce which has a little fee to it. The location is perfect! You must go here if you want a beach experience in Finland and also, the happy sauna experience.
Did this list help you in any way? All the beaches mentioned in the list are great. You can choose any depending on the proximity of your hotel. The beaches are not too long and bustling like in other famous beach destinations but you will surely not be disappointed. People who have a fear of seas and deep waters will be able to enjoy these beaches because most are shallow beaches. Have fun!
Image Credits: Foreigner.FI