The United Arab Emirate's modern, cosmopolitan capital of Abu Dhabi has come a long way since its days as a quaint fishing island. Home to the Bani Yas tribe in the 1760s, its fortune turned after the discovery of oil. At present, it is a teeming hub of business and government activity. Abu Dhabi not only surprises its guests with its remarkable array of tall skyscrapers, it is also a great place to travel with family. It is the perfect amalgamation of traditional culture, religious monuments and modern developments. So, whether you are visiting the Sheikh Zayed Grand Mosque or taking a trip to Ferrari World, you will be amazed to find a place that has so much to offer.
Here's Your Quick Guide To Exploring Abu Dhabi As We Look Into Its Famous Attractions
1. Sheikh Zayed Grand Mosque
Visitors to Abu Dhabi must take a tour of the grand mosque. It is an example of architectural brilliance and is one of the most impressive landmarks of the UAE capital.
It has 80 domes, over 1000 columns, golden chandeliers and has the capacity to hold more than 40,000 worshippers at a time.
The world's largest hand woven carpet is also found here. Its majestic setting in a lush green garden makes it an astonishing structure. Made with pure white Greek and Macedonian marble, it is decorated with semi-precious stones and has eye-catching floral designs. Visitors can opt for guided tours throughout the day, except for Friday mornings, when it is reserved for worshippers only.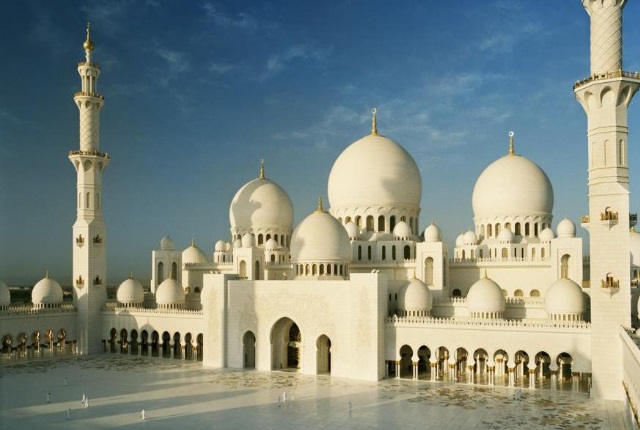 2. Touring The City's Iconic Landmarks
Abu Dhabi has numerous iconic landmarks. To begin with, take a trip to the Emirates Palace, a luxury hotel that perfectly blends Arabian spledour with modern technological innovations. The palace itself stretches over one kilometer and its beautiful manicured gardens, water fountains and changing lights, make it mesmerizing.
From these palatial settings move over to a modern marvel, the Yas Viceroy, another luxury hotel that is built half over land and half over water.
Its unique grid shell structure consisting of curvilinear glass and steel covers the entire façade. It features a one-of-a-kind lighting system that creates a stunning effect, reflecting myriad hues in the adjoining landscape. Apart from these, take a look at other iconic landmarks like the Etihad Towers, Capital Gate, Hazza Bin Zayed Stadium, Aldar Headquarter, Sheikh Zayed Bridge and the UAE Pavillion.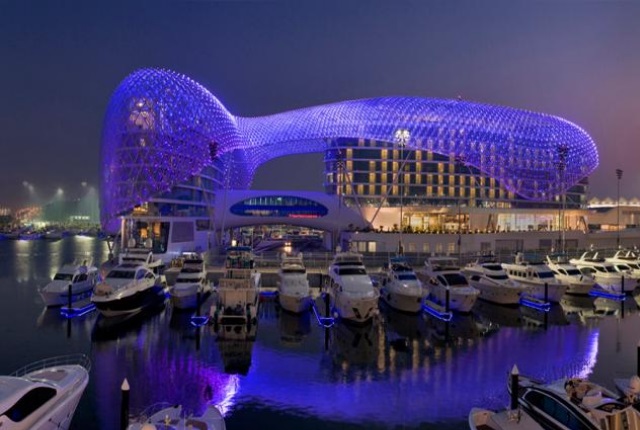 3. Qasr Al Hosn
It is the city's oldest building and was home to the ruling Al Nahyan family. It has now been renovated and restored as a museum.
If you are interested in the history of the emirate, old photographs, several traditional artefacts and the huge collection of documents would take you back to an older era. Its courtyard is beautiful and the awesome tile work over the northern gate will certainly attract your attention. It now acts as a symbol of Emirati culture, heritage and tradition.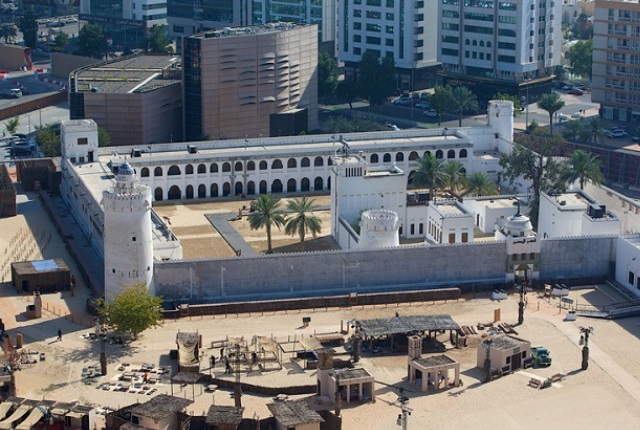 4. Visit To Heritage Village
The Heritage Village is another quaint place where you can get a fair idea of the old Emirati lifestyle. It is a replica of a typical Bedouin settlement and is located on a quiet beach. Its laid-back atmosphere is ideal for a lazy day in the sun when you can simply walk around the exhibits showcasing different types of objects used for agriculture. Here you also get a glimpse of the pearl diving trade, one of the main businesses driving the economy of traditional Abu Dhabi.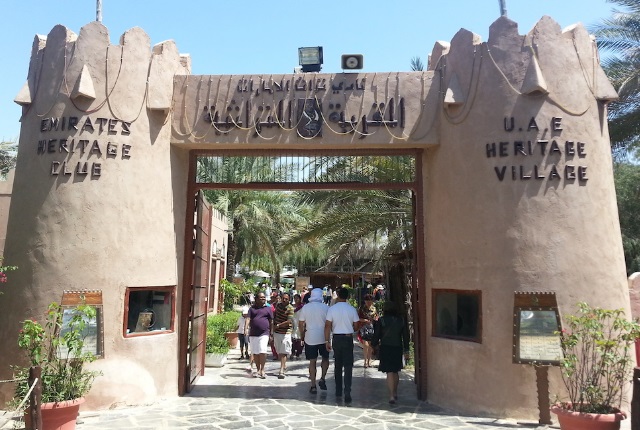 5. Ferrari World
One of the largest indoor theme parks in the world, Ferrari World has opened up a completely new dimension to the business of amusement parks. It is the world's first Ferrari themed park and has thrilling rides for adventure enthusiasts. Located in Yas Island, tourists from all over the world visit this exciting place.
If you wish to brag about a ride on the fastest roller coaster or want to try a hand at racing a Ferrari, this is the place that will give wings to your desire.
The car exhibitions and live shows at the venue are some of the other attractions.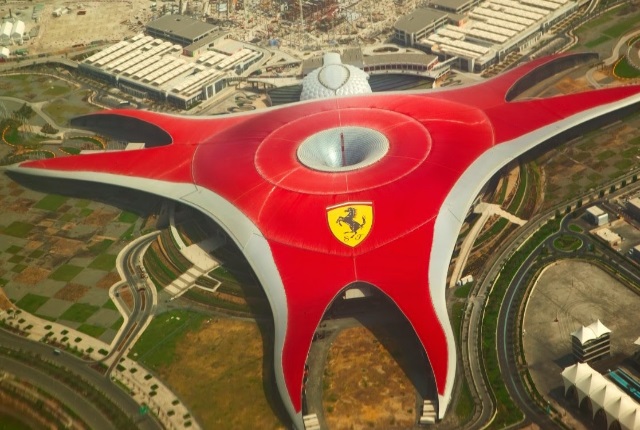 6. Abu Dhabi Corniche
The 8 kilometer long manicured corniche or the beachfront is a top attraction for tourists. Whether you are in the mood for swimming or sun-bathing on the white sand or want to take a walk along the dedicated walking and cycling areas, it is a place to relax and rejuvenate. The waterfront offers a spectacular view of the numerous high-rises and you can simply sit back and enjoy the evening breeze by the sea. Special children's areas, a life-guarded beach park and several cafes and restaurants along the corniche make it one of the most favoured destinations of Abu Dhabi.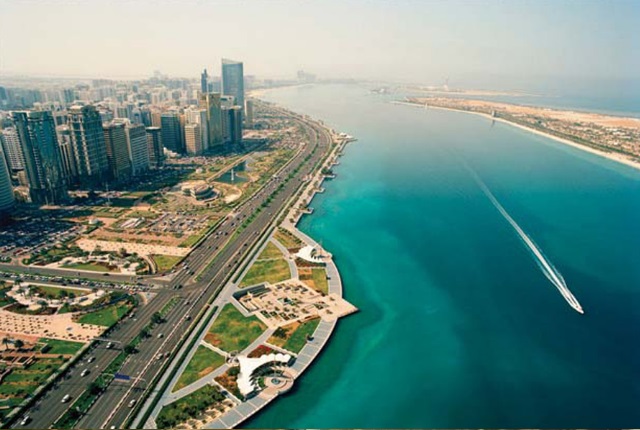 7. Opt For Water Activities
When you are in Abu Dhabi, don't miss out the water. There are several activities to try out and whether you are in the mood for swimming, surfing, snorkeling or kayaking, the emirate's waters would not disappoint you. Enjoy a thrilling speed boat ride or take a simple boat to discover the city as you drift through the marina.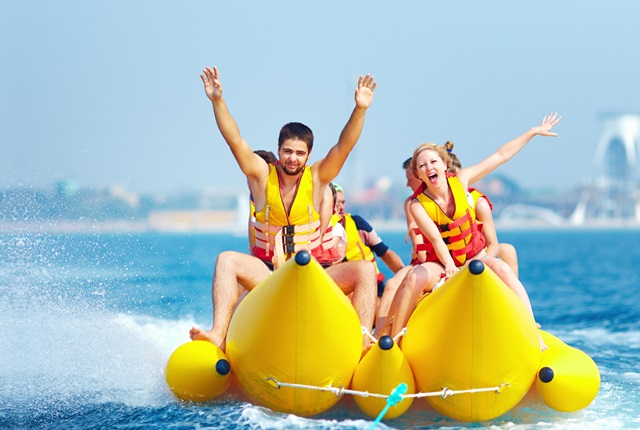 8. Trip To Liwa Oasis
Located just outside the city, Liwa Oasis is the perfect getaway to enjoy the desert landscape. It is known for date farming and some of the largest sand dunes in the region. Enjoy dune bashing, ride a 4×4 vehicle or try camel trekking at Liwa.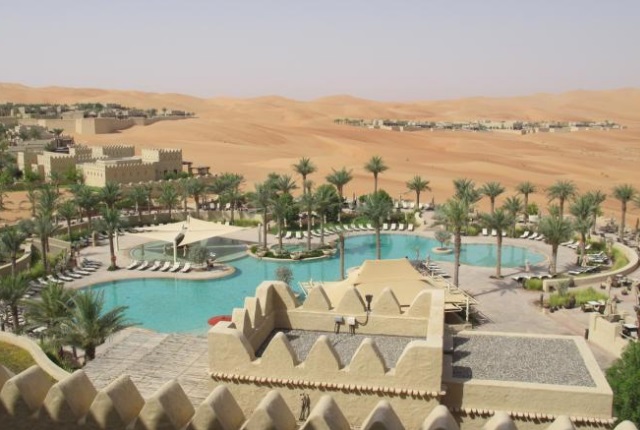 9. Shopping And Dining
Abu Dhabi has some of the finest malls and shopping destinations. Marina Mall, Yas Mall and Mushrif Mall are some of the places that you can visit for branded items. The traditional souks and outlets, on the other hand are best for local goods and souvenirs. You can even bargain at these souks and get hold of several good quality products at reasonable rates. And if you are looking to sample fine food, there is plenty of choice.
Right from Michelin starred restaurants to simple eating joints that offer a host of cuisine including Arabic, Asian, Italian, Lebanese and International.
However, don't forget to try out the special barbeque items and a few Arabic sweets and dishes before completing your tour.