North Carolin, a south eastern US state, is a place of vast diversity. North Carolina is home to rolling hills, beautiful beaches and spectacular cityscapes. The stunning natural scenery beckons one to visit this state at least once in their lifetime. Some of the most spectacular hotels on the eastern coast of US, are located here. Dunhill Hotel, The Ritz Carlton and Hilton Charlotte Center City are a few of the finest luxury hotels in North Carolina or NC. Read on, to discover the truly awesome luxury hotels of this state.
Here Are 8 Spectacular Luxury Hotels In North Carolina
1. Dunhill Hotel
The historic Dunhill Hotel has become an iconic landmark in Uptown Charlotte since its inception in 1929. This upscale boutique hotel which is famed for its refined atmosphere is located close to some of the best museums, shopping malls and art galleries in Charlotte. The elegant, well appointed guestrooms are decorated in charming 1920's style. However, despite its period furnishings, the hotel provides its guests with the latest amenities such as I-pod docking station, coffee maker, flat screen TV and Wi-Fi access. The 'Ashbury' restaurant has a menu which is constantly evolving but deeply rooted in the classic cuisine of the south. The hotel also has a business center.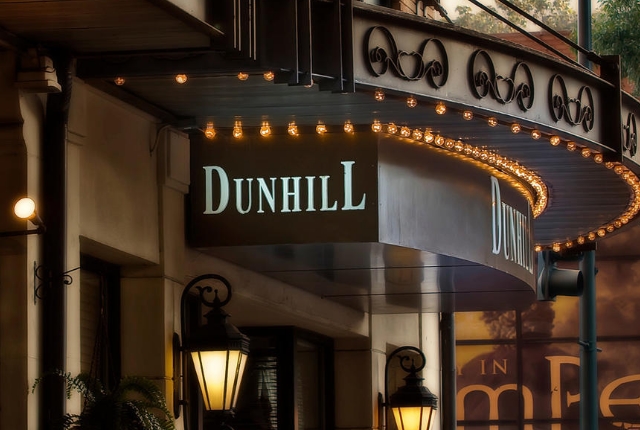 2. The Ritz Carlton
This sophisticated hotel is designed to craft memorable travel experiences for business and leisure travelers. The sleek Ritz Carlton Hotel which stands distinct in the vibrant uptown district in Charlotte has the Bank of America Stadium and NASCAR Hall of Fame as its neighbors. The stately guest accommodations feature luxury amenities and allow guests to soak up the stunning views of the city skyline. 'BLT Steak', 'The Punch Room', 'Kinship Bar and Lounge', 'Hidden Wine' 'Cocoa Lab' and 'Bar Cocoa' are the restaurant, bars and delicatessens at Ritz Carlton Hotel are designed to showcase the robust southern flavors and hospitality. The penthouse spa which is like an eagle's aerie offers an array of relaxing body treatments. Additionally, this hotel also has a nightclub, indoor pool, fitness center and terrace.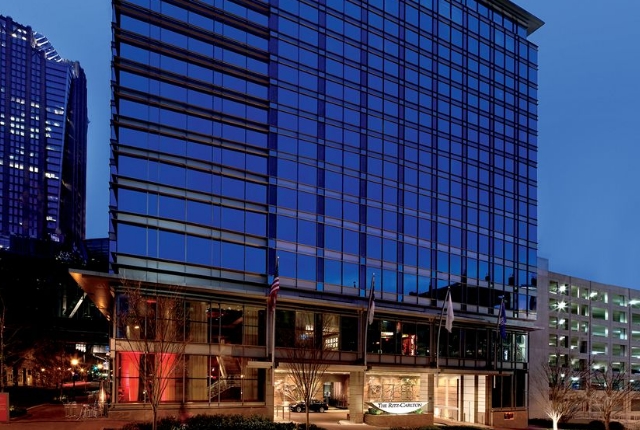 3. The Ballantyne, A Luxury Collection Hotel
The flagship property of Bissell Hotels, The Ballantyne is renowned for its excellent service, timeless elegance and world class amenities. This family friendly hotel is located in the business district of the city. The Charlotte Douglas International Airport is located 17 miles away. With its large picture windows, original artwork and luxury furnishings, the guest accommodations at The Ballantyne are designed to cocoon guests in comfort and luxury. The guestrooms are kitted out with amenities such as large work desk, coffee maker, fully stocked mini bar and 37" flat screen TV. The restaurants at this hotel have a deliciously crafted menu that is designed to ignite the taste buds and to create lasting sensory recollections. The 'Spa Ballantyne' offers salon services, body treatments and massages. This hotel also has a sauna, fitness center, indoor pool, outdoor pool, sun deck and terrace.
Visit The Ballantyne, A Luxury Collection Hotel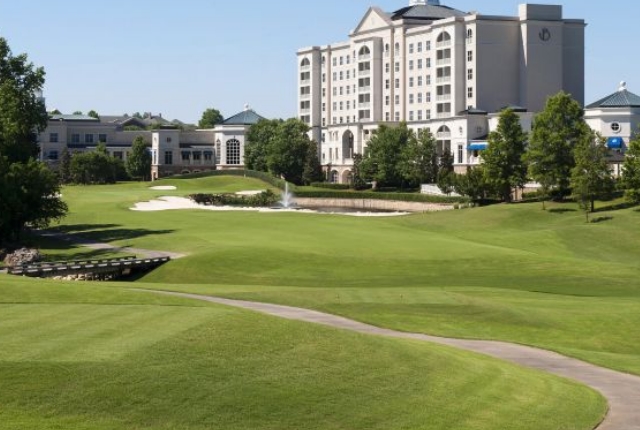 4. Hilton Charlotte Center City
This AAA, 4 diamond luxury hotel enjoys a strategic location in downtown Charlotte. Time Warner Cable Arena, NASCAR Hall of Fame and Charlotte Convention Center are located close to this upscale hotel. With its chic, sophisticated furnishings and featuring a bevy of high tech gadgets (that will delight the tech savvy traveler), the guest accommodations at Hilton Charlotte Center City is designed to make guests feel at home. The guestrooms feature Mp3 compatible radios, Wi-Fi and flat screen TV. 'Coastal Bar' and 'Coastal Kitchen' are the two in house restaurants. The hotel also has a fitness center and a top notch business center.
Visit Hilton Charlotte Center City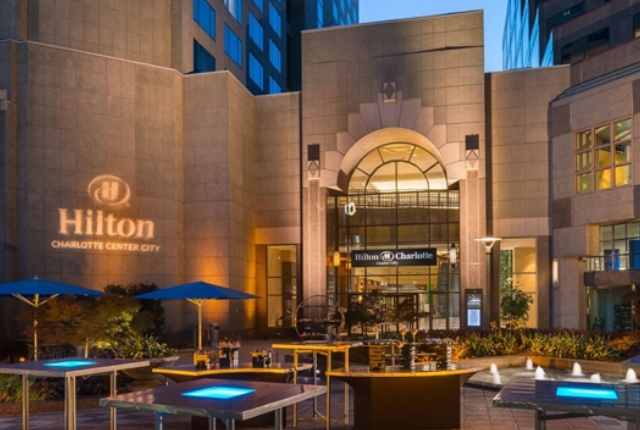 5. Haywood Park Hotel
The historic Haywood Park Hotel is located in downtown Asheville. U.S Cellular Center Arena is located just a short hop from this hotel. The 33 spacious and sophisticated non smoking guest suites feature large writing desks, 43" flat screen TV, coffee maker, mini refrigerator, Gilchrist and Soames soaps and toiletries. Guests can dine at 'Isa's Bistro' or at 'Haywood Park Café'. Additionally, this hotel also has a fitness center and a sauna.
6. Grand Bohemian Hotel Asheville, Autograph Collection
Grand Bohemian Hotel is one of the finest boutique hotels in Asheville. The top departmental stores of the district are situated close to this Tudor inspired hotel. There is a seamless blend of old world charm and new age amenities in the spacious guestrooms. 'Red Stag Grill' which resembles a rustic hunting lodge serves European comfort food. Guests can enjoy a relaxing massage at the 'Poseidon Spa'. The hotel also has a business center and a fitness center.
Visit Grand Bohemian Hotel Asheville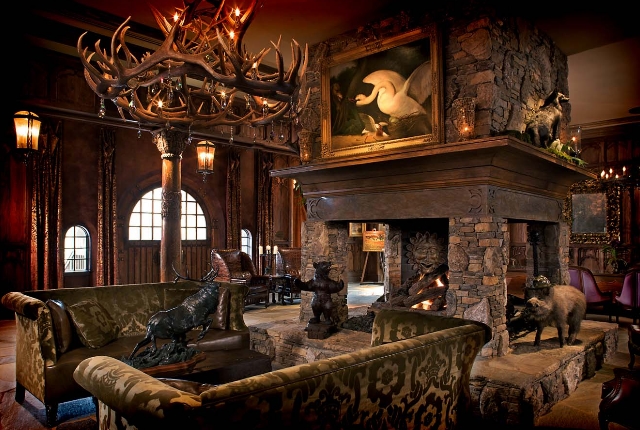 7. Proximity Hotel
This eco friendly hotel, which is the first Platinum LEED certified green hotel in the US of A, is located in the city of Greensboro. The Piedmont Triad International Airport is situated 9.7 kilometers from the hotel. The contemporary guestrooms at this hotel feature modern amenities which include HDTV, coffee maker, mini fridge and microwave. Guests staying at this hotel can dine 'Green Valley Grill' or at 'Lucky 32 Southern Kitchen' two world class restaurants located close to the hotel. Additionally, this hotel also has a fitness center, outdoor pool and business center.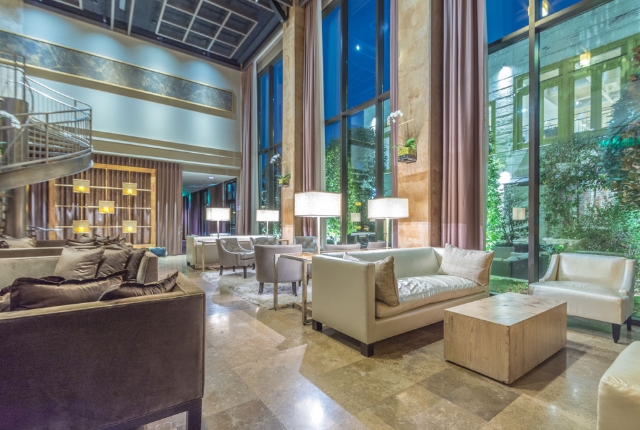 8. The Franklin Hotel
Franklin Hotel, a stunning upscale hotel is located in Chapel Hill North Carolina. The University of North Carolina, DSI Comedy Theater and Ackland Art Museum are located close to the hotel. The guestrooms are spacious and feature all the latest mod cons. Guests can head to 'Roberts Lounge' to enjoy classic American fare. The hotel also has business center, a bar, fitness center and banquet facilities.