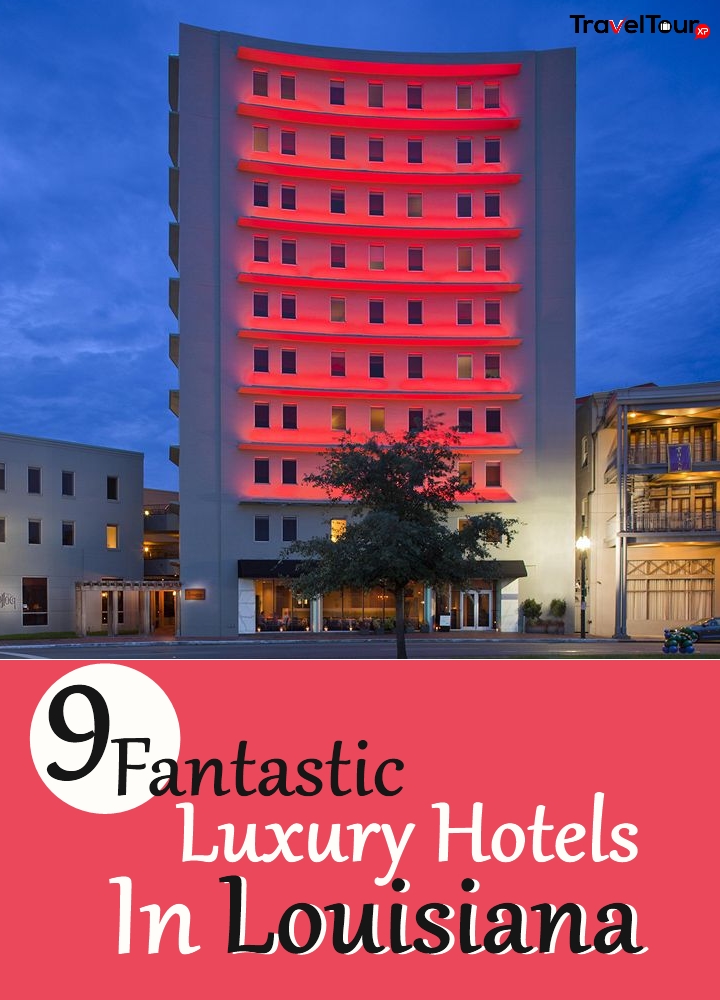 Louisiana has donned many mantles over the centuries. This south east US state started off as a French colony, became a Spanish protectorate over time and finally became an integral part of the US of A. There is a rarefied atmosphere about Louisiana, particularly its first city New Orleans, which you probably cannot find anywhere else in the country. This state is a melting pot of cultures which is held together by a common love for good food and great music. Some of the finest luxury hotels of the south are located in this state. To discover the truly exceptional luxury hotels of Louisiana, read on.
Here Are 9 Fantastic Luxury Hotels In Louisiana:
1. The Saint Hotel, Autograph Collection
The Saint Hotel, is one of the newest and hippest luxury hotel in New Orleans. This stunning hotel is located in the heart of New Orleans. The atmospheric French Quarter as well as some of the top cultural attractions of the city, which include the National World War II museum is within walking distance of this hotel.
The 166 comfortable guestrooms of this hotel are decorated in an eye catching style, and feature standard amenities which include complementary Wi-Fi and cable TV.

Guests are enticed to taste the delightful flavors of authentic southern cuisine at 'Tempt', the sleek and sassy in-house restaurant at The Saint Hotel. The 'Burgundy Bar' with its decidedly retro décor, and live Jazz band, which plays music inspired by the likes of legends like Louis Armstrong, instantly transports guests to the heady era of blues music. Additionally, this hotel also has business center and a fitness center.

Visit The Saint Hotel, Autograph Collection

2. The Ritz Carlton New Orleans

The Ritz Carlton New Orleans, which consistently has been ranked one of the top luxury hotels in USA, is located on Canal Street. This hotel functions out of the iconic Beau Arts Maison Blanche building – which has been celebrated as one of the finest architectural ornaments of this city, since its inauguration back in 1908.

The 527 spacious guestrooms and suites of this hotel have striven to bring elements of New Orleans into its unique décor.

The guestrooms and suites which are veritable havens of luxury, feature a fully stocked mini bar, cable TV, spacious work desk and luxury toiletries. Guests can sample authentic Caribbean and Cajun cuisine at 'M Bistro'. Guests can enjoy a variety of cocktails or sample some of the finest teas,at 'The Davenport Lounge'. The in-house spa at this hotel offers a mind boggling array of over 100 relaxing and rejuvenating treatments. Additionally, this hotel also has a fitness center, indoor pool and terrace.

Visit The Ritz Carlton New Orleans

3. New Orleans Downtown Marriott At The Convention Center

New Orleans Downtown Marriott which is strategically located in Convention Center Boulevard is an ideal hotel for business and leisure travel. Guests staying at this hotel have the added advantage of staying near popular area attractions which include Jackson Square and National World War II Museum.

The tranquil, casual opulence of the guestrooms are further enhanced by the awesome views of the Riverwalk and the Port of New Orleans.

Guests can enjoy sumptuous meals, which are basically a modern twist on French/ Creole cuisine, at the fabulous 'Wolfe's' Restaurant. The onsite Starbucks coffee shop serves a tantalizing array of freshly brewed coffee and pastries. This hotel also boasts of a 24 hour self service business center, fitness center, outdoor pool and terrace.

Visit New Orleans Downtown Marriott At The Convention Center

4. Loews New Orleans Hotel

The 285 room, Loews Orleans Hotel, has managed to capture the innate charm and romance of the city. The historic French quarter and the Riverfront are within walking distance of this hotel.

Guests staying at this hotel can enjoy mesmerizing views of New Orleans skyline, the lively French Quarter or the swirling waters of the mighty Mississippi River.

Guests can sample authentic southern cuisine at 'Café Adelaide'. Guests can head to the awesome lounge to enjoy a variety of signature cocktails. The hotel also has a spa, fitness center, business center, indoor pool and sauna.

5. Hyatt Regency New Orleans

The 110 meter tall Hyatt Regency New Orleans, which is located in the heart of the central business district, dominates the city skyline. The National World War II Museum, Jackson Square, arts district and the historic French Quarter are all located just a short hop from Hyatt Regency New Orleans.

The 1193 elegantly appointed guestrooms of this hotel feature modern amenities which include i-Pod dock, Wi-fi and 42 inch iHome stereos.

'Vitascope Hall', '8 Block Kitchen and Bar', 'Borgne', 'Pizza Consegna', 'Q Smokery and Café', 'Lagniappe Exchange', '8 Block Addendum Patisserie' and 'Starbucks' are some of the top dining options at this hotel. Additionally, this hotel also has an outdoor pool, fitness pool, sun terrace and business center.

Visit Hyatt Regency New Orleans

6. Omni Riverfront Hotel

This plush riverfront hotel is located in the vibrant arts district of New Orleans. Louisiana Superdome and the historic French quarter are situated just a short drive from the hotel. The 202 spacious and elegant guestrooms of this hotel feature standard mod cons which include 42 inch flat screen TV, in room safe, coffee maker and spacious work desk. Guests can enjoy an eclectic French menu in the comfortable environs of Fulton St. Bistro and Bar. This hotel also boasts of a business center and a fitness center.

7. Royal Sonesta New Orleans

The majestic Royal Sonesta hotel is situated on Bourbon Street. St. Louis Cathedral and Jackson Square are located just a short drive from this upscale hotel. The 483 guestrooms of this hotel are the very essence of understated French elegance and luxury.

Each of the rooms at this luxe hotel feature amenities which include Keurig Coffee maker, flat screen TV, in room movies, dual line telephones and complementary Wi-fi facility.

'Restaurant R'evolution', 'Bar R'evolution', 'Desire Oyster Bar', 'The Jazz Playhouse', 'P'J's Coffee Café' and' Le Booze' are the various restaurants and bars at Royal Sonesta New Orleans. Additionally, this hotel also has a fitness center, outdoor pool and garden.

Visit Royal Sonesta New Orleans

8. Henry Howard Hotel

This captivating hotel functions out of a galleried townhouse which was constructed in the 19th century (1867 to be exact). The World War II Museum and Garden District are located just a short hop from this hotel. The 17 sumptuously appointed guestrooms at this hotel are the perfect blend of vintage furniture and modern amenities. Guests can enjoy signature cocktails in the graciously appointed parlor. The hotel also has a garden and a terrace.

9. International House Hotel

This chic, luxury boutique hotel functions out of a stunning beaux arts building. Harrah's New Orleans Hotel and Casino and Audubon Aquarium of the America's, are some of the top tourist attractions which are located close to the hotel. The 117 guestrooms of this hotel epitomize elegance and luxury and are designed to uplift the soul. 'Lola Bar' is more than a place to down a tipple. It is instead a place for conviviality and verve. The hotel also boasts of a fitness center as well as a spa and wellness center.

Visit International House Hotel