Oregon, a Pacific Northwest state, is known for its spectacular natural beauty, its locavore cuisine and for its fierce independent spirit. This state attracts millions of visitors throughout the year. Oregon has numerous uber luxe hotels to choose from. Heathman Hotel, Senitel Hotel and Hotel de Luxe are some of the landmark luxury hotels of Oregon. To discover more about these, and other luxury hotels of this state, read on.
Here Are 7 Awesome Luxury Hotels In Oregon:
1. Heathman Hotel
Since its inception in 1927, the iconic Heathman Hotel which was formerly called New Heathman Hotel has been recognized as one of the landmark boutique hotels in Portland, Oregon. Top tourist attractions of Portland which includes Portland Art Museum and Arlene Schnitzer Concert hall are within walking distance of the hotel. The guestrooms of this AAA, Four Diamond hotel are an appealing blend of comfort and modern amenities. Some of the amenities which guests can avail of in the guestrooms include free Wi-Fi, Mp3 compatible sound system, fully stocked mini bar, flat screen 32 inch HDTV and private electronic safe. Head to 'Headwaters Restaurant' famed for its storied culinary history to enjoy a memorable meal. This hotel also has a business center, fitness center and a well stocked library.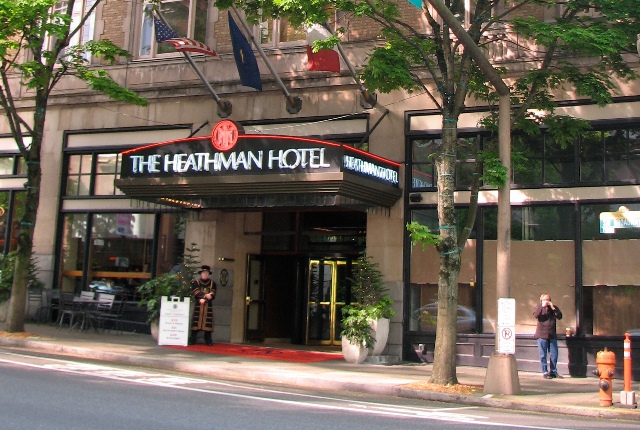 2. The Nines, A Luxury Collection Hotel, Portland
This 5 star luxury hotel which is located in the center of down town Portland is within walking distance of Portland Art Museum and Pioneer Courthouse. The beach is a brisk 9 minutes walk from the hotel. The rooms and suites which offer panoramic vistas of the city offer all the modern amenities which are so essential to modern day business and leisure traveler. 'The Urban Farmer Steakhouse' has perfected the concept of farm to table food. 'Departure' serves Asian inspired cuisine. The cozy environs of 'The Library', is the ideal place to enjoy leisurely cocktails and bar snacks. The hotel also boasts of a state of the art business center, well equipped fitness center, a beautiful library and billiards room.
Visit The Nines, A Luxury Collection Hotel, Portland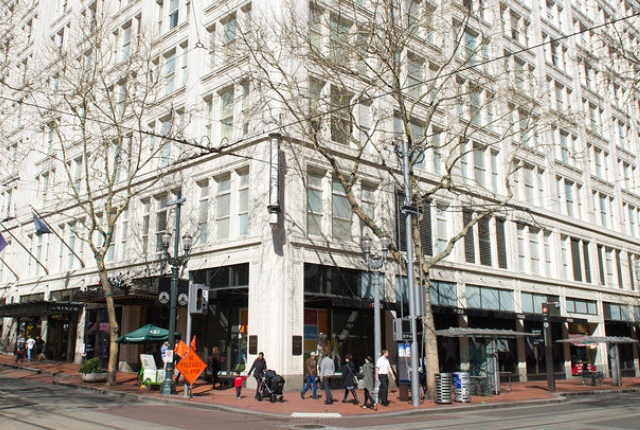 3. Sentinel Hotel
Sentinel Hotel is one of the most recognized landmarks of Portland. This elegant hotel functions out of a historic building which dates back to the early 20th century. The celebrated Portland Art Museum is an 8 minute walk from the hotel. The stylish guestrooms which feature a calming neutral color palette is kitted out with the latest modern amenities. Enjoy some of the best steaks and seafood at 'Jake's Grill'. 'Jackknife' serves craft beer and cocktails. 'Starbucks' serves beer, wine, cocktails and coffee. The hotel also has a world class fitness center and a business center.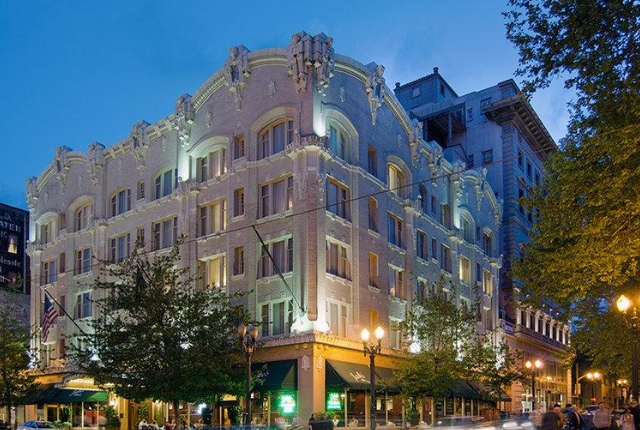 4. Hotel de Luxe
This art deco style hotel has been tirelessly serving its patrons since its inauguration in 1912. The Portland Art Museum and Providence Park MAX station are within walking distance of the hotel. The spacious guestrooms epitomize understated elegance. 'Gracie's' restaurant serves classic American fare. Guests can enjoy some of the finest signature cocktails and bar snacks at 'Driftwood Room'. Enjoy craft beers, fine wines and carts snacks under large, colorful umbrellas while watching an exciting game of mini golf at 'The 19th Hole'. The Afternoon Tea a Hotel de Luxe has become a time honored tradition among guests. 'Creator Close Ups' serves spirits, coffee, beer, wine and more. The hotel also has a business center, banquet room and fitness center.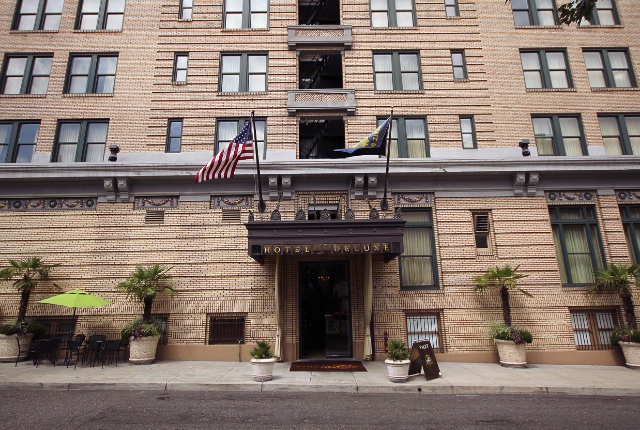 5. Kimpton River Place Hotel
This fabulous hotel functions out of a standout red brick building which is located on the banks of Willamette River. Oregon Museum of Science and Industry and Keller Auditorium are just a short hop from the hotel. The guestrooms which offer epic river views seamlessly blend style and comfort. Guests can tuck into succulent bacon wrapped oysters or flavorsome tempeh mushroom burgers at 'Three Degrees Restaurant'. This hotel also boasts of a business center, sun terrace and a well stocked library.
Visit Kimpton River Place Hotel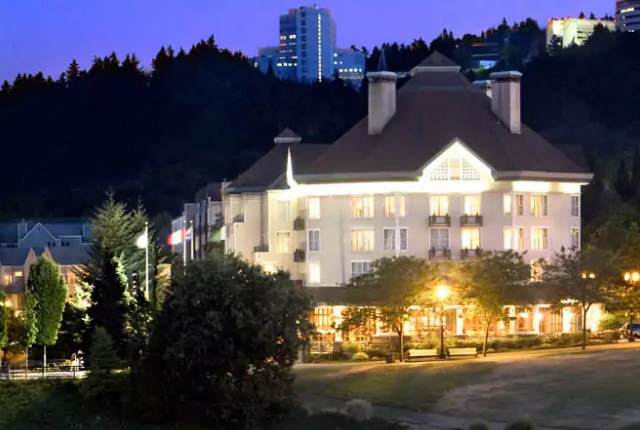 6. Whale Cove Inn
This elegant and highly rated hotel enjoys spectacular views from its elevated position on a windy bluff. This central coastal getaway hotel is located close to Devils Punch Bowl State Natural Arena and The Flying Dutchman Winery. The 7 signature suites and three premier bedrooms, which come with an attached balcony, offer matchless vistas of Whale Cove. The guestrooms feature Paloma gas fireplaces, in room DVD's and LCD TV. The 'Restaurant Beck' conjures up sensation dishes prepared using locally sourced, organic ingredients. Additionally, this hotel also has a hot tub/Jacuzzi.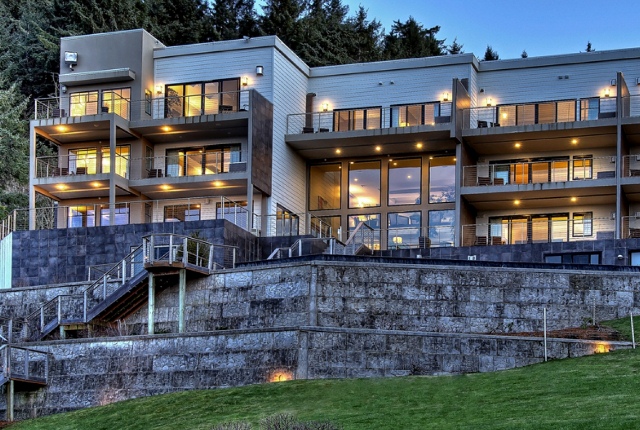 7. Hotel Lucia
This chic hotel functions out of a gorgeous 1909 building. Governor Tom McCall Waterfront Park is just a short drive from the hotel. Guests can dine at 'Imperial' restaurant, helmed by Vitalay Paley, to enjoy soulful cuisine. If you are in a hurry, you can head to 'Portland Penny Harbor' to enjoy delectable sandwiches and creamy milkshakes. This hotel also has a state of the art business center and fabulous fitness center.