The ancient Hashemite Kingdom of Jordan sits at the crossroads between Africa and Eurasia. Jordan has a wealth of ancient cultural sites. The tourism sector in Jordan has witnessed a massive boom in recent years. To accommodate the large influx of tourists from across the globe, some of the best hotel chains in the world have established uber luxe hotels in this desert kingdom. Movenpick Resort Petra, Intercontinental Aqaba and Four Seasons Hotel Amman are some of the finest luxury hotels in Jordan. To discover more about the amazing luxury hotels in this magical country, read on.
Here are 7 Awesome Luxury Hotels in Jordan:
1. Evason Ma'In Hot Springs
Evason Ma'In Hot Springs, with its surreal location, amidst towering mountains and endless sand dunes, instantly transports guests into a magical realm. Each of the 94 rooms at this uber luxe hotel allows guests to enjoy extraordinary valley or mountain views. The four in house restaurants at this hotel i.e. 'At The Springs', 'Olive', ' Brown Bar' and 'Panorama', serves sumptuous local and international cuisine. A fully equipped gym and an awesome spa are some of the other amenities offered by this world class hotel to its guests.
2. Movenpick Resort Petra
Movenpick Resort which occupies a stellar position – at the entrance to the historic city of Petra – is a highly celebrated five star resort hotel in Jordan's 'Rose Red City'. The hotel is situated right next to the famous Ad Deir monument as well as the Al Khazneh temple. The 183 rooms of this hotel are decorated in traditional style without compromising on any of the modern amenities. Guests can enjoy a steaming cup of hot tea at 'Al Baraka Tea Room'. To taste authentic Mediterranean cuisine, guests can head to 'Al Iwan' restaurant. 'Al Saraya Restaurant' offers sumptuous buffets while 'Al Maqa'ad Bar' serves a variety of drinks. The 'Al Ghadeer Rooftop Garden' is the ideal place to enjoy a sun downer. Finally, guests can enjoy a quick bite or have a cup of strong coffee at the quaint 'The Caravan Stop Shop'. The hotel also has a glorious rooftop garden, a wellness center, a well stocked library, a massive swimming pool.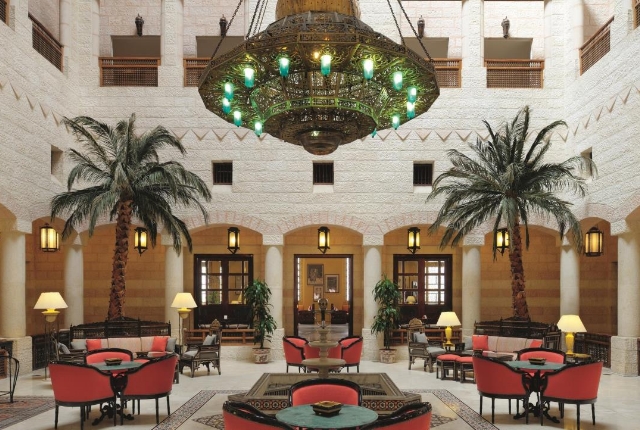 3. Intercontinental Aqaba
The Intercontinental Hotel, Aqaba, is within walking distance of Aqaba City Center Mall, Aqaba Fort and the beautiful Palm Beach. The classically decorated rooms of this hotel, which offers stunning views of the sea, feature mod- cons like coffee maker, Wi-Fi facility, satellite TV and a fully stocked mini bar. 'Beach Front' offers a wide variety of lip smacking snacks and drinks. To sample international fare guests can head to 'Corniche Restaurant'. To taste the rich flavors of the Mediterranean guests can dine at 'Burj Al Hamam'. The cozy 'Deli Café' is the place to be, to relax and enjoy a plate of pastries and some hot coffee. The 'Martini's Lounge' is famed for its classy cocktails. The' Interfit Spa' offers a range of relaxing and rejuvenating treatments.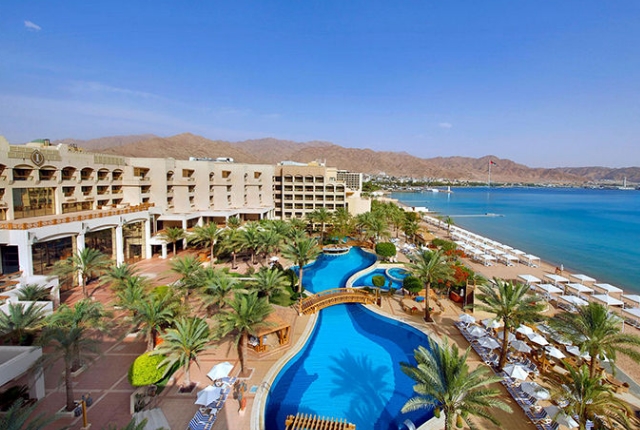 4. Le Royal Hotel, Amman
This impressive, landmark hotel is located right in the heart of the historic city of Amman. This opulent hotel has 286 tastefully decorated rooms. Each of the rooms at Le Royal Hotel, Amman, features modern amenities like Wi-fi facility, satellite TV, individually controlled Ac system and interactive TV. Guests can dine at either 'The Patio Restaurant', 'Shahrayar Restaurant' 'La Vista Restaurant' or at 'Chesters'. Guests can enjoy a relaxing drink at  'Beerkeller Sports Bar', 'Buddah Club' or at 'Bodega'. Guests can choose from a wide array of pastries at the 'Ivy Café'. This hotel also has a Spa, a fitness center, a sauna and a solarium.
5. Four Seasons Hotel, Amman
The four Seasons Hotel which is located in the capital city of Amman is situated right next to the Shmeisani financial fistrict. The 192 gorgeously decorated rooms and suites of this hotel has complementary Wi-Fi service, satellite TV, DVD player and all news cable network. Guests can choose to dine at either 'Olea', 'Foyer Lounge', 'Five Grill and Lounge' or at the 'Garden Terrace'. The luxury spa at this hotel offers several treatments which are designed to calm the mind and relax the body.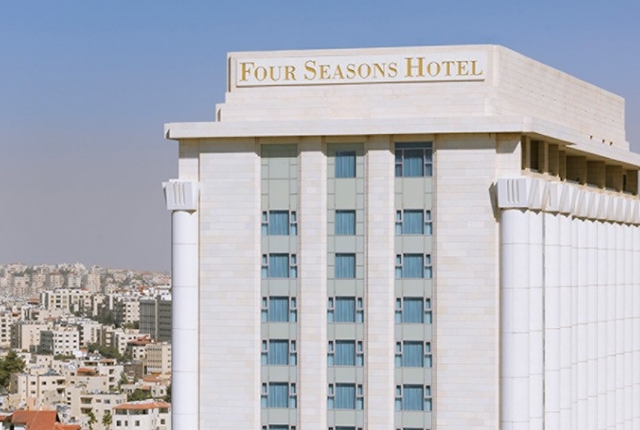 6. Kempinski Hotel, Amman
The 278 room, centrally located, Kempinski Hotel Amman, is just a short drive from world famous cultural sites like the Roman Theater and Amman Citadel. The rooms and suites of this hotel are decorated in a distinctly modern style. Guests can dine at any of the in house dining facilities which include 'Via Appia Italian Restaurant', 'Le Café Lounge', 'Kempi Restaurant', 'View Bar and Grill' or at the 'Time Out Sports Bar'. Guests can enjoy adrenaline inducing games at the 'Strikers Entertainment Center'. The 'Kempi Spa' at the hotel offers a range of holistic treatments. This hotel also has an awesome business center.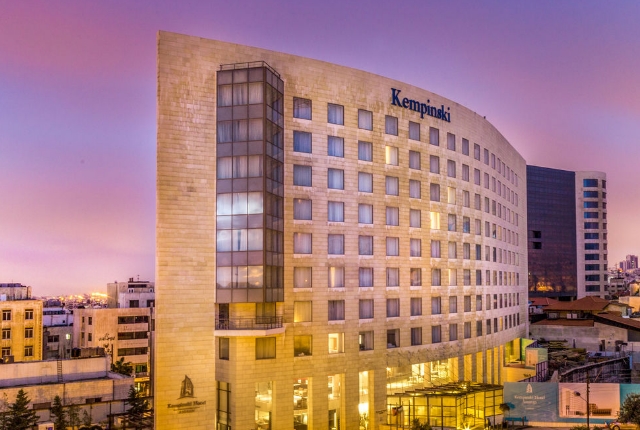 7. Marriot Amman
The 292 room, Marriot Amman is located in the Shmeissani district. The rooms of this hotel are designed as spaces where the guest can work, relax and unwind. Guests can dine at 'Champions Sports Bar and Restaurant', 'Piano Lounge', The Library Lounge and Cigar Bar', 'Villa Meditterano' or at ' Il Terrazo Restaurant'. This hotel also has an awesome gym, an indoor pool, a fitness center and a sauna.