Morocco is North African country situated in a border of Atlantic Ocean. This country has enthralled visitors since a long time. Travelers would like to go on a vacation frequently. Every time, they have to choose from many different things including where to go, how to go, where to stay etc. Today we are going to discuss top 10 five star hotels comes in morocco.
1. Royal Mansour
This hotel is built by king of morocco. It is situated near Marrakech's old city. One can reach there by 14 minutes walks from jemma el-fnaa square. Skilled workers have carefully built its wooden ceiling and tiles. A beautiful spa is widespread in pattern style. It consists of three different restaurants with three different foods. You can find a basic restaurant with massive 53 room capacity with its own swimming pool, kitchen, and rooftop terrace. This is one of the expensive hotels in morocco.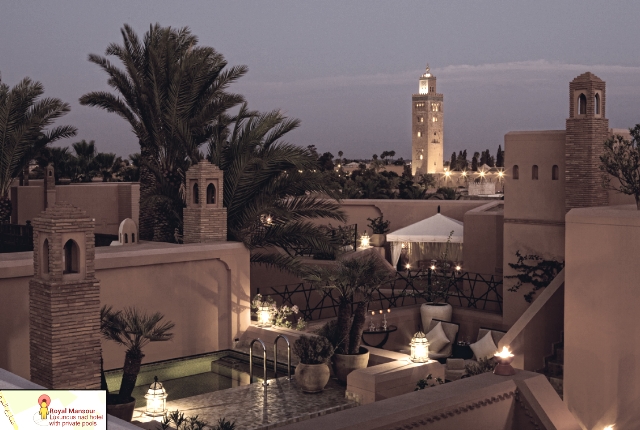 2. La Mamounia
This is a masterpiece which is a combination of Moroccan and eastern culture. In 1923, more than 1000 workers restored La Mamounia. It is one of the most delicate hotels in morocco. Celebrities prefer to stay here because of its serenity look. La Mamounia consists of more than 200 rooms. This hotel is placed near disorganized market in medina. Back of the hotel, A 200 year old garden increase its overall appearance.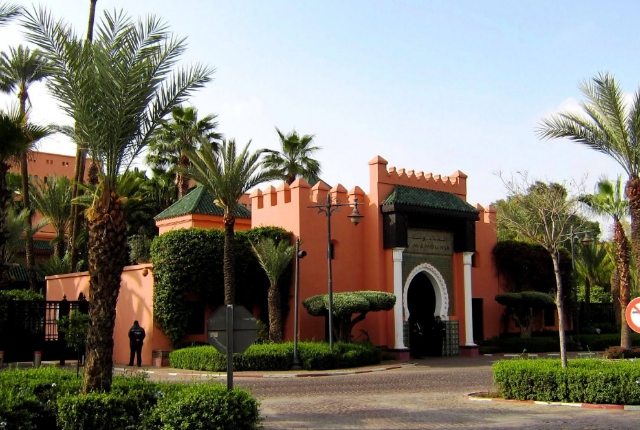 3. Riad Noir d'Ivoire
This classy hotel is only 10 km away from Menara Airport. Riad Noir d'Ivoire is restored entirely with modern furniture, artwork, accents and textiles. You can find two swimming pools inside. The kitchen serves outstanding French and Moroccan aroma. Rooms of the Riad provide services like TV sets and separate balconies for some precious rooms. You can also find gym, bar, boutique and library inside it.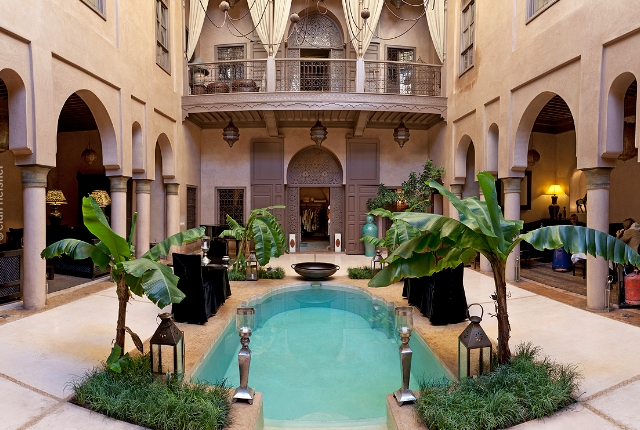 4. Dar Ayniwen Villa
This five star villa is built with Arabic texture. It is only 7 km far from Marrakech Museum. It is quite famous for its luxury spa facility. Dar Ayniwen villa provides you eight room boutique which looks like luxury guesthouse. It has all the top seeded facilities. The design of the room is unique. Dar Ayniwen villa is placed near beautiful garden. It serves delicious Moroccan cuisine in either dining room or in open tent. If you want Moroccan feel, this villa can be a best choice.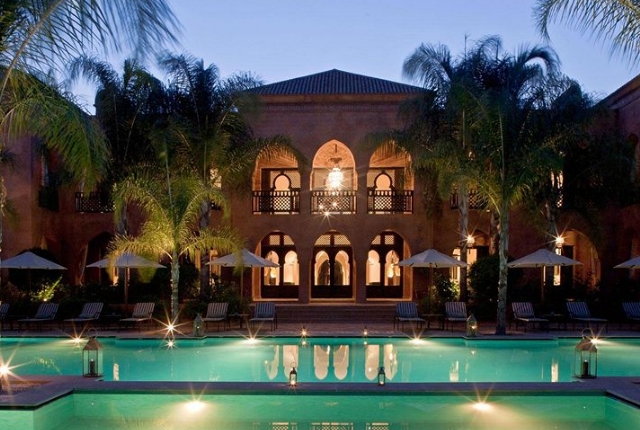 5. Riad Kniza
Riad Kniza is situated in the middle of old Medina. It is only a km away from Koutoubia Mosque and couple of km from Majorelle Garden. You will choose from precious eleven rooms with all the modern facilities. If you love to watch old Medina city, this Riad can be your best choice to stay. The hotels genuine Moroccan decoration creates a center of attention for travelers. Rooms of the hotel contain fire plates and detailed structure of Moorish scent. It is known as a top Riad in old Medina.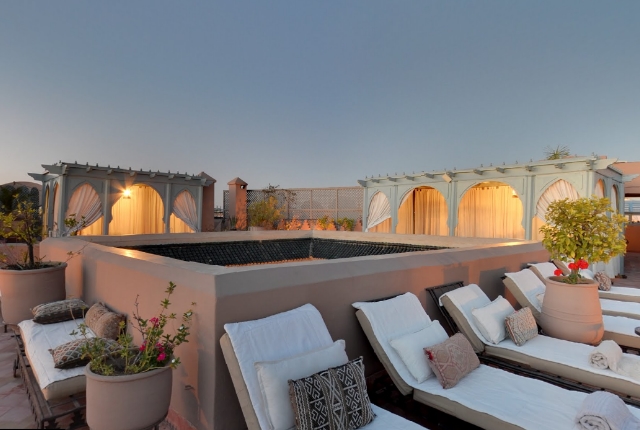 6. La Maison Arabe
This well-designed riad is placed merely 14 minute walk from the Jemaa el-Fnaa market place in old Medina. When, La Maison Arabe is opened in 1998 for travelers, it is known as one of the best hotel in Marrakech. This hotel consists of 12 rooms and 14 suites. All rooms are decorated in unique Moroccan style. This hotel also includes restaurant, bar, spa, swimming pool and cooking classes.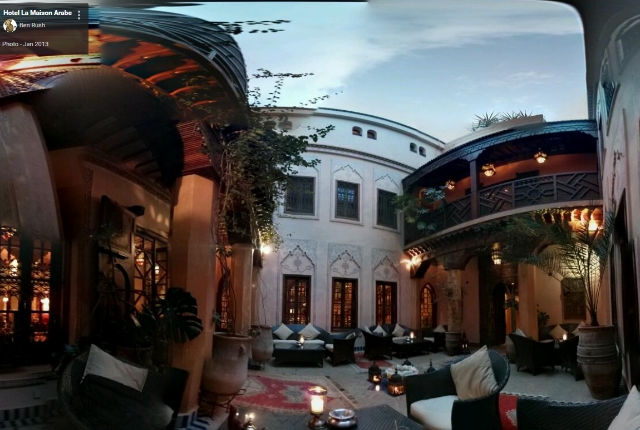 7. Maison MK
Sited in the middle of the Medina, Maison MK is offering you a spa. It is three minutes leisurely walk from Djamae El Fna and Koutubia Mosque. This hotel believes in excellence and that's why it offers only six rooms. All six rooms are very well structured and provide free apple services. However, rooms do not provide TV sets and telephones. Maison MK offers spa services which are managed by beauticians.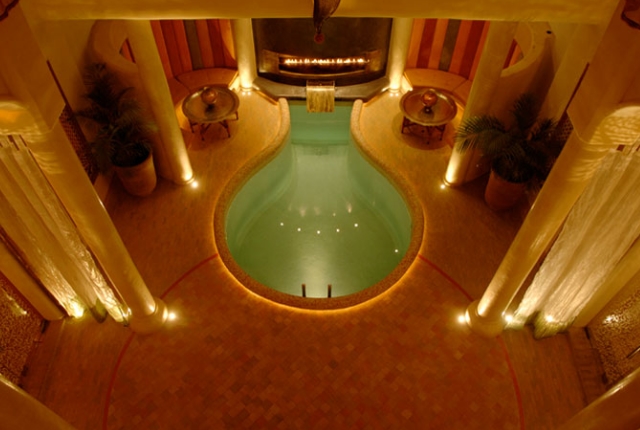 8. La Sultana Marrakech
This hotel is a 5 star rated hotel situated in Marrakech. It is only three minutes away from Saadian Tombs. La sultana is a collection of five traditional houses which converted into hotels later on. It consists of total 28 well equipped rooms. It also contained beautiful spa and roof top restaurant. The hotel is close to museums and palaces. All rooms are uniquely decorated with different patterns.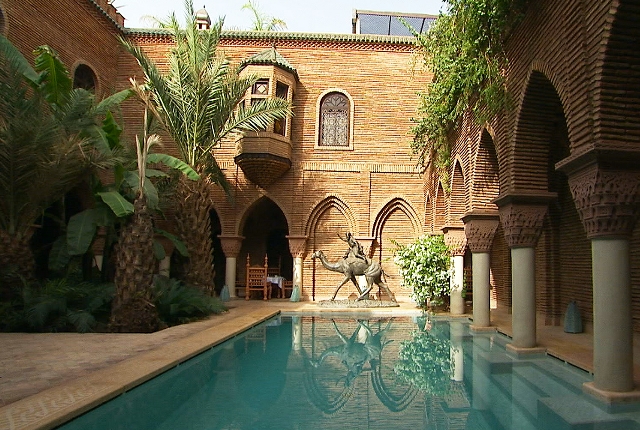 9. Palais Namaskar
This hotel is a lone in its area as it is placed in the middle of the desert, 14 km away from Royal golf of Marrakech. This resort is decorated with Moorish architecture. It is recently opened in 2012 with 41 luxury rooms. The total covered campus of this hotel is 11 acres which gives magnificent view of desert placed between Atlas and the Djebilet Hills. Palais Namaskar provides elegant Feng Shui styled rooms and wealthy restaurants.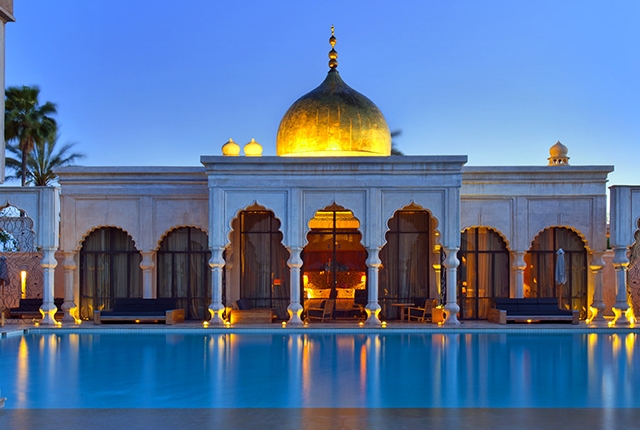 10. Sahara Palace
Located in exclusive Palmeraie area, Sahara Palace gives spectacular view of snow seeded Atlas Mountains. Originally it was opened with a name 'Taj Hotel' which gives traditional Indian and Moroccan style. Sahara Palace owns more than 150 grand rooms. This hotel is best known for its quietness and colored ceilings. That is the reason why most celebrities stay in this hotel to get peace.