Thailand is one of the top favorite destinations of tourists in Southeast Asia due to its vast stretches of beaches, picturesque landscape and large wildlife. In recent times, Thailand has frequently featured in the showbiz world with many movies and documentaries being shot there. As a country, there is a lot to explore so far as wildlife is concerned.
Extensive tour to any country is time consuming and accommodation has to be duly taken care of in order to make the entire experience a memorable one. Luckily, Thailand will not let you down with its finest five star restaurants that are sure to leave an impression in your mind with their hospitality and food.
Check Out These Seven Five Star Hotels In Thailand That Are Simply Grand:
1. Mandarin Oriental, Bangkok
A hotel that has set benchmarks in the Thai hospitality sector, Mandarin Oriental opened as a semans lodge 125 years ago. As for amenities provided by this legendary five star hotel, it ensures that it is second to none. The 368 guestrooms hotel gives access to full service spa, two outdoor pools, and ten restaurants where breakfast is available. The places of tour and interest at a walking distance are Lumpini park, Grand Palcae, Wat Pho, Temple of the emerald Buddha to name a few.

2. The Pavilions, Phukhet
This five star hotel has a Penthouse Villa with a huge swimming pool. The Pavilions also has an adults-only hill resort which gives awesome view of sunset, sea and hillside view. Guests are treated with great warmth by the knowledgeable staff group. In terms of providing precious private time to their guest in their villas, no other hotel or resort comes close to The Pavilions.

3. 137 Pillar House, Chiang Mai
139 Pillar House is an exceptional 30 suite five star hotel that has lots of nostalgic charms associated with it. The hotel follows a home-style residential concept predominant in Chiang Mai and encourages guests to participate in international community get together. All 30 suits are equipped with modern luxury but the fact that you would be spending time in a hotel that has been preserved since 1889 to maintain ethos will give unexplained joy.

4. Hilton Pattaya, Chonburi, Banglamung
The highly stylish five star hotel and part of globally operating Hilton Group, Hilton Pattaya is only 90 minutes away from Suvarnabhumi Airport. Get access to local beaches, restaurants and shopping complexes that are at a stone's throw distance. Pamper yourself with succulent seafood, spa treatment center, 24 hour fitness center and outdoor swimming pool during your stay.

5. Rachamankha, Chiang Mai
Rachamankha offers much needed peaceful atmosphere as a city hotel; it is the only Relais and Chateaux in Northern Thailand. With only 22 rooms and 2 suites, it gets reserved in no time. More so for unique brand of hospitality that pays homage to the golden age of Chiang Mai. Modern facilities are manifold including secured Wi-Fi.

6. Hyatt Regency, Hua Hin
In conglomeration with The BARAI spa, this is the oasis of serenity and much desired relaxation. There are 18 private treatment rooms and lots of area surrounded by lush green landscape and ponds.

7. Tower Club Iebua, Bangkok
This is a mammoth and mind blowing five star hotel. It gives you splendid view of 221 sites from 51st and 59th floor. Winner of multiple awards, this one has "Hangover Suite" operational after The Hangover Part 2 was shot.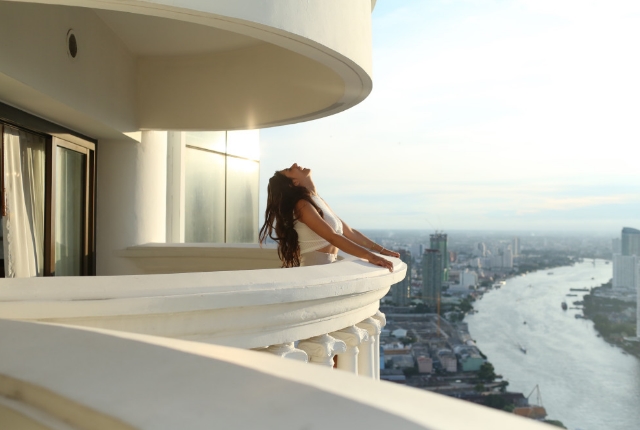 If you need luxury and ready to spend money, try visiting the above mentioned hotels at least once.