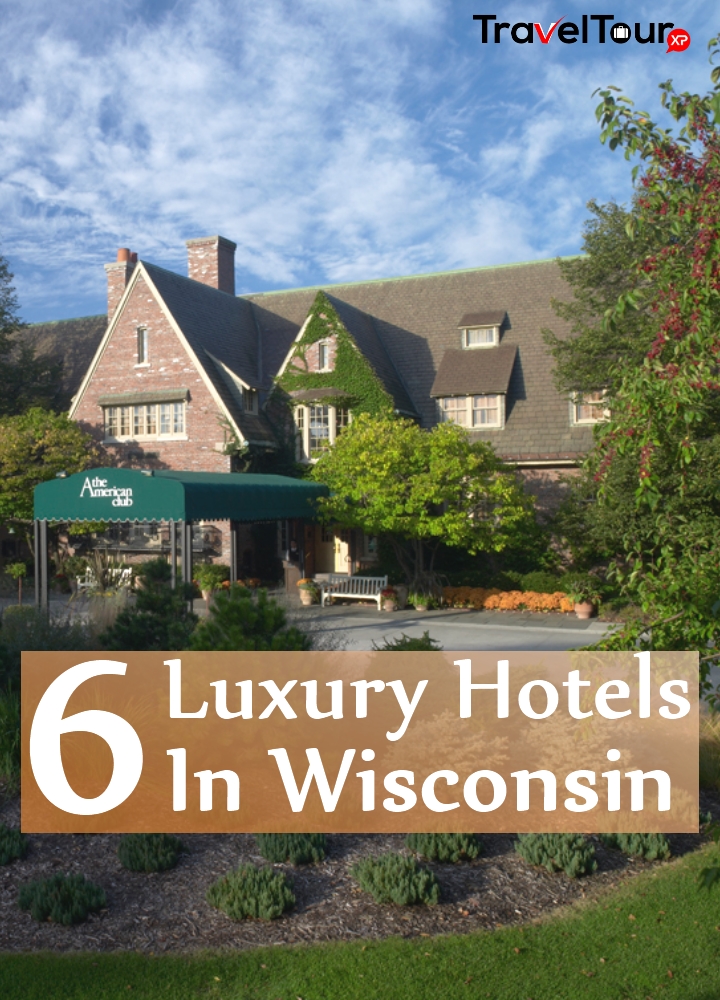 Wisconsin, a mid western US state, is famed for its old world vibe and new age attractions. There is a surfeit of sites and attractions to explore and to enjoy in this state. This state has a thriving art scene, fantastic museum culture and awesome foodie trail. This state also has some of the finest luxury hotels in the mid-west. The American Club Resort, Brewhouse Inn and Suites and Geneva Inn are some of the best luxury hotels of Wisconsin. To get an in depth insight into the awesome luxury hotels in Wisconsin, read on.
Here Are 6 Awesome Luxury Hotels In Wisconsin:
1. The Luxe, The American Club Resort
The American Club, an iconic, Tudor style, five stars and five diamond luxury spa and resort, is located in Kohler. This prestigious resort hotel began its humble origins in 1918 as a no frills dormitory for immigrant workers. However, in 1981 the hotel was re-inaugurated as a full service hotel.
Guests staying at the American Club Resort are simply spoilt for choice with regard to the different kinds of guestrooms and suites available at this hotel.

The 'Immigrant Restaurant', the stunning in house dining facility at this hotel, offers an extensive menu that is firmly rooted in American classic fare, but with a twist. The hotel also has a full service spa, ballroom, theater, tennis facilities and business center.

2. The Stunning, Brewhouse Inn And Suites

The Brewhouse Inn and Suites is a charming hotel in Milwaukee, where rustic charm meets blue ribbon hospitality. This historic boutique hotel is located within walking distance of BMO Harris Bradley Center.

The 90 guestrooms at this hotel are decorated with an artful blend of historic pieces and 21st century design.

The guestrooms and suites feature all the latest mod cons including WI-Fi access and flat screen TV. Guests are invited to dine at 'Jacksons Blue Ribbon Pub' an independently owned and managed restaurant which specializes in authentic American pub grub. This hotel also boasts of a fitness center and a business center.

3. The Charming, Geneva Inn

The charming Geneva located on the shores of picturesque Geneva Lake is one of the most sought after family hotels in Wisconsin. The appeal of this hotel lies in its beautiful location. The 37 luxury and deluxe rooms of the hotel offer some of the most stunning and sought after views of Lake Geneva. To savor relaxed elegance and sample outstanding local fare guests can head to the in house restaurant. This hotel also offers world class business facilities.

4. The Superb, Hyatt Regency Milwaukee

This sensational urban hotel is located in the bustling heart of downtown Milwaukee. The Harley Davidson Headquarters and Potawatomi Bingo Casino are within driving distance of the hotel.

The 481 spacious guestrooms and suites of the hotel offer premium amenities which include 32 inch flat screen TV, over-sized work stations and I-pod docking stations.

The Bistro 333 serves American classic fare but with an exciting Wisconsin twist. Guests can savor world class wines and cocktails at Bar 333. The hotel also has a fitness center.

5. The Sophisticated, Delafield Hotel

The Delafield hotel, a full service boutique hotel, is one of the most sought after hotels in Wisconsin. Located in the southeastern section of the state, Delafield hotel is famed for its sophisticated atmosphere and world class service.

The 38 spacious guestrooms and suites is a beautiful blend of eclectic art, modern furnishings and hardwood furniture.

The rooms are kitted out with mini bar, flat screen TV and i-pod docking station. Guests can sample exceptional food, drink and music at 'I.d Restaurant'. The hotel also has meeting/ banquet facilities and a fitness center.

6. The Luxe, Iron Horse Hotel

Iron Horse Hotel functions out a converted 100 year warehouse. The hotel is ideal for both business and leisure travelers. The 100 guestrooms and suites of this historic hotel are an ode to modern living. The 'Smyth' Restaurant, where food is artfully created, teases the taste buds and creates everlasting memories. Guests can sample specialty cocktails at the classic 'Branded' bar. The hotel also has a library, spa and wellness center, fitness center and a business center.