Azerbaijan which portrays itself as the 'Land of Fire' is located in the Transcaucasian region. This country is the perfect mélange of the old and the new. The historical attractions of this country exists cheek by jowl with its uber modern cities. Visitors flock to this country to soak up its exotic natural beauty. Azerbaijan is also famed for its world class luxury hotels. Jumeirah Bilgah Beach Hotel, Hyatt Regency Baku and Four Seasons Hotel Baku are some of the finest luxury hotels of this country. To discover more about the spectacular luxury hotels in Azerbaijan, read on.
Here are 5 Spectacular Luxury Hotels In Azerbaijan:
1. The Grand, Jumeirah Bilgah Beach Hotel
The spectacular Jumeirah Bilgah Beach Hotel is located in Baku, the largest city on the Caspian Sea coast. Besides jaw dropping views of the sea, this hotel boasts of a private beach and it even has its very own water park.
The hotel comprises of 176 nattily decorated rooms and suites as well as 14 three bedroom cottages.
'Equinox', 'Waterpark Café', 'Uzuk', 'T- Café', 'Promenade Restaurant and Bar' and 'Piano Lounge and Bar' are the in house restaurants and bars at the Jumeirah Bilgah Beach Hotel. The' Talise Spa' offers a range of exotic treatments which are designed to refresh the body and the mind. This hotel also boasts of a fitness room, library, sauna, tennis courts and bowling alley (to name a few facilities).
Visit Jumeirah Bilgah Beach Hotel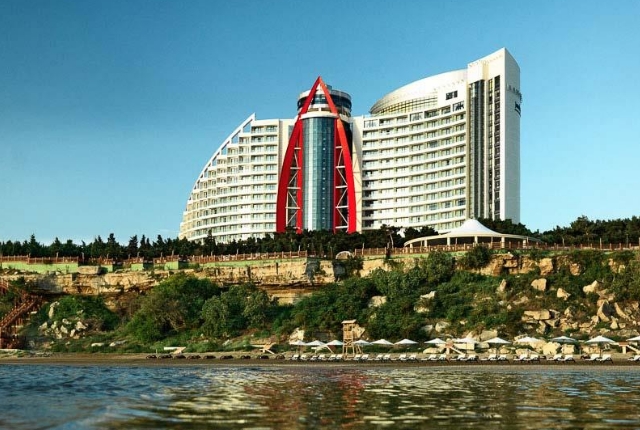 2. The Uber Luxe, JW Marriot Absheron Baku Hotel
JW Marriot Absheron Baku Hotel is famed for its exemplary service and world class facilities. This 5 star, contemporary hotel is located on the scenic shores of the Caspian Sea. The 243 plush rooms and suites of this hotel offer a host of amenities to its guests.
Guests can dine at 'ZEST Lifestyle Café', 'Fireworks Urban Kitchen', 'O'Nero Bar and Ristorante' and the 'Tea Lounge'.
The 'Razzmatazz Cocktail Bar and Lounge' specializes in exotic cocktails. Guests can enjoy pampering beauty treatments at the opulent 'Absheron Spa'. A business center, wellness center, sauna, indoor pool and library are some of the other facilities available at the JW Marriot Absheron Baku Hotel.
Visit JW Marriot Absheron Baku Hotel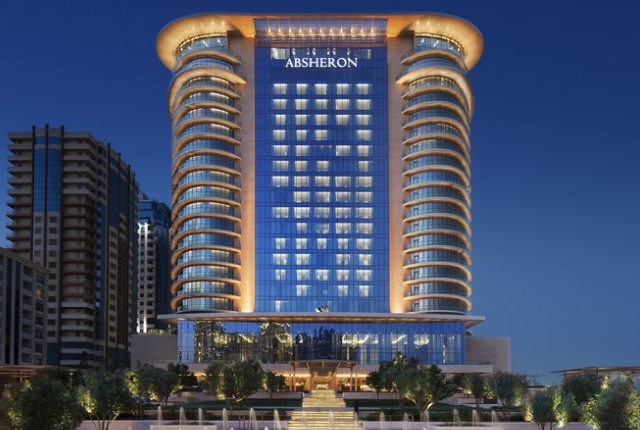 3. The Fabulous, Hyatt Regency Baku
The 5 star Hyatt Regency Baku is located close to the business and shopping area of Baku. The 159 gorgeously decorated rooms of this hotel offer its guest a range of exclusive amenities which include large flat screen TV, complimentary WI-FI facility and in-room safe. 'Mezzo', 'Gourmet Shop', 'Lobby Lounge', 'Britannia Pub' and 'Café Armaiti' are the various restaurants and bars at the Hyatt Regency Baku. This splendid hotel also boasts of a spa and wellness center, indoor pool, children's playground, tennis court and fitness center.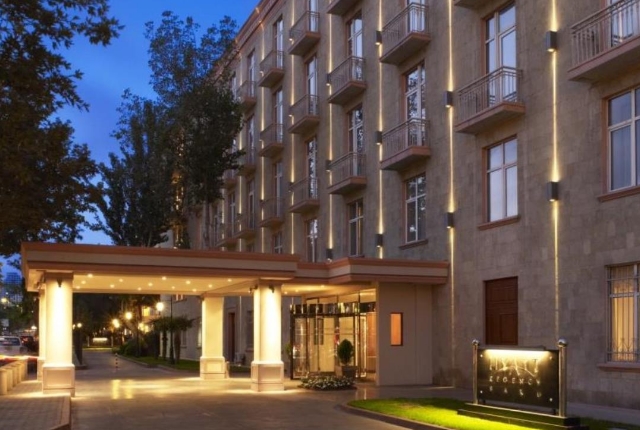 4. The Awesome, Four Seasons Hotel Baku
With dazzling views of the Caspian Sea and the Old City, the Four Seasons Hotel Baku is by far one of the finest 5 star hotels in Azerbaijan. The 171 spacious rooms of this hotel which are decorated in classic style offers an array of world class amenities.
Guests can enjoy a memorable Italian meal at the 'Zafferano Restaurant'.
To enjoy a cup of hot tea, guests can head to the cozy 'Piazza' tea lounge. 'Bentley's' offers a variety of fine cigars and whiskies. Guests can unwind at the opulent 'Jaleh Spa'. The hotel also has a sauna, a fitness center, and indoor pool and a hammam.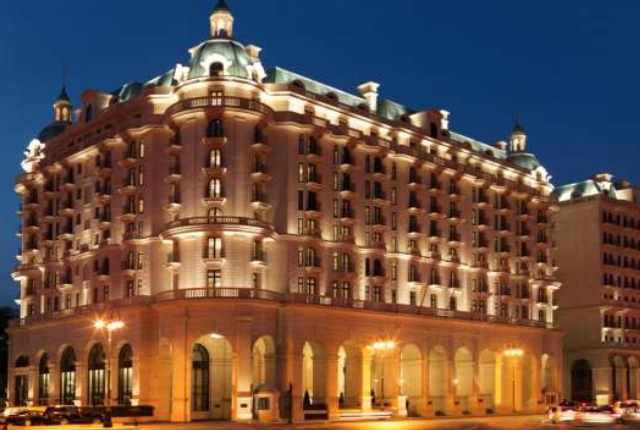 5. The Upscale, Excelsior Hotel and Spa Baku
Excelsior Hotel and Spa Baku is a 5 star boutique hotel which is located in the capital city of Baku. The 61 rooms of this hotel are decorated using both classical and contemporary design elements.
Each of the rooms and suites at this hotel features luxe amenities which include free WI-FI facility, flat screen TV, mini bar, safety deposit box and electric kettle.
'Belvedere Restaurant', 'La Patisserie', 'Green House Fish and Steak Restaurant', 'Vitality Bar', 'The Poolside Bar', and 'L' Atelier Bar' are the in house restaurants  and bars at the Excelsior Hotel and Spa Baku. The 'Aura Spa' offers a range of beauty and therapeutic treatments. This hotel also has a sauna, fitness center, indoor pool and table tennis courts.
Visit Excelsior Hotel and Spa Baku