Maine, the north easternmost US state, is famed for its quintessential New England style charm. From its rugged coastline to its lofty mountains, from its lobster shacks to its candy striped lighthouses, Maine is a living postcard of rural tranquility. Portland, Maine's largest city, acts as a magnet for beer connoisseurs and seafood aficionados. The charming hotels of this stare are known for their stunning locales and gracious hospitality. These hotels epitomize the state's innate charm and elegance. To discover some of the truly luxurious hotels in this US state, read on.
Here Are 5 Fabulous Luxury Hotels In Maine:
1. West Street Hotel
West Street Hotel is the latest addition to the luxury, waterfront hotels in Maine. With its evocative rural setting, and sensational views of Bar Harbor, West Street Hotel has become one of the most sought after luxury hotels in New England. This hotel is located close to several top notch restaurants and high end luxury stores.
The 85 tranquil guestrooms and suites are done up in elegant coastal style.
The guestrooms feature modern amenities which include in-room refrigerators, flat panel TV's with cable, i-Pod docking station and coffee maker. Guests can enjoy hearty pub grub at 'Paddy's Irish Pub and Restaurant' or savor freshly prepared lobster at 'Stewman's Lobster Pound'. The stylish 'Bar Harbor Spa' offers a comprehensive spa menu. Additionally, this hotel has clay tennis courts, fitness center and swimming pool.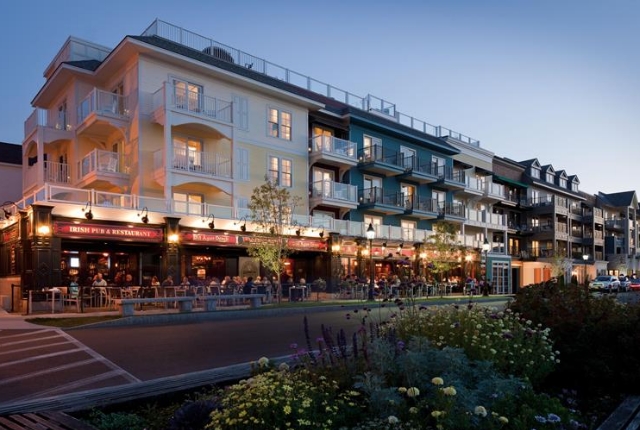 2. Stonehouse Manor
Step back in time and enjoy the grandeur of the 1800's by staying at the historic Stonehouse Manor. This handsome hotel functions out of a reconverted cottage which was built in 1896. Popham Beach State Park and Fort Baldwin Memorial Park are located just a short hop from Stonehouse Manor.
The 5 guestrooms of this hotel feature mesmerizing views of the ocean.
The guestrooms are kitted out with the latest amenities which include in room refrigerator, microwave and cable TV. Special meals are served upon request. Additionally, this hotel also has BBQ facilities and beautifully landscaped gardens.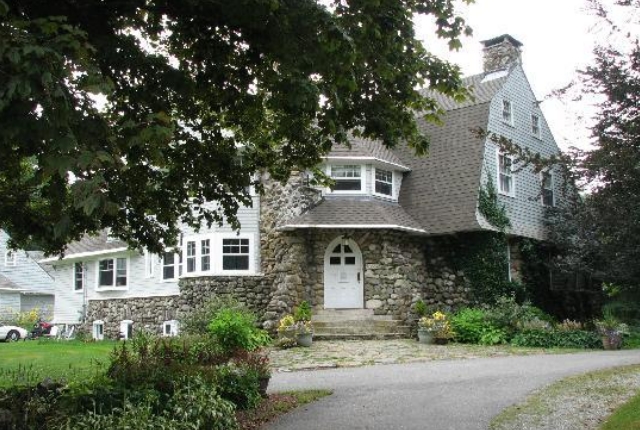 3. Harborage Inn On The Oceanfront
Overlooking the azure blue waters of Boothbay Harbor, Harborage Inn on the Oceanfront, is a comforting and unassuming bed and breakfast inn, which offers all the amenities of a luxe boutique hotel. Coastal Maine Botanical Gardens and Pemaquid Point Lighthouse are located just a short hop from the Harborage Inn.
The 11 charmingly decorated guestrooms of this hotel allow guests to enjoy commanding views of the ocean.
Each of the guestrooms feature luxe amenities which include luxurious linens, fluffy bathrobes, coffee makers, in room refrigerator, complementary wi-fi and Gilchrist and Soames fine toiletries. The hotel serves a sumptuous gourmet breakfast prepared using fresh, locally procured, organic ingredients. Additionally, this hotel also has a Jacuzzi and sun deck.
Visit Harborage Inn On The Oceanfront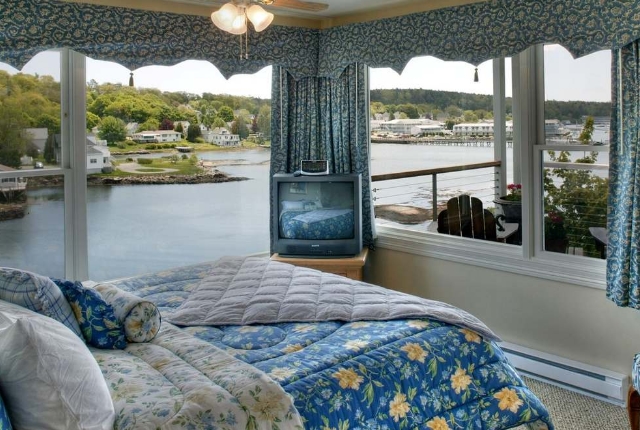 4. The Press Hotel, Autograph Collection
Enjoy picture postcard views of Portland by staying at the upscale, The Press Hotel. This hotel functions out of an innocuous looking brick building. However, the bland exterior of this hotel belies its stunning interior. The 110 bright and spacious guest accommodations, which are peppered with quirky, thought provoking quotes, have been decorated in a unique manner, so that it resembles a journalist's office from the 1920's.
The guestrooms feature all the modern amenities which include in room refrigerator, mini stereo system and over sized flat screen HD TV.
To taste the fresh flavors of New England cuisine guests can dine at the highly acclaimed 'Union' restaurant.  'Inkwell', the in house bar serves coffee and pastries along with vintage cocktails. The hotel also has a top notch fitness center.
Visit The Press Hotel, Autograph Collection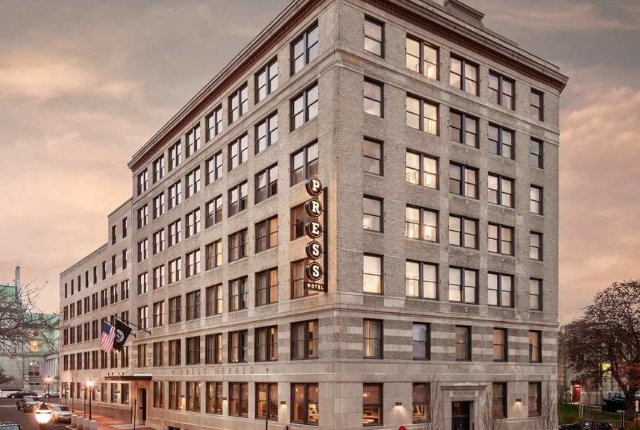 5. Cape Arundel Inn And Resort
There is something truly spellbinding about Cape Arundel Inn and Resort in Kennebunkport. From its unique New England style architecture to its graceful decor, this hotel is redolent with the elegance of more genteel times. Guests at this adult's only hotel can choose to stay at the main house (which was built in the 19th century) or at the club house (a true blue vintage hideaway). The 'Ocean Restaurant' showcases the best of New England cuisine. This hotel also has a sundeck, outdoor pool and terrace.
Visit Cape Arundel Inn And Resort