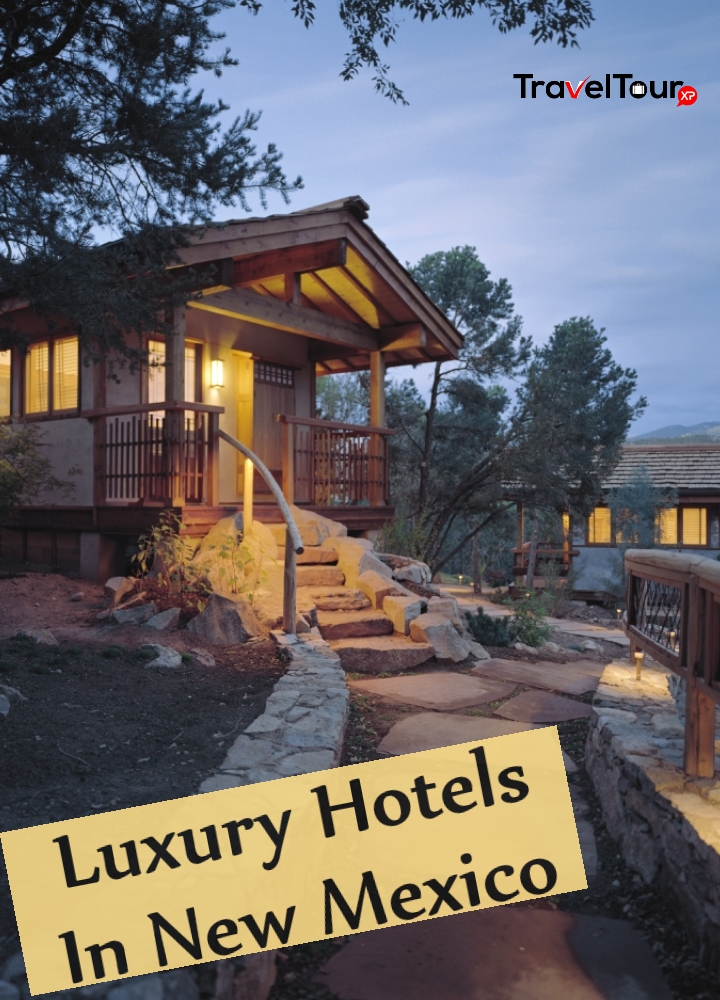 The beautiful state of New Mexico, which is located in the south western region of US of A, is truly an enchanting place. With its captivating combination of bright sunlight which bathes the magical landscape, centuries old towns, adobe style churches filled with scared art, beautiful pueblos which offers a window into traditional life,ancient mountain villages steeped in lore and immense desert plains, this state creates a kaleidoscope of memories which will last a lifetime. Four Seasons Resort Rancho Encantado, Hilton Santa Fe Historic Plaza Hotel and Hyatt Regency Tamaya Resort and Spa are some of the finest hotels of this state. To know more about these and other hotels in New Mexico, read on.
Here Are 5 Enchanting Luxury Hotels In New Mexico:
1. The Exclusive, Four Seasons Resort Rancho Encantado
The Four Seasons Resort Rancho Encantado, a 65 room, 5 stars luxury hotel, is famed for its excellent service and world class amenities. The famous Santa Fe Opera House is situated within driving distance of this hotel.
The generous guest accommodations at Four Seasons Resort Rancho Encantado create a sense of luxury without compromising on the feeling of intimacy.

Guests can enjoy sumptuous meals, which are prepared using the freshest seasonal ingredients at 'Terra Restaurant'. 'The Bar' serves a variety of appetizers and signature cocktails. The serene environs of the spa at Four Seasons Resort Rancho Encantado, is the perfect getaway to enjoy fabulous spa treatments. The hotel also has a business center, fitness center, Jacuzzi and an outdoor pool.

Visit Four Seasons Resort Rancho Encantado

2. The Stunning, Hilton Santa Fe Historic Plaza Hotel

The Hilton Santa Fe Historic Plaza Hotel functions out of a gorgeous hacienda. Top cultural attractions of the city including Santa Fe Community Convention Center and Georgia O'Keefe Museum are situated just a short hip from this iconic hotel. The 158 spacious guestrooms and suites offer a variety of world class amenities. 'CP Express', 'Ortiz' and 'Ortiz Restaurant' are the various dining options at Hilton. Guests can pick up snacks, beverages and travel supplies at '24 Hour Corner Pantry'. The hotel also boasts of a fitness center, business center and an outdoor pool.

Visit Hilton Santa Fe Historic Plaza Hotel

3. The Gorgeous, Hyatt Regency Tamaya Resort And Spa

Hyatt Regency Tamaya Resort and Spa, which provides pueblo style accommodations on 550 acres of land, is the ultimate holiday getaway in New Mexico. Albuquerque Museum of Art and History, Rio Grande Nature Center State Park and Albuquerque Airport are situated within driving distance of this awesome hotel.

The 350 rooms of this hotel allows guests to enjoy jaw dropping views of Sandia Mountains or Twin Warriors Gold Course.

'Santa Ana Café', 'Corn Maiden', 'Trading Post', 'Rio Grande Lounge', 'Plaza Grill' and 'Atush Bar and Grille' are the restaurants and bar at Hyatt Regency Tamaya Resort and Spa. Guests can enjoy handcrafted therapies at the 'Santa Fe Spa'. Some of the other facilities offered by the hotel to its guests include a sauna, outdoor pool, Jacuzzi, fitness center and fully functional business center.

Visit Hyatt Regency Tamaya Resort And Spa

4. The Luxe, Inn of Five Graces

The Inn of Five Graces which is famed for its sumptuous East Indian and Tibetan furnishings is located in the historic district of Pueblo in Santa Fe. The 24 spacious rooms of this hotel are a veritable oasis relaxation and luxury. With its classic French cuisine and global wine list, '315 Restaurant and Wine Bar', the in house restaurant at Inn of Five Graces, offers an exceptional culinary experience. Guests can enjoy relaxing treatments at the in house spa. The hotel also has a sun terrace, fitness center and a business center.

5. The Peaceful, El Monte Sagrado Living Resort And Spa

El Monte Sagrado is an exclusive resort hotel in New Mexico. Kit Carson State Park and Harwood Museum of Art are situated within driving distance of El Monte Sagrado. The 84 guestrooms and suites of the hotel are decorated to enchant the senses. 'De La Tierra' restaurant offers culinary delights which will ignite the taste buds. Guests can enjoy a signature margarita in the chic environs of the 'Anaconda Bar'. Guests can enjoy exotic herb infused treatments at the 'Living Spa'. The hotel also offers state of the art meeting facilities.

Visit El Monte Sagrado Living Resort And Spa