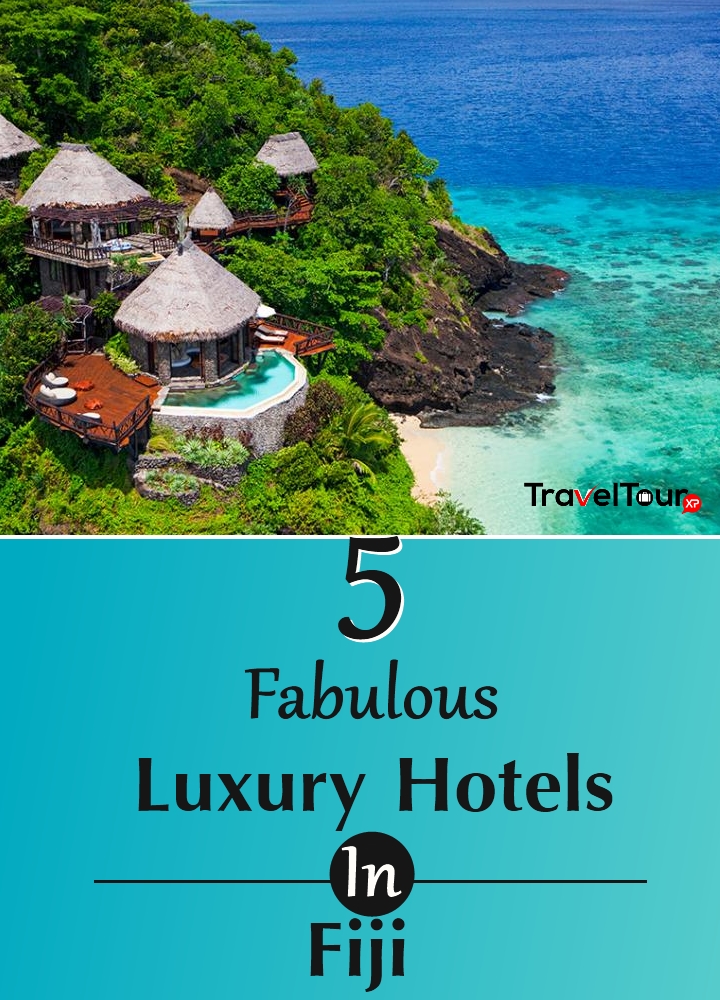 Fiji is a spectacularly beautiful archipelago in the South Pacific Ocean. This country which comprises of fantasy inducing islands is a stunning kaleidoscope of dreamy beaches, scenic coastlines, stunning coral reefs and rugged landscapes. A visit to this island paradise will create a smorgasbord of vivid memories that will last a lifetime. This tropical island also boasts of some of the finest luxury hotels and resorts in the world. To know more about the luxury hotels in Fiji, read on.
Here Are 5 Fabulous Luxury Hotels In Fiji:
1. Sheraton Denarau Villas, Denarau Island
Set amidst lush tropical gardens, with jaw dropping views of the sparkling blue waters of the Pacific Ocean, Sheraton Denaru Villas, which is located on the gorgeous Fijian island of Denarau, epitomizes understated elegance and luxury. The International Airport is located at a convenient twenty minute drive from this upscale waterfront resort. The 82 villas (2 and 3 bedrooms) at Sheraton Denarau Villas are constructed in the local vernacular. Each of the gorgeously decorated villas at this resort, have separate living and dining areas, along with a fully equipped kitchen. Guests can savor flavors from around the world by dining at the various world class restaurants at this hotel. Additionally, this hotel also has a business center, fitness center, outdoor pool, spa and wellness center.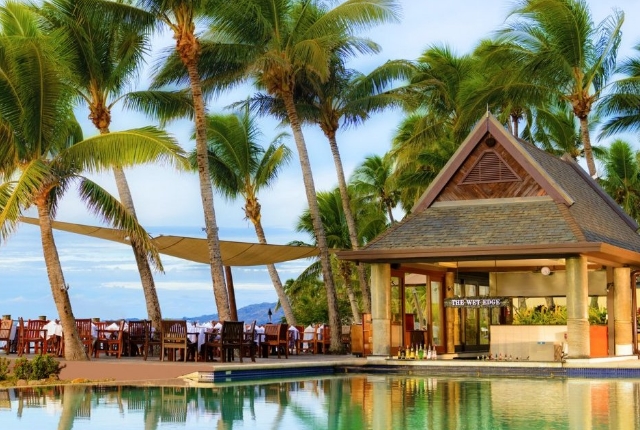 2. Likuliku Resort Hotel
Likuliku is a stunning, adult's only, waterfront resort hotel. Malolo Barrier Reef and Nadi International Airport are located just a short drive from Likuliku Resort Hotel. The 45 traditionally built villas are constructed using indigenous materials. Guests staying at this hotel can choose accommodations which range from over water villas to beachfront villas and garden beachfront villas. The in house restaurant at this hotel, which is helmed by Executive Chef Shane Watson, serves food which reflects the fresh flavors of Pacific cuisine. Nestled amongst the verdant slopes of the island, Tatadra Spa, offers a range of holistic spa treatments which are designed to relax the body and to soothe the mind. The hotel also has a foliage fringed outdoor pool.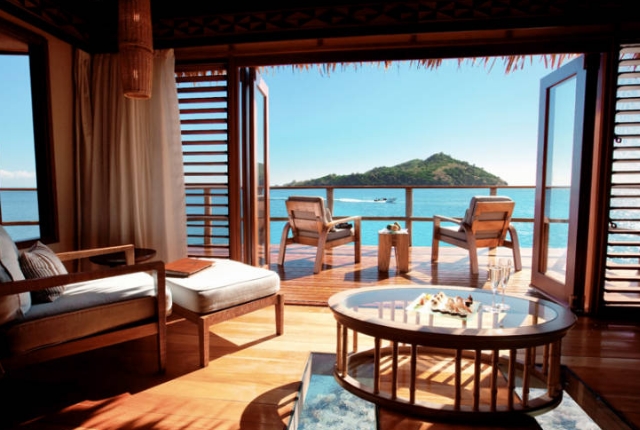 3. Musket Cove Island Resort, Mamanuca Islands
This haven of subtle luxury is located on the scenic Mamanuca Islands. The Nadi Interantional Airport is situated approximately 17 kilometers from this sun drenched resort hotel. The 55 exquisitely decorated guestrooms at this hotel are designed to reflect the tranquil spirit and bucolic style of this island paradise. Guests can enjoy a sumptuous meal at Dick's Place Bar and Bistro. Guests can head to Trader's café to grab a quick bite. Musket Cove Yacht Club Island Bar and Pool Bar serves an array of signature cocktails and other hard liquors. Embrace the feeling of well being, by opting for spa treatments which employs Fiji's time honored beauty traditions, at Makare Wellness Spa. Additionally, this hotel also offers its guests other premium facilities which include outdoor pool, business facility, private beach area, sun terrace and garden.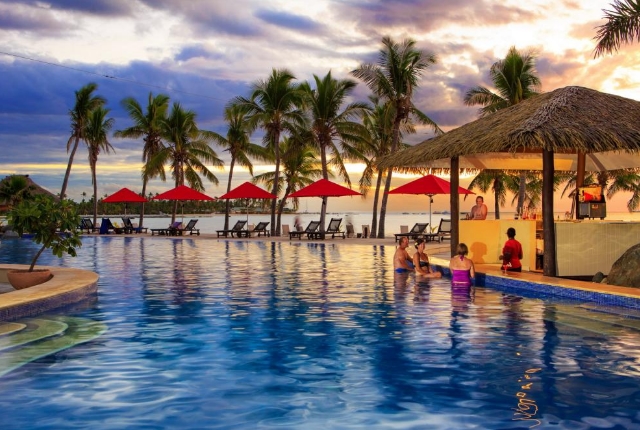 4. Intercontinental Fiji Golf Resort And Spa, Natadola
Intercontinental Fiji Golf Resort and Spa, a 5 star boutique hotel, is set amidst 35 acres of beautifully landscaped gardens. This high end, water front resort hotel is located approximately 7 kilometers from Robinson Crusoe Island. The 266 premium guest accommodations at this hotel are an ode to luxury. Guests staying at this hotel can enjoy enchanting views of the South Pacific Ocean as well as the verdant hills of Natadola Bay. 'Navo Specialty Dining', 'Sana Sana', 'Toba Bar and Grill' are some of the superb restaurants at Intercontinental Fiji. Guests can enjoy a cool beverage or a light snack at 'Vatu Lo Bar and Restaurant' or at 'Kama Lounge'. The Spa Intercontinental is an awesome oasis of tranquility and relaxation. The hotel also has a sauna, fitness center, outdoor pool and garden.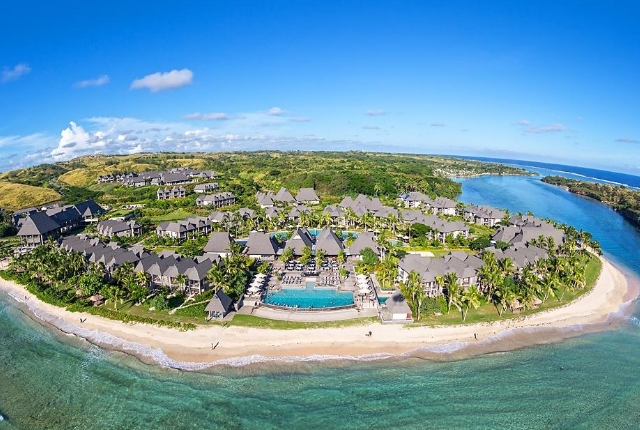 5. Taveuni Palms Resort, Matei
This award winning, luxury resort hotel, which offers luxurious self contained villas are veritable havens of luxury and relaxation. Set amidst beautifully landscaped hillside gardens, The Taveuni Palms Resort allows guests to enjoy monumental Pacific island vistas. Guests can stay at the Beach Villa or at the Horizon Spa Villa. Guests can embark on a delightful culinary journey which showcases the rich culinary heritage of the entire pacific region by dining at the private dining locations. The hotel also has a spa and wellness center, sun terrace and outdoor pool.