The stunning island nation of Cyprus is located in north-eastern part of the Mediterranean Sea. This charming country is famed for its rugged coastline and crystal clear waters. Cyprus with its compelling lifestyle, landscape and culture is home to some of the best hotels in the world. Amathus Beach Hotel, Four Seasons Hotel and Londa Hotel are outstanding luxury hotels of this country. To discover more about the awesome luxury hotels in this charming island country, read on.
Here Are 5 Awesome Luxury Hotels In Cyprus:
1. The Chic, Amathus Beach Hotel, Limassol
Check Availability
Experience an oasis of tranquility by staying at the 5 stars Amathus Beach Hotel in Limassol. This hotel which is famed for its impeccable service and stunning locale is an ideal getaway for families, honeymooners and spa enthusiasts. The 239 spacious rooms of this hotel are designed to ensure absolute comfort of the guests.
To enjoy a sumptuous dining experience guests can head to any one of the in house restaurants which include 'Limanaki Fish Restaurant', 'The Grill Room', 'The Cyan', ' Kalypso Restaurant', ' La Terrazza' and 'Nubar'.
'Blue Breeze Lounge', 'Helios and Fresh Bar', 'Lighthouse Bar and Lounge' and 'Blue Breeze Lounge'. The Amathus Spa is one of the leading spas in Cyrpus. The hotel also has a games room, a fitness center, sauna, indoor pool and tennis court.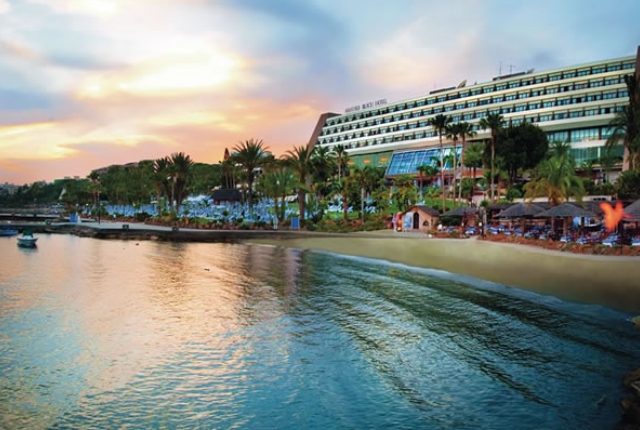 2. The Uber Luxe, Four Seasons Hotel, Limassol
The Four Seasons Hotel is a five star luxury hotel which is located in a restricted part of Limassol's beautiful sandy beach. The rooms of this hotel evoke a cozy feel due to the extensive usage of light colored luxurious fabrics. The rooms have amenities like LED TV, mini-bar, Wi-Fi facility and a small safe.
'Vivaldi by Mavrommatis', 'Vivaldi Terrace', 'Seasons Oriental', 'Café Tropical' and 'Seafood Bar' are some of the brilliant eating establishments at this uber luxe hotel.
Guests can enjoy a glass of wine at the chic 'Vista Bar and Terrace' or at the 'Pool and Beach Bars'. The varied and luxurious spa treatments  offered by the Shiseido Spa at Four Seasons Hotel will seduce your senses and ease away stress. The hotel also has an indoor swimming pool, outdoor heated pool, gymnasium, tennis courts, sauna and steam rooms.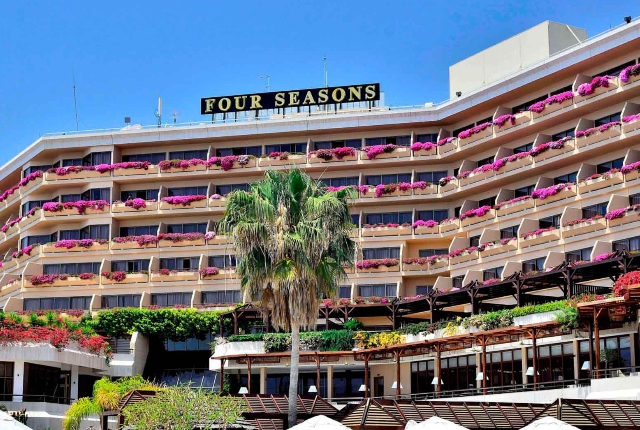 3. The Outstanding, Londa Hotel, Limassol
Check Availability
The Londa Hotel in lively Limassol is one of Cyprus's first and finest couture getaways. The 68 fabulous rooms and suites at this hotel are the perfect mélange of classic Italian styling with beautiful Cypriot accents.
Guests can avail of all the standard mod cons in their rooms which include mini bar, safe, high speed internet facility and satellite TV.
The 'Caprice Restaurant' serves mouth watering Mediterranean fare. The contemporary and comfortable Caprice Lounge and Pool Bar serves freshly presses juices, wines and cocktails. The spa at this hotel offers a range of relaxing and rejuvenating spa treatments. The hotel also has a fitness center, a sauna and a Turkish bath.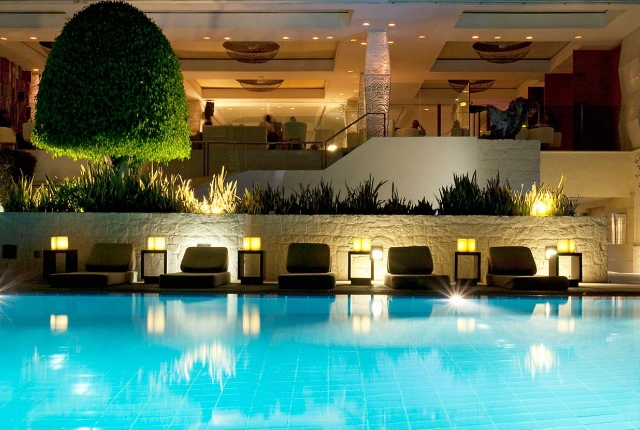 4. The Spectacular, Elysium Hotel, Paphos
With its stunning architectural beauty and its stylish well furnished accommodation, the Elysium Hotel has become one of the finest 5 star hotels in Cyprus. The 250 charming rooms and suites of this hotel are decorated in warm welcoming tones.
To enjoy exceptional culinary moments which will awaken the taste buds guests can dine at the 'Lemonia Piazza', 'Epicurean Restaurant', 'Risorante Bacco', 'O' Shin Restaurant', 'Mediterraneo Restaurant', or at 'Café Occidental'.
Guests can enjoy an artisanal cocktail at 'Astria Bar' or at 'Mare Nostrum Pool Bar'. To enjoy a memorable spa experience, guests can head to the Opium Spa.This hotel also boasts of a large indoor pool, a sauna and fitness center.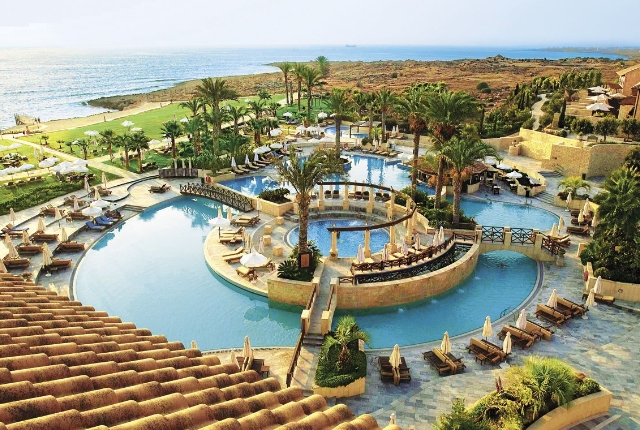 5. The Stunning, Almyra Hotel, Paphos
The ultra contemporary, Almyra Hotel is a 5 stars accommodation, which is situated just a short distance from the glorious Paphos Harbor. This stunning hotel which is set amidst gorgeous tropical gardens boasts of 189 creatively decorated rooms. 'Notios', 'Mosaics', ' Ouzeri', 'Eauzone', 'Flavors at Helios', ' Omakase Menus' and 'Zen Meze' are the in house restaurants at Almyra Hotel. The Almyraspa offers a range of holistic treatments using marine based ingredients. The hotel also has an indoor pool, a tennis court and a well equipped fitness center.